Spring in the British Isles would be unthinkable without daffodils, but then so would spring in Spain, which is where they come from. Embedded in layers of British culture, from saints to poets, the daffodil is a misplaced British icon. Notions of frontiers and nationhood have been explored in a Garden Museum show that opens tonight, put together by botanist Dr Jamie Compton and photographer Howard Sooley. It's called Flower Nation: Invaders, Migrants, and Weeds in the British Garden. Join us for a preview:
Photography by Howard Sooley.
Above: Narcissus minor, native to the Pyrenees and northern Spain.
Favoring moist soil, in sun or light shade, daffodils have made themselves at home all over the British Isles and are the national symbol of Wales. William Wordsworth noted their English proliferation in "I Wandered Lonely as a Cloud" (1804):  "Ten thousand I saw at a glance/ Tossing their heads in sprightly dance."
Above: Helleborus cyclophyllus. Hellebores are mentioned in Ancient Greek mythology and originate in the Balkans. The only native British hellebore is the one known as "stinking," with a different leaf formation but similar pale green coloring.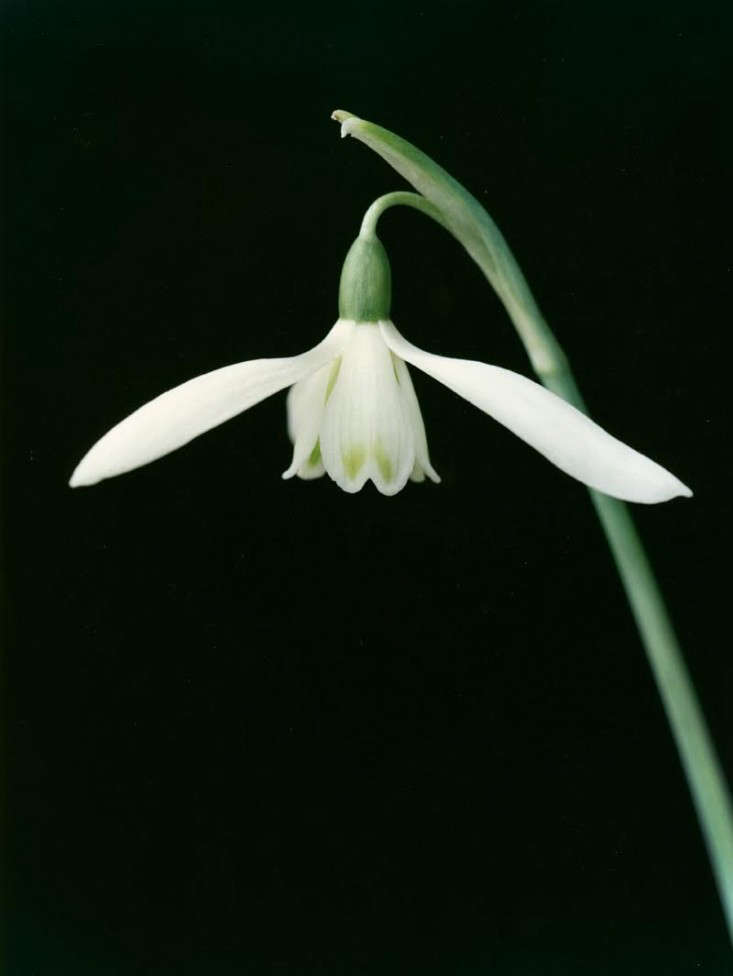 Above: Galanthus nivalis, introduced into Britain in the 16th century from southern and eastern Europe.
In the first months of the year, the early appearance of snowdrops in the British Isles is a reliable forerunner of spring. This in turn is a well-paced affair; usually temperatures do not dip and rise as violently as they can in say, New England, with summer arriving a week or two after the winter thaw. "We have this extraordinary climate, where anything will grow," muses garden designer and writer Tania Compton. "How can something like a snowdrop not be native?"
Above: True British plants in this show are most often seen in hedgerows, where there is less concern about status. Calystegia sepium (hedge bindweed) is scorned because of its behaviour in gardens, whereas Dioscorea communis, or Black Bryony (Above) is less common in borders and not much noticed. "We have a tiny flora because of being an island," explains Tania. Plus, adds her husband Jamie, "The Ice Age killed everything."
Above: Helianthus annuus, a cottage garden favorite, long since settled from the United States and Central America. English plantsman John Gerrard reported a sunflower "fourteen feete in my garden" in 1596.
Above: A large and long-lived climber: Wisteria sinensis.
Chinese origins are less surprising than the fairly recent arrival of wisteria, first seen in a Surrey garden in 1816. It quickly became a British garden classic in white or mauve, crawling along a terrace of townhouses or draped over ancient walls in rural places. "This is what gardening is," says Tania Compton. "It's an appropriation and an assimilation."
Further poets and daffodils: The Road Not Taken: Robert Frost's Daffodils in Gloucestershire.
(Visited 6 times, 1 visits today)