"Today I gently placed a headdress of black callas on Anjelica Huston for a photo shoot," writes Brooklyn florist Amy Merrick on her blog. "Do I even need to continue?" No, actually. You had us at Anjelica.
Merrick, who works in a pre-war industrial loft in Greenpoint when she's not caressing Anjelica Huston's forehead, was visited recently in her studio by Jennifer Causey, a Brooklyn photographer whose new book Brooklyn Makers is filled with photo essays about outer borough creatives: entreprenuers, artists, designers and, of course, bakers. In the same spirit, Causey documented Merrick at work:
Photographs courtesy of  Jennifer Causey.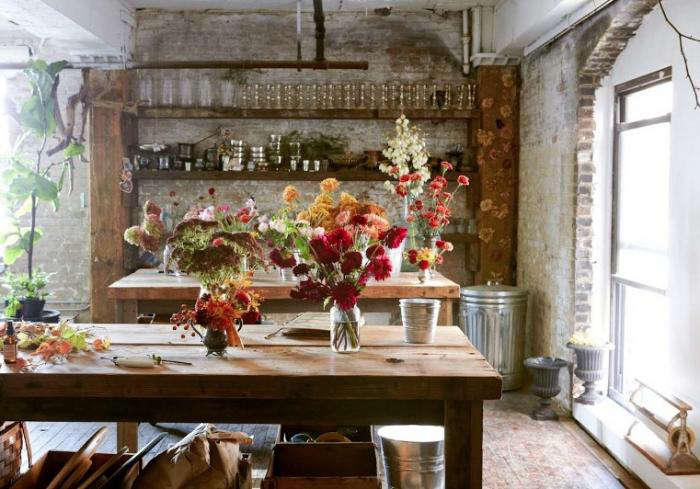 Above: Merrick forages for local seasonal materials to include in her vases; she teaches floral arrangement classes at her studio. For more information, see Amy Merrick.
Above: Merrick got her start as a florist doing wedding flowers when she was between jobs. (N.B.: Want to grow your own wedding flowers? See this DIY.)
Above: For more about Merrick and her work, see The Makers Project: Amy Merrick.
Above: Merrick's arrangements start with what's in season and available locally.
Above: "I get to see the sunset over the Manhattan skyline every night through my window and the light is always doing something moody and beautiful," Merrick says.
Above: Brooklyn Makers, published by Princeton Architectural Press, is available in paperback for $16.47 from Amazon, . Photograph via Kaufmann Mercantile.
You need to login or register to view and manage your bookmarks.