Even if you are not a fan of the Silly Sand buildings that sprang from the fevered imagination of architect Antoni Gaudí­, you should visit his Park Gí¼ell next time you are in Barcelona. The skyline view is magnificent and, come October when the city puts a cap on visitors and starts to charge admission, you may actually have a clear sightline through the crowd. For now? Go at sunset when the throngs thin:
Photographs by Michelle Slatalla.
Above: Climb the sinuous, mosaic-tiled stairway at the park's entrance to reach a covered courtyard filled with a forest of 86 massive columns. Here is where you can see the entire city of Barcelona splayed out to the sea.
I went late in the day in July–peak tourist season–and even at 8:45 pm the park was crowded. But it was nothing like mid-day: An average of 25,000 people visit the park every day, and at peak times 1,200 tourists arrive in a 15-minute period. This is too many.
Blaming the crowds for "a constant degradation of this architectural heritage," city officials have decided to start charging admission (€8 for non-residents, €7 for advance purchases) starting October 25. Barcelona residents may visit for free (and at any time of day), but capacity will be limited to 800 tourists per hour.
Above: Intricate mosaic tiles cover the sweep of the staircase, a fountain, and a statue of a dragon at the park's entrance. Whether you admire Gaudí­'s bizarrely exuberant vision or, like George Orwell consider his work "hideous," you have to admit he was an original.
Born in 1852 into a long line of metalsmiths, Gaudí­ made models with his hands rather than drawing his designs. "His mature work cannot even be imagined adequately from flat drawings," the art critic Robert Hughes wrote in Barcelona the Great Enchantress ($10.26 from Amazon). "Its surfaces twist and wiggle. The space flares, solemnly inflates, then collapses again."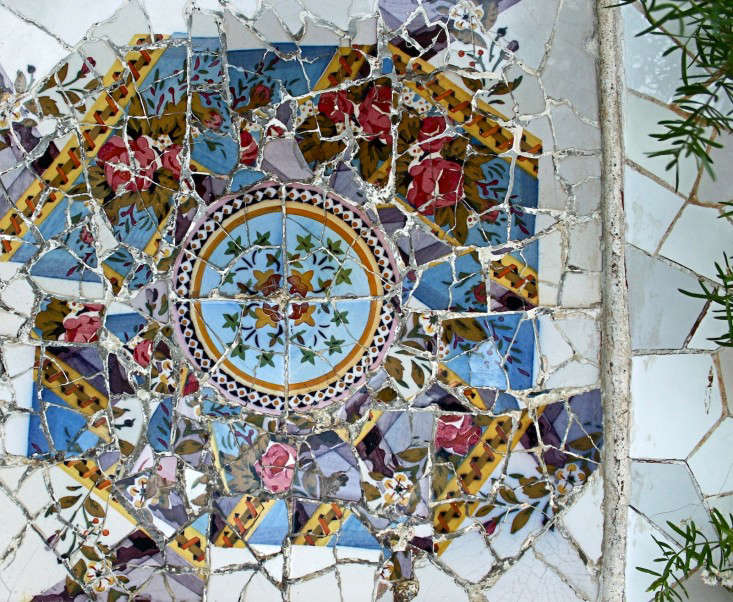 Above: Gaudí­ first used broken-tile mosaics at Park Gí¼ell, where the curving shapes of his designs precluded the use of standard size tiles. 
Above: A second stairway leads to the upper level plaza, originally conceived as an outdoor market area. Gaudí­'s intent was to build a planned residential community with 60 houses. But only two were built. After the project failed, the site became a city park. 
The land on which the 60 houses were meant to sit is still open acreage. Paths wind through the park, yet the crowds are concentrated near the park's entrance, known as the Monument Area.
Above: A border of mosaic-tiled benches snakes around the perimeter of the upper plaza.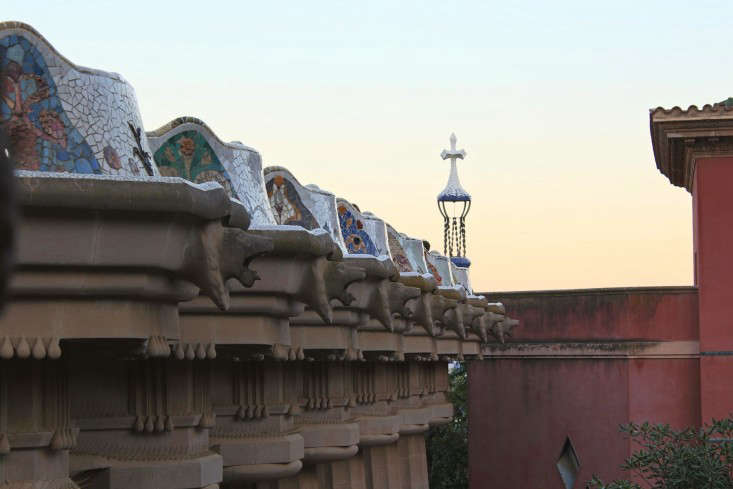 Above: A detail of the back side of the upper plaza benches.
Above: To the south lays the city and the Mediterranean.
Above: An ornately detailed fence, courtesy of Gaudí­, who died in 1926 after being hit by a streetcar. "He was an old codger in a rusty black suit. His pockets were empty (except, by one account, for some orange peel)," wrote critic Hughes. "He carried neither identification nor money, and he was taken at first for one of the thousands of seedy old pensioners with whom the city abounded. Only later, as he lay dying in the public hospital, was it found that he was the 74-year-old Antoni Gaudí­."
Above: For tickets and more information, see Park Gí¼ell.
Planning a trip? As part of our new Travels with an Editor series, all week long we'll be posting stories about our favorite Gardens, Shops, Lodging, and Restaurants in Barcelona. 
(Visited 123 times, 1 visits today)