Parsley, Petroselinum crispum: "The Easygoing Herb"
You may know parsley from her supporting role as colorful garnish, but this dark green herb deserves star status. Packed with vital oils and a surprising dollop of protein, parsley has been useful as medicine, food, and decoration for centuries. The Greeks named the herb for its tendency to grow up through rocky patches of soil, and the herb symbolized both death and healing in earlier cultures.
Above: Curly parsley. Photograph by Marie Viljoen.
 In need of parsley? Don't be so sure. The Greeks coined that expression to mean someone near her death. They also used the herb in their funeral rites, which is perhaps the source of the myth that only witches could master its cultivation.
If you'd like to try your hand against the witches, mutter a patience-spell while you seed. Parsley takes a long three to six weeks to germinate. On the plus side, it's one of the first herbs you can put out in early spring and the last you'll need to take in after the weather turns cold.
Above: Photograph by Marie Viljoen. Parsley will tolerate shade better than many herbs. For more, see 23 and Me: My Favorite Edible Plants to Grow in Shade.
Cheat Sheet
There are two main types of parsley—flat and curly. Curly most often finds itself as a garnish, and many chefs prefer flat (also called Italian) parsley for its slightly deeper flavor.
If overwintered, parsley produces tiny white flowers buds in the spring.
Parsley is a friend to everyone in the garden except for mint.
Keep It Alive
Amend with compost to raise parsley's nutrition profile.
An edible biennial in warm climates, parsley likes full sun, even water throughout the season, and well-drained soil.
Plant once in early spring and once in mid-summer to keep your garden in green all season.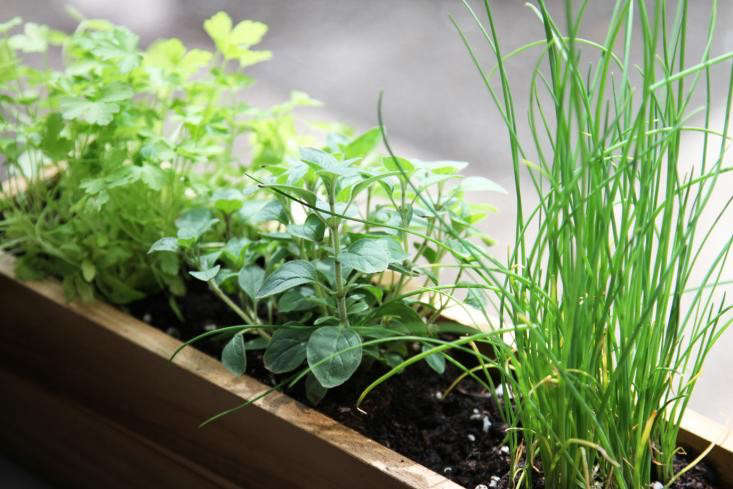 Above: Parsley is a good choice for an indoor herb garden and will grow on a sunny windowsill. Photograph by Erin Boyle.
A rose by any other name may still smell sweet, but a rose bush underplanted with parsley will smell even sweeter. This tasty green herb boosts the fragrance of roses.
Planning an herb garden, indoors or out? See our recent posts:
Finally, get more ideas on how to successfully plant, grow, and care for parsley with our Parsley: A Field Guide.
Interested in other edible plants for your garden? Get more ideas on how to plant, grow, and care for various edible plants (including flowers, herbs and vegetables) with our Edible Plants: A Field Guide.
(Visited 91 times, 1 visits today)