Milkweed, Asclepias: "Save the Monarchs"
I remember it vividly: I was riding along in the backseat of my family's green Toyota one spring day when my mother spotted a bank of milkweed. It was growing wild in the median, right in the middle of an intersection somewhere in Massachusetts. We pulled over and I jumped out of the car, plastic container in hand, to try to catch the monarchs flitting around it as cars sped by.
Nowadays, it's harder to find milkweed growing in the wild, and certainly in the middle of intersections: Asceplias is disappearing, and so are monarchs. But planting your own milkweed is easy and has the added benefit of helping to nurture and preserve the monarchs. Here's what you need to know about the many varieties of milkweed.
Above: Native pink-tinged milkweed grows beside a pond at the New York Botanical Garden. Photograph by Larry Lederman.
Milkweed is a perennial plant native to the Americas that can grow up to 6 feet tall. It is known for the milky white liquid within its foliage and its sweet-smelling flowers.
Above: A packet of 50 seeds of Common Milkweed is $2.99 via Etsy seller SmartSeeds.
But milkweed is best known for being a host plant to monarch butterflies—the only plant, in fact, that feeds monarch caterpillars and on which monarch butterflies lay their eggs. (Consuming milkweed has a particular benefit for the caterpillar: The plant contains a toxin poisonous to most vertebrates, but not to monarchs; eating it makes the monarch caterpillar poisonous to potential predators.)
In recent years, the destruction of grasslands and meadows has led to a scarcity of milkweed, leading directly to a crisis for the monarch population: According to the National Wildlife Foundation, the monarch butterfly population in the United States has decreased by 90 percent during the past two decades. 

Above: Spider milkweed (Asclepias viridis), native to the south-central US, grows beside a path at Enchanted Rock State Natural Area; see our earlier post, The View is Grand: Enchanted Rock in the Texas Hills.
The National Wildlife Foundation and other environmental protection agencies have programs to reintroduce native varieties of milkweed to the environment. Dozens of varieties of milkweed are native to the US, but only about 30 act as host plants for monarchs, among them the sweet-smelling, pink-flowered common milkweed (Asclepias syriaca); orange-hued butterfly weed (Asclepias tuberosa, also called "orange milkweed"), and California milkweed (Asclepias californica), with fuzz-covered leaves and stalks.
Each type of milkweed varies greatly in terms of environment: For example, there's swamp milkweed (Asclepias incarnata), which thrives in wet soil, and desert milkweed (Asclepias erosa) which needs sandy soil in which to grow, and is native to Arizona, Colorado, California, and Utah.
Above: Swamp milkweed (Asclepias incarnata) thrives in damp environments. For more, see Uli Lorimer, Native Plant Whisperer.
Don't be deceived by the name: Though milkweed is commonly considered to be a weed (in part because it's poisonous to livestock), it's a much-needed plant in our environment. Historically, milkweed was believed to have medicinal purposes and was often used as food; the silky threads that attach the seeds are sometimes used to make life jackets buoyant.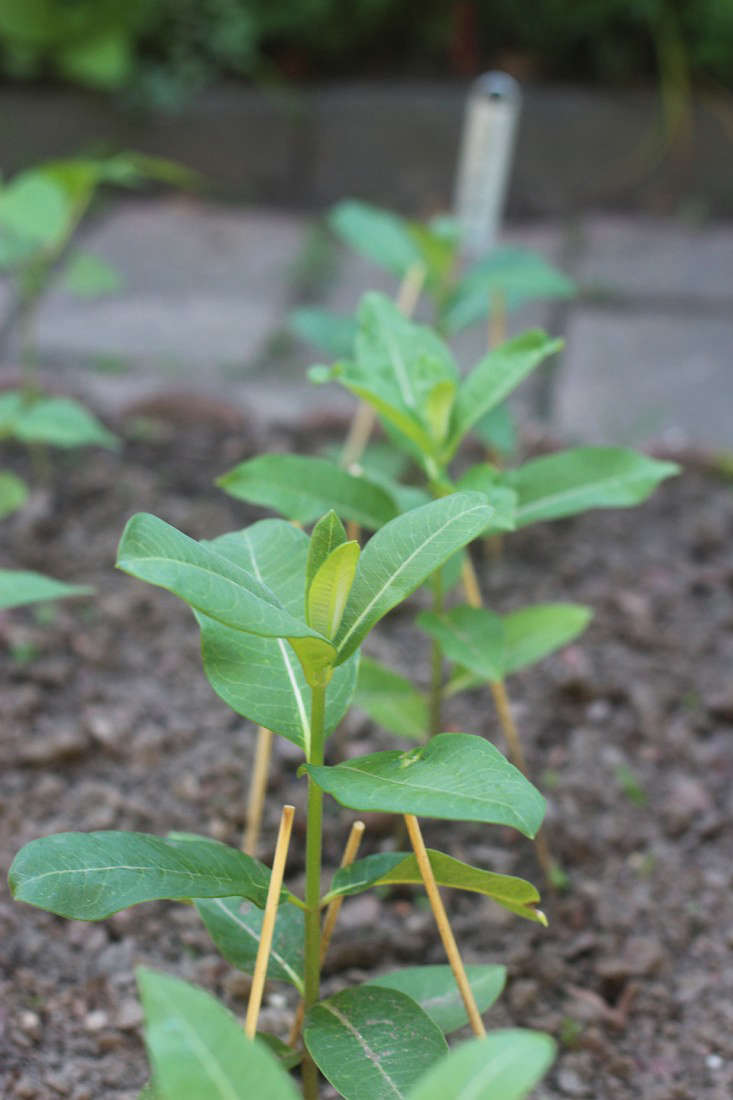 Above: Milkweed seedlings, ready for spring. Photograph by Marie Viljoen.
Cheat Sheet
There's a type of milkweed for every environment. The National Wildlife Foundation recommends planting milkweed that is native to your area, particularly for large-scale planting (see its guide to milkweed regions for more information), but common milkweed, butterfly weed, and swamp milkweed will do well in most gardens.
Avoid cultivating plants from the similar genus Cynanchum (commonly called swallow-worts). These are similar to true milkweed but can be harmful to monarchs: butterflies are tricked into laying eggs on them that never develop.
If your skin is sensitive to milkweed, consider wearing rubber gloves.
Keep It Alive
In many climates, planting frost-sensitive milkweed outside in winter is a recipe for disaster. Instead, ensure milkweed is ready for spring (and monarchs) by starting seedlings indoors. First, jump start indoor milkweeds: Plant seeds in a small container with moist soil, cover with plastic, and place in the refrigerator for three weeks. Remove and continue to grow inside, misting occasionally, until the last frost date; transplant outside in a sunny place.
Once planted outdoors, milkweed can grow quickly and aggressively—good for butterflies, bad for gardeners. To curb growth, plant it in a contained space (such as a raised bed) and cut any immature seed pods before they mature (and drift all over the garden).
Prune past-its-prime milkweed flowers to encourage a longer flowering season for monarchs and other insects.
Above: "While some milkweeds are toxic, ethnobotanical records show that many Native Americans used several species for food," says our contributor Marie Viljoen. She infused these pink- and purple-tinged milkweed flowers into a cocktail.
Above: Milkweed lies dormant during a frosty winter. For best results, nurture new seedlings inside during cold months. See Expert Advice: 9 Tips for a Colorful Winter Garden.
Treat milkweed as you would a bird feeder: Plant it near a window where you can watch for monarch activity.
For more on the mission to save milkweed (and monarchs), see the Monarch Joint Venture and the North American Monarch Conservation Plan, partner programs of the US, Canada, and Mexico.
And, for more on milkweed, see our posts:
N.B.: Interested in adding other plants to your garden? Read Our Garden Design 101: A Field Guide to Planting, Care & Design guides: Looking for another plant infused cocktail? See:
(Visited 688 times, 5 visits today)