Joe Pye Weed, Eutrochium spp.
The more years I spend gardening and designing gardens, the more questions I ask. This stems from the fact that the more I learn, the more I learn there is so much more to learn. One of the questions I always ask before adding a plant to a garden: What is the plant's purpose? I find this question to be helpful when I need to pare down a generous list, or when I really want to hone in on planting responsibly. Recently, I found myself wondering about Joe Pye weed's purpose. I'd been hearing about this plant for a while and I wanted to move past its off-putting name and learn more about its positive attributes. Should I be adding it into my gardens or should I avoid it like a plant plague?
Let's find out together.
Ok, first question: Is the plant named after a person? Yes. Most sources dating back 100 years note different details, but the common thread is that Joe was a Native American who supposedly made tea from the plant and saved an entire village from typhus fever. In 2017, Richard B. Pearce and James S. Pringle researched deeper into the legend and concluded that the plant was likely named for Joseph Schauquethqueat, a highly-regarded Mohican shaman who lived in Massachusetts in the late 1700s to early 1800s. To white settlers, he was known as Joe Pye.
Second question: Is the plant useful? Native to wet meadows in North America, this classic American perennial is definitely helpful. Not only is it easy to take care of and long-blooming, but Joe Pye weed's sweet vanilla-scented, purple-pink flowers are hugely popular with pollinators and ranks high for butterflies. In fact, it is the host plant for more than three dozen species of moth and butterfly caterpillars. So not only does the plant attract butterflies, but it provides food with its nectar and edible leaves.
Third question: Given "weed" is in its name, does this plant look or act weedy? In North America, where this plant is native, Joe Pye weed is not considered invasive, but when planted outside of its native region, this plant can spread by underground roots and by seed. To avoid aggressive reseeding, trim off the spent flowers before seed production. To control its bullish root behavior, give it room to spread and dig up unwanted clumps.
Five different species exist and the main difference among them is their height. All start blooming in late summer and continue through the fall, and all have large flower clusters ranging from pinky to lavender or purple hues.
Sweet Joe Pye weed (Eutrochium purpureum) grows to six feet tall and has greenish stems and small mauve flowers.
Hollow Joe Pye (Eutrochium fistulosum) is the tallest, towering to 10 feet, and has more muted pink flowers and prolific seed heads that attract birds.
Spotted Joe Pye (Eutrochium maculatum) is usually grows to about six feet tall, and has purple speckled stems–hence the common name.
Coastal Joe Pye (Eutrochium dubium) is the shortest at about five feet with purple stems and darker purple flowers.
Steele's Joe Pye weed (Eutrochium steelei) grows to six feet, has purply-greenish stems and purple flowers.
Cheat Sheet
Bees, butterflies, hummingbirds, moths and other beneficial insects adore this plant but deer and rabbits tend to leave it alone.
Birds appreciate the tasty seeds.
Looks at home in a rain garden, meadow, pollinator, or cottage garden. And taller types look great at the back of a flower bed or along a rustic fence.
Pair this plant with sunflowers, ornamental grasses, Helenium and Monarda.
Keep It Alive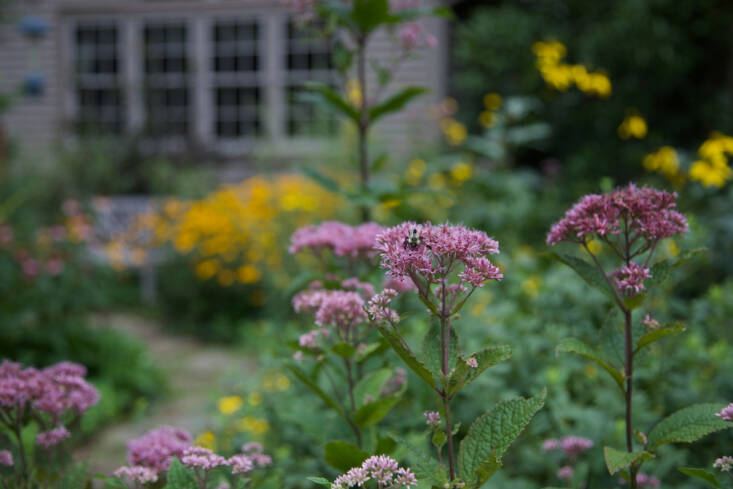 Hardy in USDA Zones 4 to 9.
Plant in full to partial sun. More sun = more bloom, plus less leggy and floppy.
Can withstand a variety of conditions, ranging from heat to a bit of drought (when mature) but thrives in wet, soggy areas where many plants would balk and pout. This means in normal garden settings you will have to make sure your plant is well-watered the first growing season for a robust plant. Pro Tip: Add a layer of compost or mulch around the base to help keep the roots cool and retain moisture.
Once cold weather sets in, your plant will go dormant and die back. Wait until early spring to prune the dead foliage back to about 4 inches above the ground. This plant grows on new growth.
Prepare to stake taller variety as they flop over a bit from the weight of their bountiful blooms.
Propagating Joe Pye weed by division is much easier than growing it from seed. Simple take a shovel and cut a clump into sections, making sure you get some attached roots. Replant and water well. Do this in early spring after the last frost.
See also:
(Visited 8,155 times, 2 visits today)
Frequently asked questions
What is Joe Pye Weed?
Joe Pye Weed is a perennial herbaceous plant native to eastern North America. It is known for its large clusters of pink-purple flowers that attract butterflies and its tall, sturdy stems.
How do I grow Joe Pye Weed?
Joe Pye Weed prefers moist to wet soil and full sun to partial shade. It can be grown from seeds or propagated through division. Plant the seeds or divisions in early spring or early fall. Water regularly and provide support for the tall stems if needed.
How tall does Joe Pye Weed grow?
Joe Pye Weed can grow anywhere from 4 to 7 feet tall, depending on the variety and growing conditions. It is considered a tall perennial plant that adds vertical interest to the garden.
When does Joe Pye Weed bloom?
Joe Pye Weed typically blooms from mid to late summer, usually starting in July and continuing through September. The flowers are attractive to butterflies and other pollinators.
What are some popular varieties of Joe Pye Weed?
Some popular varieties of Joe Pye Weed include Eupatorium purpureum, Eupatorium maculatum, and Eupatorium dubium. These varieties differ in flower color, size, and growth habit.
How do I care for Joe Pye Weed?
Joe Pye Weed is a low-maintenance plant. However, it benefits from regular watering, especially during dry periods. Deadheading spent flowers can encourage more blooms. It may require staking or support for the tall stems.
Can Joe Pye Weed be grown in containers?
Yes, Joe Pye Weed can be grown in containers, but you need to choose a large enough container to accommodate its tall and spreading growth habit. Ensure the container has good drainage and provide regular watering to keep the soil moist.
Is Joe Pye Weed deer-resistant?
Joe Pye Weed is considered deer-resistant due to its rough and hairy foliage, which deer tend to avoid. However, it's important to note that the level of deer resistance can vary depending on the region and deer populations.
Does Joe Pye Weed require pruning?
Joe Pye Weed does not require regular pruning. However, you can trim back the stems in late fall or early spring if desired to control the plant's height or to remove any dead or damaged growth.
Are there any companion plants that go well with Joe Pye Weed?
Some companion plants that pair well with Joe Pye Weed include Black-eyed Susans, Coneflowers, Sedums, Goldenrods, and Asters. These plants create a beautiful mix of colors and attract various pollinators to the garden.