For the past eight years, Jeff Lorenz and his team at Refugia, a landscape design-build firm, have been part of a quiet revolution in the Philadelphia suburbs. Little by little, they're transforming yards, replacing traditional—and ecologically sterile—lawns with vibrant native gardens that teem with pollinators, handle weather extremes with ease, and flaunt their good looks four seasons of the year.
"We want to restore nature to neighborhoods by recreating the habitat that has been stripped out of most of our urban and suburban yards," Lorenz says. Working with a native plant palette from the mid-Atlantic region, as well as some prairie species and varieties from southern locales, they design dynamic landscapes that are planted densely to create a lush web of vegetation, which cuts down on weeds. Since native plants are adapted to the region, they don't require much intervention to thrive. They are also resilient, weathering drought ("They may go dormant for a bit, but they pop right back up") and deluges caused by super storms ("It was unbelievable how they soaked up water like a sponge and mitigated flooding, unlike at neighboring properties"). "We like to say we put our plants to work," Lorenz says.
As a result, pollinators flock to their gardens. "Within minutes of taking plants out for planting, you'll see insects buzzing around the goldenrod," says Lorenz. And that's the point. "We called our company Refugia because that's what we want our landscapes to be—refuges for our clients and for the wildlife all around us."
Below, we tour two of their hardworking landscapes.
Photography courtesy of Refugia.
Newton Square, PA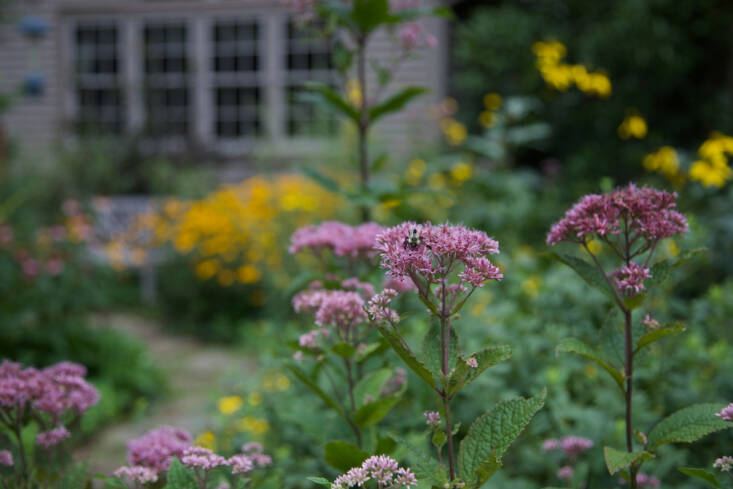 Narberth, PA
[Image 2May_2021]
See also:
(Visited 878 times, 3 visits today)