Sea Oats, Chasmanthium latifolium: Spangle Grass
Even after 15 years of gardening in my Brooklyn backyard, it is still very much a touch-and-go operation.  Despite careful consideration of cultivation requirements and obsessive coddling, I never really know which new plants will thrive and return year after year and which ones will give up and end up in the compost.  One of my most unequivocal successes is my Chasmanthium latifolium, which I lugged home in a gallon pot from the Brooklyn Botanic Garden plant sale a few years ago.  I thus unknowingly added a native plant to my garden before doing so became de rigueur among gardeners.  This lovely perennial grass provides four-season interest for virtually no fuss beyond an early spring haircut.
Above: Chasmanthium latifolium and Sedum ternatum 'Larinem Park' grow together companionably on the old railroad tracks in New York City's High Line park. Photograph by KM via Flickr.
Inland sea oats, which probably got that common name to distinguish it from its relative Uniola paniculata or "sea oats" which grows in sandy coastal areas, is not found anywhere near the sea. It commonly grows along streams and rivers in woodland areas and flood plains and is easily recognizable for its distinctive dangling seed heads which are shaped like mini pine cones that appear to have been ironed flat by a tiny, obsessive housewife.  It is native to the eastern United States from Pennsylvania to Florida and as far west as Wisconsin and Texas and is also found in northeastern Mexico.
Above: Variegated Chasmanthium latifolium at Wave Hill in New York. Photograph by KM via Flickr.
Probably because the species is such an accommodating and attractive plant there have not been many cultivars of Chasmanthium latifolium developed. However, 'River Mist', a variegated version introduced in 2009, has bright green and white striped foliage while mimicking the species in other characteristics such as cultivation requirements and size.  It is said to be very useful for brightening up shady landscapes and as a companion for ferns and hostas.  'River Mist' does tend to reseed but offspring revert to solid green and should be removed or relocated somewhere else in the garden.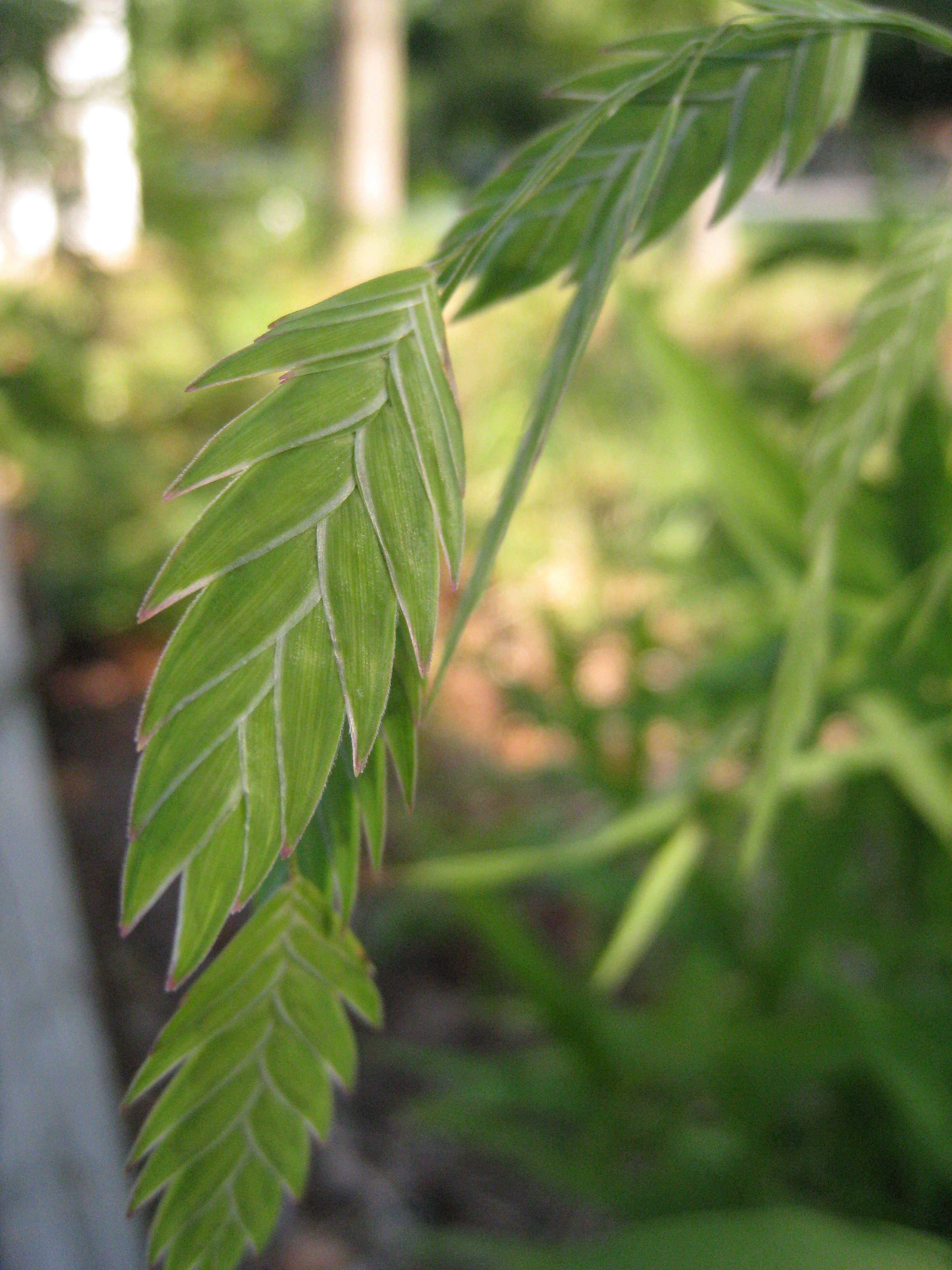 Above: Photograph by Elsa Spezio via Flickr.
Cheat Sheet
Because Inland Sea Oats is one of the few shade tolerant native grasses, it makes a very interesting tall (2- to-4-inch high) ground cover under trees.
It forms dense mats from 2 to 3 feet wide and can be used to control erosion along slopes, stream beds, and river banks.
Use it in a woodland garden or in containers with other natives such as cardinal flower, sweetspire, turtlehead, and cranesbill geranium.
Keeping It Alive
Chasmanthium latifolium is hardy in zones 5 to 9, will tolerate full sun to shade as well as most soil types and, once established, is drought tolerant.
Seedheads, which can be used to enhance dried or fresh flower arrangements, should be left in place in winter to provide interest as well as nourishment for birds and other wildlife.
Clumps should be cut down in early spring while the plant is still dormant to make way for new growth and can be divided every few years to ensure continuing vigor.
Some gardeners report that Inland Sea Oats can be overly aggressive when it is happy in its location, spreading through widening clumps and reseeding. It has considerately not done that in my garden but the problem can be avoided by giving this plant its own bed or container or by simply being vigilant and pulling out unwanted volunteers.
Chasmanthium latifolium, also known as Indian wood-oats, northern sea oats and wild oats, is one of those high value garden plants that looks beautiful all year round.  It emerges bright green in the spring, turns reddish copper in the fall and fades to a soft tan that looks quite attractive when dusted with snow in winter.  Throughout the year, the seed heads remain suspended on long wire-like stems delicately dancing in even the slightest breeze.  Birds, including cardinals, towhees, juncos, sparrows, and finches, feed on the seeds and butterflies (but happily not deer) are also attracted to this plant.
N.B.: Are you adding perennial grasses to your garden? See all our field guides on Grasses 101, including:
Finally, get more ideas on how to successfully plant, grow, and care for inland sea oats with our Inland Sea Oats: A Field Guide.
Additionally, get more ideas on how to plant, grow and care for various grasses with our Grasses: A Field Guide.
(Visited 46 times, 3 visits today)