Dyckia, Dyckia
Looking and playing the part of succulents, Dyckias are actually a genus of the bromeliad family. Their love of sun, drought tolerance, and unique appearance often make people think they are succulents. But unlike true succulents, Dyckia doesn't store its own water in its leaves.
With varieties that have numerous beautiful shapes, sizes, color, Dyckias combine well with succulents and other low-water plants, making a dramatic addition to xeriscapes and desert landscapes. With 120 different species and many more cultivar, it's easy to choose at least one to add to the landscape, even if only for a conversation piece.
Please keep reading to learn if this succulent look-a-like is for you and your garden:
Most dyckias are native to the rocky terrain of Brazil with a few hailing from South American countries such as Bolivia, Paraguay, and Uruguay.
Some dyckias are even saxicolous (translation: they live attached to rocks), though most grow in the ground.
A notable characteristic of Dyckia is its ability to shrug off temperatures dipping into the upper teens (unlike other bromeliads which burn and shrivel when frost hits). Dyckias also don't beg for moist, humid conditions as many bromeliads do. On the same note, many bromeliads have tiny root systems that act as anchors and not a primary nutrient source; Dyckias boast extensive root systems and need ample containers to accommodate the growth.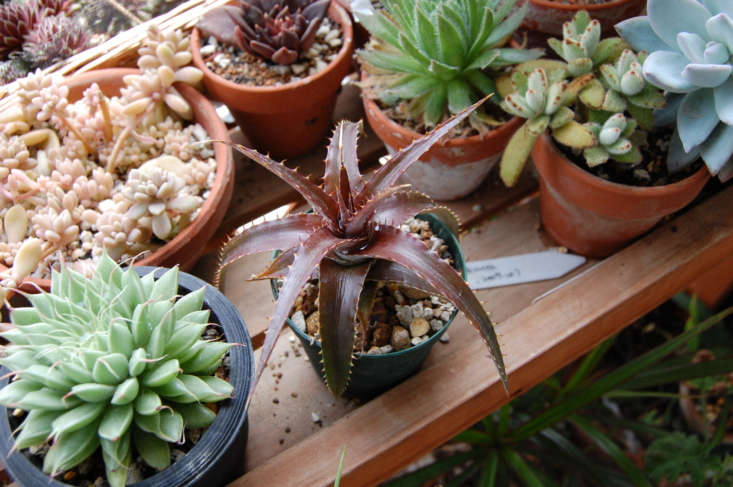 Dyckias typically have long, thin leaves and most have notably sharp spines around the leaf edges. (Tip: Wear thick garden gloves when planting or trimming, or you may get an accidental acupuncture treatment.) But these plants fortunately are tough and require little maintenance or interference.
Cheat Sheet
Dyckias can create a unique, thick weed-suppressing ground cover or a stellar container specimen as the tight rosette often curves down and around, trailing nicely over edges of pots.
Many dyckias have colorful flower spikes that attract bees and hummingbirds.
Dyckia can range in size from a few inches to several feet wide and comes in shades of red, green, yellow, and silver.
Add Dyckia to a modern, tropical, or succulent garden.
Keep It Alive
Dyckias relish full sun, but can also accept less (but keep in mind that less light can alter leaf color).
Plant Dyckia in well-draining soil.
When grown in containers, Dyckias eventually require division. Tip: Remove pups when at least half the size of the mother plant and repot using a growth hormone.
While dyckias can survive drought conditions, they don't thrive in them. So during spring and summer (their growing season), make sure they drink sufficient water. Related, during this growing season fertilize them and then stop during the winter.
If your dyckias become too dry, then their growth will stop and they'll eventually wilt. But don't despair, they recover once watered.
For more growing tips, see Bromeliads: A Field Guide to Planting, Care & Design in our curated guides to Tropical Plants 101. Read about more ways to use tropical plants in a landscape:
(Visited 617 times, 1 visits today)