Alpine Strawberry, Fragaria vesca: "Fraises des Bois"
It's a romantic flower, the little woodland strawberry or fraises des bois. The white blossom-like flowers perfectly complement fresh, trifoliate leaves, with scarlet jewels of fruit appearing at the same time. They flower and fruit throughout summer, providing a cheery edging to steps, or along fences. Grown in rooty soil under espaliered fruit, alpine strawberries combine with forget-me-nots to cover the ground with red, white, and blue, and lots of green.
Wild strawberries and forget-me-nots are a labor-free combination, though both will need thinning out from time to time.
Wild strawberries bring out the child in you, easy to pick as you go about your business, or specifically harvested to add to cereal, or pancakes, or dessert.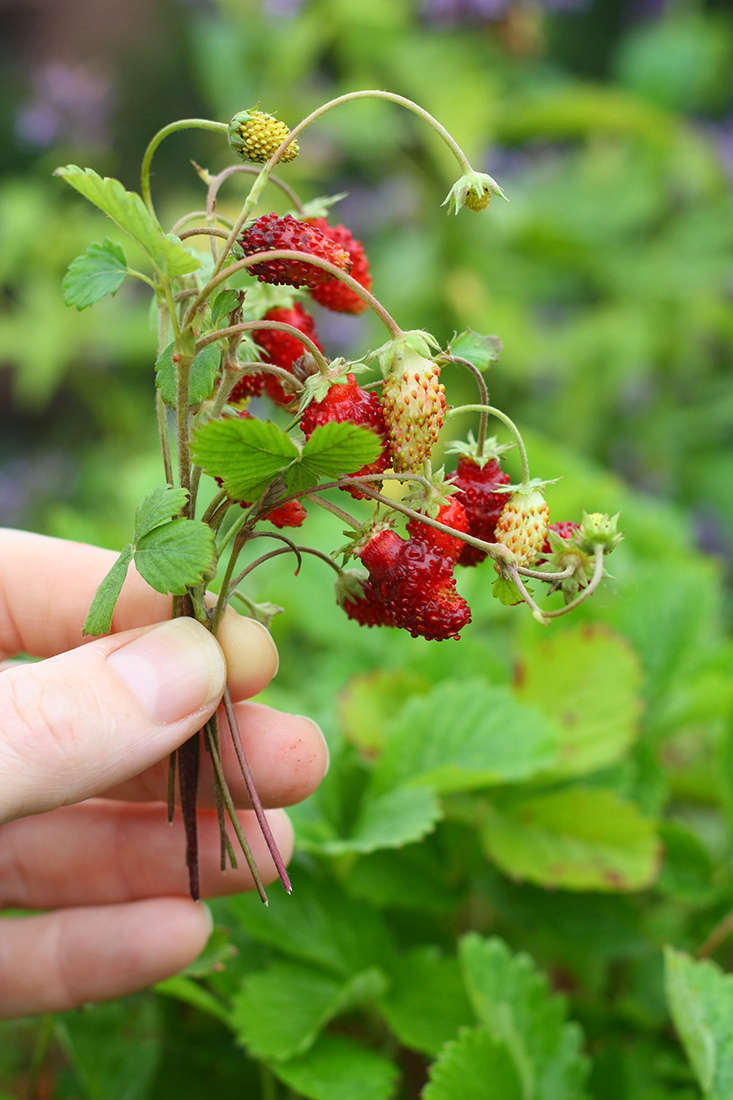 They are very sweet, yet acidic; they are like a homeopathic droplet of true strawberry. Highly sought after by restaurants, alpine strawberries are strictly garden-to-table with minimal travel between, since they squash easily and lose their luster.
Fragaria can be a purely decorative ground cover, if fruit is not a priority. Beth Chatto includes Fragaria chiloensis in a woodland tapestry, its vitality in winter a good foil to Pulmonaria, scilla, and snowdrops. The evergreen presence of wild strawberries distracts from the leaf die-back of spring bulbs.
Cheat Sheet
A member of the rose family, F. vesca's delightful white flowers are like miniature apple blossom, heralding spring.
Spreading via runners, the perfectly formed little plants are easily lifted and moved around or given to friends. Very pretty in pots and window boxes.
As a ground cover, alpine strawberry mingles with other evergreens such as small leafed periwinkle (Vinca minor) and semievergreen forget-me-not (Myosotis).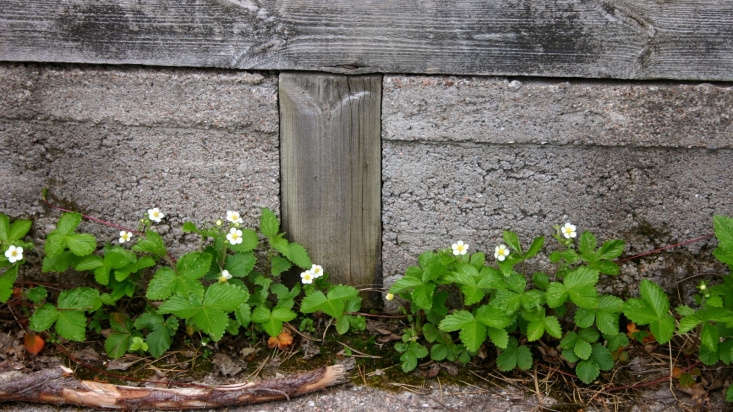 Keep It Alive
Although its shape and size says "edging" for a decorative kitchen garden, wild strawberry will take advantage, climbing into the beds and traveling across gravel. For neatness, grow runner-less Fragaria vesca 'Alexandria'.
Alpine strawberries are easygoing in terms of soil, although they prefer damp and well-drained. They do well in shade but more sun will produce more fruit. Hardy to USDA zone 5.
Even if you think of alpine strawberry as a weed, it is a good one, being both decorative and productive.
See more design ideas and growing tips in Alpine Strawberries: A Field Guide to Planting, Care & Design, and don't miss our other curated Garden Design 101 guides, including Perennials, Shrubs, Trees, Tropical Plants, Succulents, Annuals, and Houseplants.
Finally, learn how to successfully design and create an edible garden with our Hardscaping 101: Edible Gardens guide.
(Visited 238 times, 1 visits today)