The RHS are the people who host the Chelsea Flower Show and give out medals there. Visitors arriving at the RHS headquarters at Wisley, in Surrey, naturally expect a very fine nursery (which they get) and also a garden that is the top tier of the wedding cake, horticulturally speaking.
For some, roses are the bride and groom in this arrangement: Perfection is a given. So, why on earth did Wisley's curator decide that the only thing to do with the popular rose garden was to bulldoze it?
Photography by Allan Pollok-Morris.
Above: At Wisley, the garden came before the buildings. The Laboratory, shown here, was built to look "in keeping" with its surroundings, in 1916. It's still the workplace of botanists, scientists, and horticulture students.
For decades, the roses at Wisley grew in neat rectangular beds. The old rose garden was a classic, with island beds ablaze all summer. In winter, however, it became only "a collection of sticks," as rose gardens are sometimes disparagingly known. 
When a 21st-century master plan called for change at Wisley, the 172-acre garden was scrutinized to determine how to improve visitor flow and accommodate new theories about growing roses. The result? The roses went modern.
Above: Wisley's curator at the time, Jim Gardiner, commissioned Robert Myers Associates to make better use of the space. Myers, whose experience includes redesigning London's Sloane Square, wanted to keep some mature trees and this Sixties building, the Bowes-Lyon Pavilion. He anchored the pavilion to the landscape by means of a series of steps and a path that cuts through the length of the garden. Terracing enhances the views looking down over the rose collections.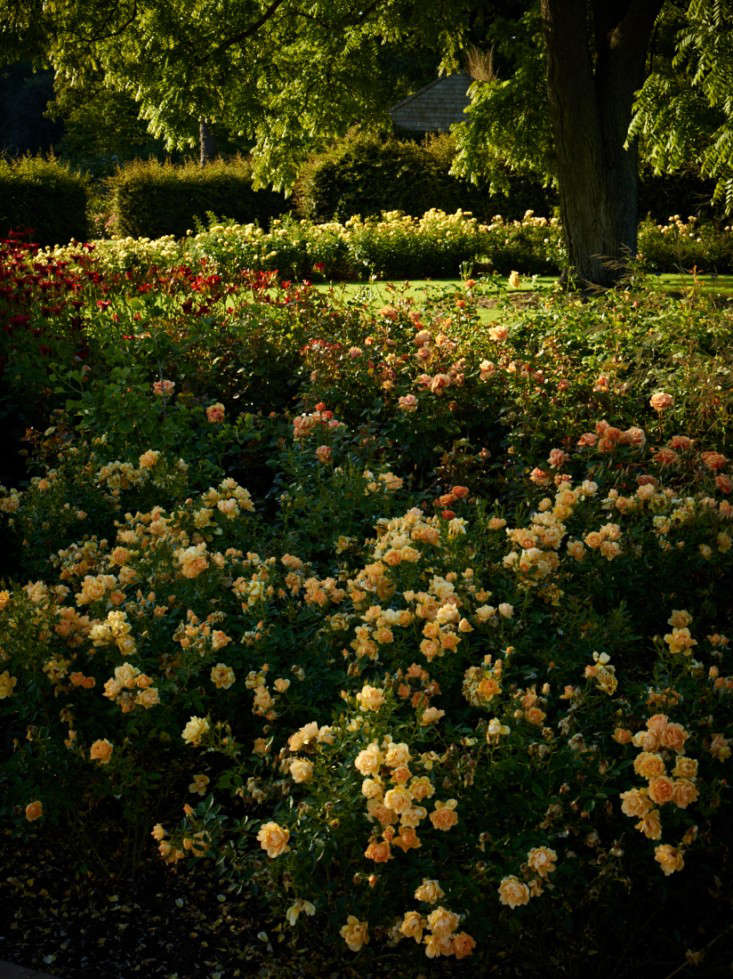 Above: The new rose garden opened in 2011, and welcomed perennials, shrubs, and trees into the roses' domain. Garden beds, now curving and terraced, are home to more than 4,000 herbaceous plants that complement the roses: daylilies, salvias, geraniums, Joe Pye weed, and rudbeckia. These extend the blooming period and create interest at varying heights. More-or-less circular rooms were designed around existing trees like this walnut, while yew and Magnolia grandiflora create dark backdrops for the roses. Pergolas and obelisks added new height. 
Above: Most rose gardens are a throwback to an earlier gardening style, the site of vicious battles against the typical afflictions of greenfly and blackspot. Planting roses with herbaceous perennials is now known to create greater biodiversity and a healthier growing environment. Suddenly, we're seeing roses in such unexpected combinations as the scenario shown here, where peachy Rosa 'Perdita' meets tangerine-colored Ligularia 'Britt Marie Crawford' and fiery spikes of Kniphofia 'Prince Igor.' 
Above: This area showcases a combination of pale pinks: Rosa 'The Generous Gardener' and R. 'Mortimer Sackler.' Leaving plenty of space between the plants allows for good air circulation.
Above: Piet Oudolf's "New Perennial" style, mainly associated with prairie-like drifts of flowers, influenced this planting. Combining roses with oversized grasses like the Stipa gigantea shown here is as experimental as anything carried out in the Wisley Laboratory. The white roses are Rosa 'Carpet White' and R. x alba 'Alba Semiplena.'
Above: What do purple roses go with? Green, of course, and darker perennials like Agastache mexicana, Eupatorium maculatum, salvias, sedum, and geranium.
Above: The rose circle shown here is about as traditional as you'll get with this garden. Shades of yellow and deep peach are provided by 'Golden Beauty,' 'You Are My Sunshine,' and 'Lady Emma Hamilton' roses.
For more unusual roses, see Endangered Roses: Are Any Hiding in Your Garden? And if you're as obsessed with English roses as we are, you'll love this DIY: Braided Rose Pillars.
(Visited 99 times, 1 visits today)