The obsession that keeps Harald Enders awake at night is this: What if there's a rose lurking in your garden–or more likely, your grandmother's garden–that is the last living example of a rare variety? Please go check for him. We'll wait.
An example: A rose called 'Bardou Job' was found, after having been thought lost for decades, in the abandoned garden of the prison director on Alcatraz island. "I am still waiting for that to happen to me," says Enders, a rosarian who has spent years trying to save old German roses from being forgotten. Of the 1,800 or so cultivars bred between the end of the 19th century and World War II, many are extinct. More than 300 survivors grow in Enders' garden an hour's drive from Hamburg. "I do not have a favorite–or perhaps, I have quite a few," says Enders, author of Bourbon Roses (available, in German, from Amazon). We see why it's difficult to choose:
'Gruss an Aachen' Rose
Above: 'Gruss an Aachen' was bred by Wilhelm Hinner, "a rather enigmatic figure in German rose history" who picked fights with other well-known breeders, says Enders.
Tausendschon Rose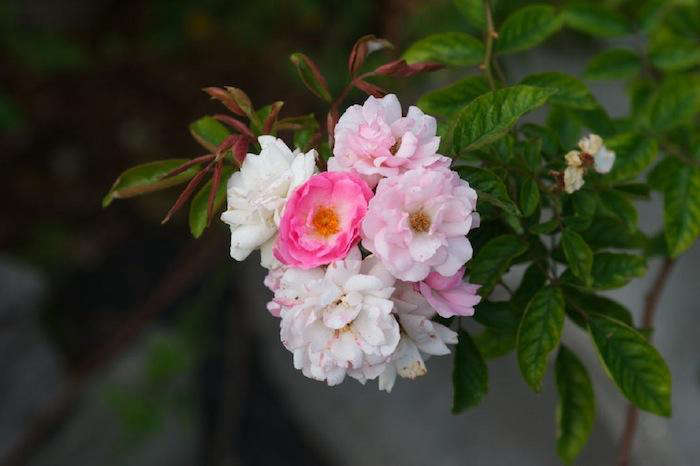 Above: The rambler Tausendschon, with blooms that range from bright pink to white. Bred by Hermann Kiese (1865-1923), a nurseryman in a little town called Vieselbach, it now is available seasonally, for $14.95 per plant, from Vintage Gardens. Image by Malcolm Manners, via Flickr.
Thinking of growing your own wedding flowers? See DIY: Grow Your Own Wedding Flowers.
Finally, get more ideas on how to successfully plant, grow, and care for rose with our Rose: A Field Guide.
Finally, get more ideas on how to plant, grow, and care for various perennial plants with our Perennials: A Field Guide.
N.B.: This post is an update; the original story ran on May 3, 2012.
(Visited 319 times, 2 visits today)