No one had more influence on American ideas of garden design in the 20th century than Bunny Mellon. In the early 1960s, she designed the White House Rose Garden for Jacqueline Kennedy and then she chose the funeral flowers for President John Kennedy. Born an heiress (her grandfather invented Listerine), the self-taught horticulturalist had many residences. But her real home, for the last 55 of her 103 years, was in the gardens of her sprawling, 2,000-acre Virginia estate, Oak Spring Farms.
Despite exerting broad influence, Mellon was a very private person. She died in March, and last week's five-day Sotheby's auction–which netted $218 million for the sale of her personal effects–offered a rare glimpse into her eclectic tastes (she had world-class collections of Mark Rothko paintings and  lidded tureens shaped like cauliflowers). The Sotheby's auction catalog, which detailed more than 1,500 lots, also provided an intimate look at her personal gardens:
Photography via Sotheby's except where noted.
Above: At Oak Spring Farms, a vast pergola supported 'Mary Potter' crabapple trees that were trained to grow into a canopy.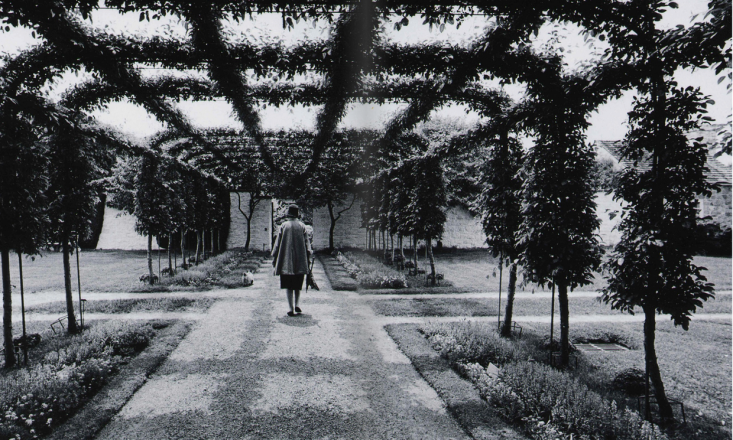 Above: Bunny Mellon got her nickname from her mother when she was a little girl; it stuck. Born Rachel Lowe Lambert, she also was a born gardener who remembered, "I transplanted wildflowers when I was 6. By 11 or 12, I did gardening designs."
Above: The pergola leads to a greenhouse complex in which the French artist Fernand Renard, known for his realistic still life compositions, painted trompe l'oeil scenes. The house is for sale; for more information and pricing see Washington Fine Properties.
Above: A lot describes as a "Regency white-painted and parcel-gilt caned chair-back settee circa 1810" sold for $15,000, well above the pre-auction estimate of from $6,000 to $8,000.

Above: The property at Oak Spring Farms has 40 buildings including a log cabin built for Mellon's friend Jackie Kennedy; three heated greenhouses; an orchard, and a dairy that produces Colby, Gouda, and 24 other kind of cheese.
Influenced by European gardens she visited, Mellon created formal French flower beds bordering a central lawn for the White House rose garden. She also favored potted topiaries, and low boxwood borders to define garden spaces.
Above: After marrying philanthropist Paul Mellon (heir to the Mellon Bank fortune) in 1948, Bunny collected more than 13,000 gardening books, including rare volumes such as President George Washington's personal "garden book."
The proceeds from the Sotheby's sale will fund her horticultural library and foundation, headquartered at Oak Spring Farms.
Above: A bed of Asiatic lilies in the walled garden at Oak Spring Farms.
Above: Oak Spring Farms is in Upperville, Virginia, about 50 miles from Washington, D.C.
Above: A library room has arched Gothic windows to frame a garden view.
Above: Twelve botanical 17th century studies by Jan and Caspar Commelin, with a pre-auction estimated value of from $2,000 to $3,000 sold for $37,500 at the Sotheby's auction.
Above: At (L), a Louis XV silver-mounted enamel snuff box with a gold raised floral pattern dated 1748 had a pre-auction estimate of from $1,000 to $1,500; it sold for $2,250 at the Sotheby's auction.
In their time, the Mellons were considered the world's pre-eminent art collectors and also raised thoroughbreds, including Kentucky Derby winner Sea Hero.
Above: The plant house, where herbs dried in baskets hanging from the ceiling, has a fireplace and wooden washtub used as a sink.
Above: In gratitude for Mellon's work at the White House, Jackie Kennedy made a scrapbook for her friend. "I couldn't sleep all the night that Jacqueline Kennedy gave me this wonderful scrapbook tracing the history of the gardens–the Rose Garden and the Jacqueline Kennedy Garden that I did for the White House," Mellon told an interviewer in 1969.
Above: Oak Spring Farms, where Mellon hosted Prince Charles and Queen Elizabeth II for tea, is listed for sale for $70 million.
Above: Paul Mellon inherited Oak Spring Farms from his mother, who purchased it in 1931. He added to the original property by buying surrounding acreage.
Are you a garden history buff? (Us too!) See more:
(Visited 288 times, 1 visits today)