In the midst of the hustle and bustle of LA's Echo Park neighborhood, jeweler Kathleen Whitaker has created an oasis of calm seclusion. Step into her 14,000-square-foot garden, and all is peaceful. "The piece of land was a huge selling point for us," she says. "Living in Southern California is all about bringing the outdoors in–whether it's the lush surroundings or the beautiful LA light."
Above: From her living room, Whitaker can see her guests coming up the walk from the gate, which has been painted Benjamin Moore Olympus Green.
g"]
Above: With a view of the entrance gate in the distance, Whitaker takes advantage of the microclimates within her garden and creates a shaded seating area under the cover of oak, pepper, and toyon trees. "The canopy of the oak tree lets in a bit of dappled light, making this area comfortable for every hour of the day, including evening cocktails," she says.
03.jpg"]
Above: Whitaker and her cinematographer husband set out the small patio area with existing flagstone pavers and filled it in with pea gravel. A small potted ficus tree introduces another layer and scale of planting.
2.jpg"]
Above: The outdoor furniture set is a mix of Ikea chairs (discontinued) and a rattan love seat found on Craigslist, both sprayed with a custom color of saffron yellow, which Whitaker had mixed in her local paint store. She recovered the cushions that came with the love seat in a navy and white poplin cotton. "We picked up the coffee table at a local antiques store," Whitaker says. "It is super weathered and a perfect counter balance to the buttoned-up, traditional New England-style rattan seating."
Above: The property's hillside faces north and receives indirect light, which is easy on the plants–including a mix of ground covers, succulents, jade, and a large toyon. Before laying sod, the couple installed an in-ground sprinkler system. "Yes, grass is hard to keep alive in LA," Whitaker says. "This is a small patch, which we water conservatively at night."
Above: Whitaker places drought-tolerant succulents on the sun deck behind the house, which is unshaded.
Above: A stepped terrace is planted with a mix of coleus, heuchera, xanadu philodendron, asparagus fern, star jasmine, and variegated vinca.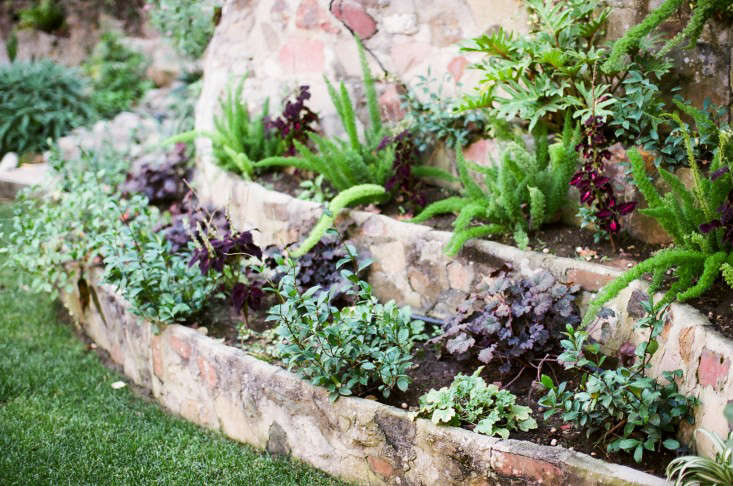 Above: "With the stepped terrace, we started over and ripped out the existing overgrown mash-up of many plants," Whitaker says."Our new plantings bloom beautifully in this climate and will continue to fill in."
Above: A Cotton Hammock from LL Bean made from natural fibers fits seamlessly into the Southern California landscape; $119.
Above: Whitaker brings her garden inside with a cutting from her split leaf philodendron, which has been put into a vase by ceramist Bari Ziperstein.
Above: Potted plants on the front porch straddle the interior and exterior worlds effortlessly. After struggling in the ground, a Norfolk pine is much happier in its basket weave terra cotta planter from local nursery Echo Garden. A rubber plant sits in a ceramic planter by local artist and designer Kelly Lamb, whose house we also visited in House Call: High on a Hill in Los Angeles.
Above: As inviting as the garden is, Whitaker's welcoming porch tempts you to tour her house in A Minimal Jewelry Designer Goes Maximal.
Above: Whitaker's sketches out the points of interest in her garden.
Yearning for the tropics but limited to your less than agreeable winter weather?
(Visited 897 times, 2 visits today)