Eight years ago, when real estate developer Jacques Massachi bought the former Lombardi estate on Hollywood Boulevard, his plan was to tear it down and put up an apartment complex. Built in 1904, the Victorian farmhouse had most recently been owned by vocal coaches and vaudeville entertainers Philip and Sylvia Lombardi, but it had fallen into disrepair, and salvaging it seemed like a futile exercise. At the urging of local preservation mavens, however, Massachi changed course and decided to turn the property into a guest house/event space. Working with architects Project M+ and interior designer Amber Lewis of Amber Interiors, Massachi has created Lombardi House, a cheery, urban oasis that can accommodate up to 28 guests in four apartments.
Above: The camera-ready exterior (already a favorite photo location for wedding parties).
Above: Mature trees were preserved during the remodel.
Above: An exterior view of the events barn.
Above: Project M+ architects converted the 1,700-square-foot barn into a party space.
Above: A living room in one of the apartments with green curtains that bring the garden indoors.
Above: Massachi was careful to preserve the house's original detailing.
Above: Above: The kitchen and dining area in the two-bedroom Suite 1715. The banana leaf palm fabric is a salute to the famous wallpaper at the Beverly Hills Hotel coffee shop.
Above: Potted plants are a reminder of LA's tropical weather.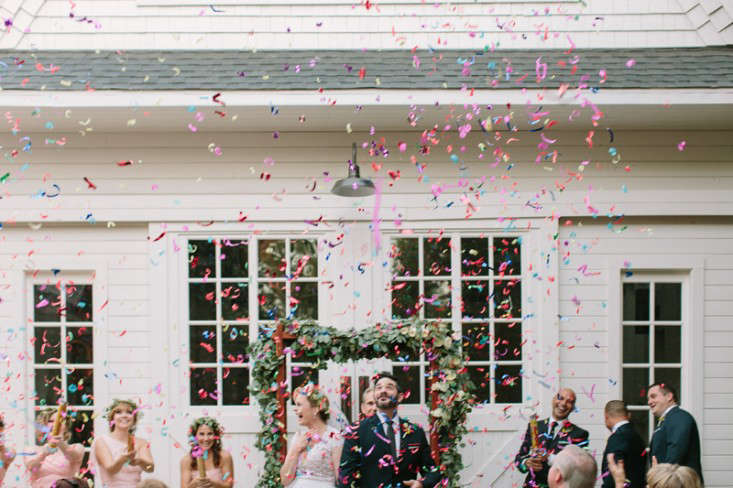 Above: The reliably sunny climate in LA encourages an outdoor wedding.
Above: A wedding getaway vehicle at the ready. For more information and reservations, go to Lombardi House.
Headed to LA? See more of our favorite southern California destinations:
(Visited 441 times, 5 visits today)