Garden designer Julie Moir Messervy, the author of Landscape Ideas That Work, has put some of her best suggestions to to the test–and proved their value–in her own terraced garden in southern Vermont.
Against the velvety verdant backdrops of the Green Mountain State, her garden has outdoor living spaces (including a fire pit lounge area where chairs are strategically grouped to fave the best view), ponds (hello, beavers), and garden beds where wildflowers and perennials create a kaleidoscope of color year after year.
N.B.: She's also the author of landscape design app Home Outside Design (reviewed in our roundup of the best of Garden Tech.)
Photography by Susan Teare courtesy of JMMDS.
Above: With the house sited at the top of a sloping property, the garden is a series of terraced spaces, including a stone terrace with a fire pit, Bordered by beds of flowering perennials, the fire pit terrace offers views of the mown fields below.
Above: Garden beds are planted with a mix of grasses and hardy perennials including Joe Pye weed, daisies, and coneflowers.
Above: Partially hidden by a spill of grasses, a hot tub is tucked into a convenient spot below a cantilevered deck. Says Messervy, "The grasses also lower the height of the cantilevered deck, concealing the basement and creating a beautiful filigree screen that visually brings the deck down to earth."
Above: On the deck, red ceramic planters feature a mix of annuals including begonias and potato vines.
Above: Purple smokebush leaves and white coneflowers echo the paint palette on the facade of the house.
Above: An eco friendly shed has solar panels on the roof.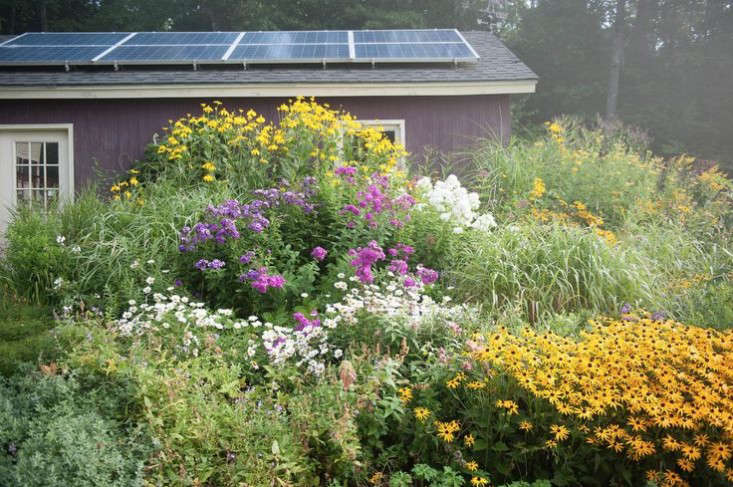 Above: A riot of late-season color fills the garden beds.
Above: A path leads down to the ponds.
Above: A small outbuilding called the Lake House overlooks marshy plants and grasses at pond's edge.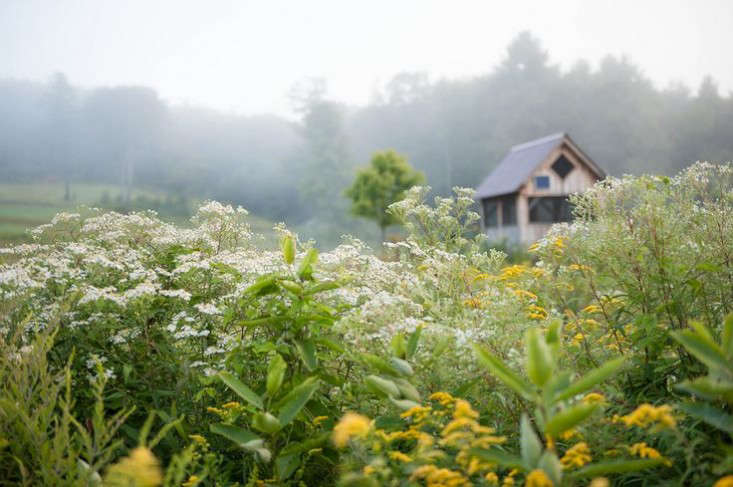 Above: Still life with beavers. Night after summer night beavers dammed the stream next to the Lake House last year, and day after day Messervy's husband ripped out the dams to prevent flooding in a nearby field.
"What I love most about beavers, besides the way they swim around in the pond and slap the water with their tails when they see us, is the paradise they create in the wet meadow that lies between our ponds," says Messervy. In the process, the beavers trample weeds and unwelcome volunteers including willow shrubs, red maple saplings, and buckthorn bushes.
Above: After the beavers do their work, says Messervy, "What's left is a host of beautiful plants that look their best in August through to late fall. Elderberry and spiraea, Joe Pye weed, sneezewort, Queen Anne's Lace, asters, milkweed, and goldenrod…everywhere! Heaven."
For more of our favorite gardening ideas from Vermont, see:
(Visited 169 times, 1 visits today)