Guests at Los Poblanos Inn in Albuquerque can volunteer to work in the 25-acre garden—a farm, really—which produces much of the food on the menu:
Photographs via Los Poblanos Inn.
Above: Santa Fe-based architect John Gaw Meem, known for designing Pueblo Revival styles homes, designed Los Poblanos Inn in 1932. For more about the inn, see "Hotels and Lodging: Los Poblanos in New Mexico."
Above: Crops grown in the kitchen garden include o'odham cowpeas, casaba melons, brown tepary beans, and magdelena big cheese squash.
Above: Lavender oil distilled from the adjacent lavender fields is used in spa products at the inn.
Above: Every summer Los Poblanos hosts a lavender festival.
Above: Grosso lavender (L) is an especially fragrant and hardy variety. The farm's crops include beets and radishes (R).
Above: Organic grass-fed lamb is produced by the Manzanares family ranch in northern New Mexico's mountains.
Above: The inn serves foods indigenous to the Rio Grande River Valley.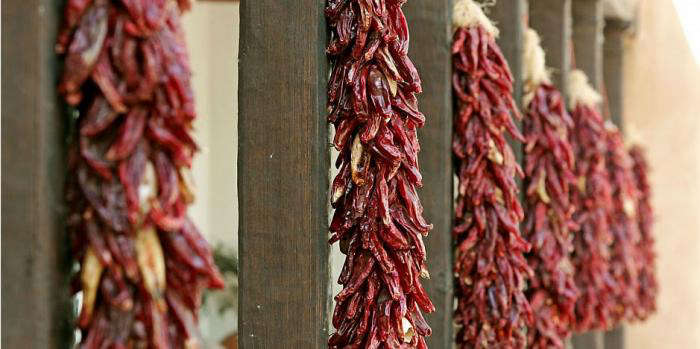 Above: Ristras of Chimayo chiles grown on the farm.
Above: The inn's cooking classes are held in a re-purposed 1930's industrial space. (N.B.: For more destinations in New Mexico, see our City Guides.)
(Visited 20 times, 1 visits today)