Is snow good or bad for your garden?
The answer is yes. It can be both. How you manage it makes all the difference.
To determine if it's a good thing for your garden, it's helpful to distinguish between the two main types of snow that can end up there. First is snowfall from the sky. It can range from powdery to heavy. The second kind is manmade accumulation that is densely packed (e.g., piles made by snow plows or from sliding off roofs).
Natural snowfall (the first type) tends to be helpful in the garden. It insulates plants and the ground by moderating temperature swings. Wide temperature swings can cause plants to heave out of the ground in freeze-thaw cycles and can cause bark to crack. Snow keeps the temperatures nice and even. It also provides water to plants as it slowly melts. While many plants are dormant during winter, they are still alive and need water. There's no need to manage this type of snow. Nature is doing what it needs to do. You can sit back and enjoy the quiet stillness of the blanket of white with a cup of tea from your warm living room.
That said, if you have a blizzard with high snow totals or high winds that cause large snow drifts, you may need to intervene. Generally, plants that die back to the ground will be fine. It's the ones with branches and trunks above ground that may need your help. The main damage from snow comes from the weight. Snow with high water content, the heavy dense stuff that makes perfect snowballs and snow people, can be very damaging for plants. The weight can cleave off branches of brittle wood trees like magnolias, bend and break shrubs, and permanently misshapen thin and narrow arborvitae. If you find yourself in any of these situations, you will need to act if possible and safe to do so. Here are four ways to ensure falling snow doesn't negatively impact your garden.
Featured photograph, top, by Joseph Valentine, from Garden Visit: At Home at Juniper Hill Farm in New Hampshire.
1. Make sure to practice preventative care.
As a preventative measure, have your trees checked regularly and trimmed by an arborist. Opening up the crown of the tree lets in more light and air during the growing season and makes for a healthier tree. It also lightens the load when it comes to snow. However if you find yourself with a tree or shrub with a large amount of heavy snow, you may need to clear it off to prevent damage.
2. Brush heavy snow off plants.
For shrubs and low growing plants, gently brush the snow off the plants. You want to use as little effort as possible to get the job done. Take your time. You can use your hands or, for trees and shrubs, a broom. The key is to do it gently. Do not shake the plant. The branches are under stress and can snap in the cold. Handling them roughly can cause more damage than the snow itself. Do not sweep the snow downward. Try to sweep the snow off to the side or push only the snow, not the branch, up and off.
3. Protect your arborvitae and other tall shrubs.
For arborvitae and other tall narrow shrubs that form a privacy wall, the best defense against bending from heavy snow is a good offense. Prior to the first snowfall, wrap each shrub with burlap straps or another type of flat strap. Start at the top and encircle the shrub to keep the branches tight up against the shrub. The goal is to keep the heavy snow from weighing down the branches and causing them to break.
4. Keep salt away from plants.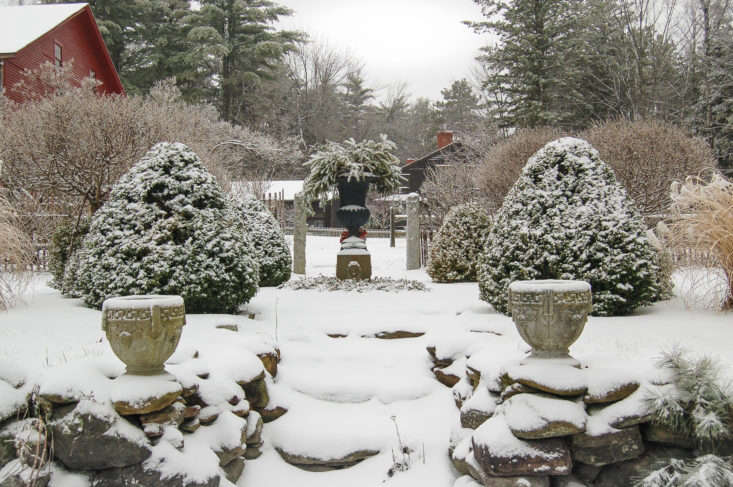 With snow can come slippery surfaces. Try and keep the salt on walks and driveways and not on the grass or in the garden beds. Salt can kill grass and shrubs. Use enough to be safe and no more. Better yet, use non-salt alternatives like sand or gravel. See Icebreakers: 9 Eco-Friendly Tips to Clear Snow, from the High Line in NYC.
5. Ice storm? Be patient.
Last, in the case of an ice storm, resist the urge to do anything. There's really nothing that can be done until it melts. Trying to remove ice will damage the tree or shrub. After the snow melts, go out and inspect for damage. Remove any damaged branches with clean cuts wherever possible and remember some damage may not be visible until spring. If you're not sure if you need to or how to prune, call in a professional.
6. Don't plant where there will be snow buildup.
Manmade accumulations are far more dense and heavier than natural snow, and it can happen fast. This can be devastating for shrubs. For snow piled up by plows, there's not much that can be done after the fact. Best to not plant shrubs where they may be affected by snow plows. For snow that slides off roofs, again, best not to plant any plant under the dripline of the roof. Keep foundation plants at least three feet from the dripline, more if you live in an area of high snowfall.
See also:
(Visited 75 times, 1 visits today)