Do you have trouble telling the difference among evergreens such as fir, pine, and spruce trees? Me too. The good news is it's not our fault. All these conifers belong to the Pinaceae family, explaining why they look like cousins.
Firs (Abies) do have a few distinctive character traits to help you identify them: These tall trees have cones that stand upright (like candles) on their branches and each needle-shaped leaf is flat and attached individually to the tree.
Is a fir tree a good choice for your garden? With more than 5o species to choose among, firs can be coaxed to grow in regions as varied as USDA growing zones 3 to 8, depending on the species. Most first have a narrow cone shape (you probably recognize them from Christmas tree lots, where noble firs and balsam firs tend to dominate). They prefer cool or mountainous climates and moist soil. Read on to learn everything you need to know about growing fir trees:
Fir Tree, Abies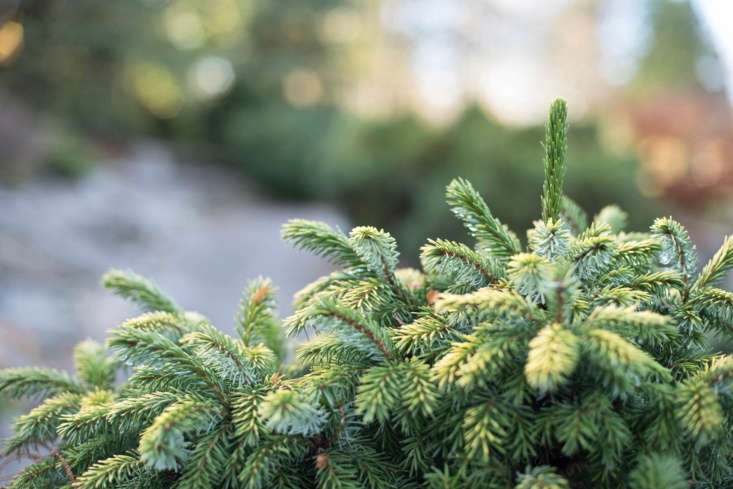 Balsam firs are smaller than many other varieties, and have handsome, blunt blue-tinged needles and a lovely fragrance. These same characteristics which make them popular Christmas trees also make balsam firs a good choice for a small garden if you are looking for a specimen tree to act as a focal point.
Which species of scented fir is the right Christmas tree for you? Here are a few tips to help you pick:
Douglas fir has dark green or blue-green needles.
Noble firs are known for their needle retention; if you keep a tree for severals weeks, this one will be slow to drop needles.
Fraser fir's narrow silhouette makes it a good choice for apartments or small living rooms.
Balsam fir has silvery blue needles—a perfect choice if you like to decorate with tiny white lights.
Also known as a soap pine, A. pinsapo has distinctive needles that are "plump, dense, rigid, pointy, and whitish with powder," according to Arthur Lee Jacobson in North American Landscape Trees.
Introduced to North America in the mid 19th century, A. pinsapo cultivars include 'Aurea' (known as the golden Spanish fir) and A. pinsapo f. glauca (the blue Spanish fir).
The most recognizable feature of a Korean fir tree is its beautiful cones, which are a deep purplish-blue (the color fades in winter). A native of Korea, P. koreana thrives in alpine forests (and in USDA growing zones 5 to 7)and has several striking cultivars: 'Aurea' has golden-tinged needles; 'Silver Snow' has curved needs with silvery-white undersides, and 'Silberlocke' is a slow-growing cultivar similar in appearance to 'Silver Snow'.
Cheat Sheet
Treat a fir as a specimen tree in a small garden, making it a visual focal point. In winter, when the rest of the landscape is gray, its evergreen foliage will offer solace.
Buy a living Christmas tree (potted fir) at a nursery and plant it in the garden after the holiday season. See tips in DIY: Plant Your Christmas Tree in the Garden.
The distinctive woodsy fragrance of fir needles comes from essential oils called terpenes; these resinous substances also protect the trees from pests such as bark beetles.
Keep It Alive
Firs require well-drained soil; loosen compacted earth before planting.
Depending on the species, a fir tree can thrive in cool, moist climates in USDA growing zones 3 to 8.
The optimal time to plant a fir tree is when it is dormant, in late autumn or winter.
Before planting, thoroughly soak both the root ball and the soil in the hole you have dug. To help a fir tree get established in the garden, irrigate it with a soaker hose weekly, for an hour or more.
See more growing tips in Fir Trees: A Field Guide to Planting, Care & Design in our curated Garden Design 101 guides to Trees 101. Read more:
(Visited 794 times, 4 visits today)