Rambler roses often get overlooked for their more showy relatives, but they deserve better. Although many ramblers bloom only once per season (there are some exceptions), they continue from June and into July providing masses of flowers and scent—and for relatively little work.
You can use rambler roses to solve many landscape problems: to create privacy screens, to hide walls, and to fill large spaces. Ramblers have their challenges, however. They need space and a stout pair of gloves is often advisable for pruning. But what they lack in repeat flowering, they certainly make up for in a cascade of color and scent.
For expert advice on ramblers, we visited Susie and Henry Robinson at home in the English Cotswolds, where they have two acres of gardens and have over the past 35 years accumulated more than 150 ramblers, creating a National Plant Collection. "The idea was to collect all the known varieties of each species, before they were lost to gardens and gardeners," says Henry.
Are you wondering if a rambling rose is right for your garden, or which one to plant? Here are some tips from the Robinsons.
Photography by Britt Willoughby Dyer.
What is a rambler rose?
Rose cultivars can be a complicated and thorny subject. Horticulturally speaking, rambler roses can be hybrids of Rosa multiflora, R. sempervirens, or R. wichurana, or be more direct descendants of wild roses, which are known as species roses. The yellow Lady Banks rambler (R. banksiae) belongs to that group.
Before buying a rose, do a little research to see how big it will be at maturity. It's no good planting R. 'Paul's Himalayan Musk' over a doorway, as by year two or three it'll be acting like a nightclub doorman and denying you access.
What is the difference between a rambler and a climbing rose?
Ramblers tend to grow faster than climbers and they like to sprawl (R. filipes 'Kiftsgate' can reach up to 60 feet at maturity). Rambler roses' stems are more pliable than climbers' and easier to weave through open fences and trellises. While a climber may be coaxed into repeat blooming, a rambler generally will perform only once a year.
Does a rambler need to be pruned?
Ramblers need very little maintenance. Old or diseased wood should be cut back to the base to allow space for the new, flexible stems to reach out. If a plant has become overly congested, they can be given a full chop in late summer and often bounce back with vitality after this rather drastic technique.
What landscape problems can a rambler rose solve?
The long stems of rambler roses can clamber up over pergolas and arches, and are great for covering unsightly buildings or fences.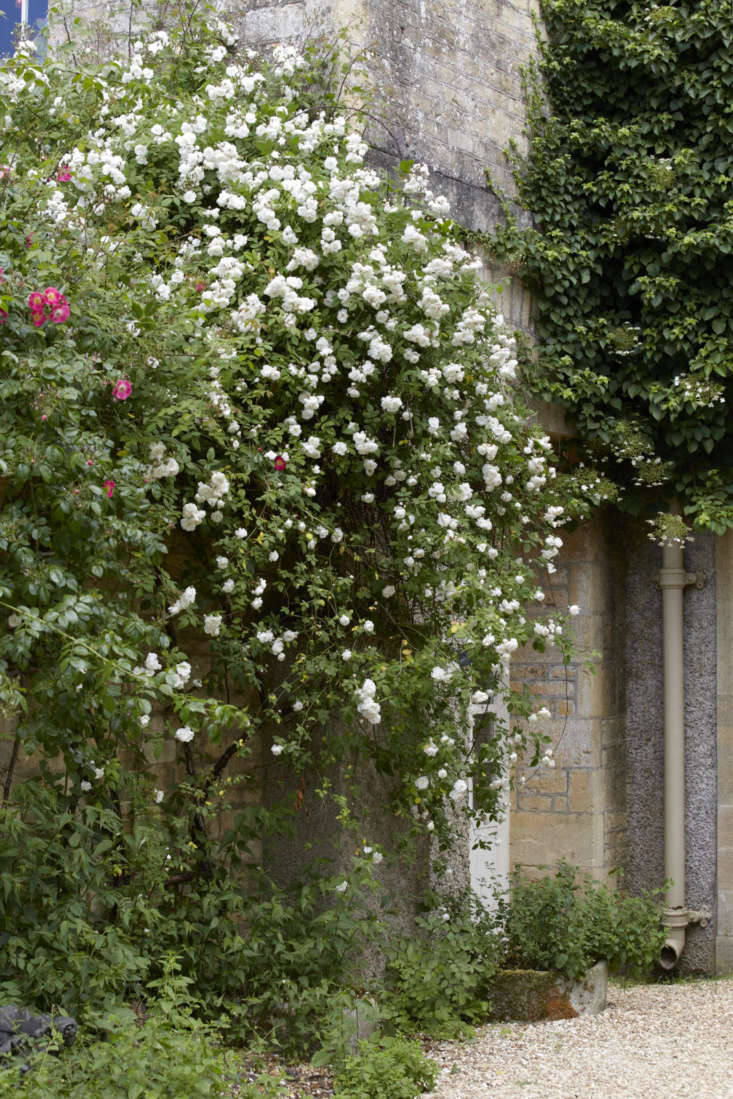 When the Robinsons moved to the family home at Moor Wood in the early 1980s, they were greeted by a sprawling garden of intricate areas demanding high maintenance. To simplify the planting, or "un-garden" it as Susie refers to it, meant a radical rethink. After all, what they had in spades was space, old walls, and established trees providing the perfect habitat for supple new shoots to clamber up.
Twenty years on, the garden looks as though it has been clothed in ramblers forever lending it a fairytale quality.
What is a National Plant Collection?
In the United Kingdom, an umbrella organization called Plant Heritage oversees more than 630 national collections of garden plants, to document and preserve groups of plants for future generations. Each collection has a designated custodian and is grown in a specified location, ranging from private gardens to the public collections maintained by the Royal Horticultural Society.
What are the best rambler roses to grow?
Rosa 'Jersey Beauty'
Rosa 'Ghislaine de Féligonde'
Rosa 'Aviateur Blériot'
Rosa 'Narrow Water'
See more growing tips in Roses: A Field Guide to Planting, Care & Design in our Perennials 101 guides. Read more about how to design a rose garden (or integrate a favorite rose into an existing garden bed):
(Visited 1,900 times, 2 visits today)