Here's a hardy mix of dark and moody perennials and grasses that needs little water and makes a dramatic statement at an entryway.
Photographs by Meredith Swinehart.
Above: This all-foliage combo with purple millet, black mondo grass, and sweet potato vine was inspired by one that Gardenista editor Erin Boyle spotted in her Brooklyn neighborhood. Its dark hues have the perfect dose of spookiness.
Above: Black mondo grass is one of the few truly black plants, and it has a spidery look perfect for letting it creep over the front of a container. I started with mature plants in 1-gallon nursery pots, but you can find a 2.5-quart pot of Black Mondo Grass for $8.99 from Lowe's.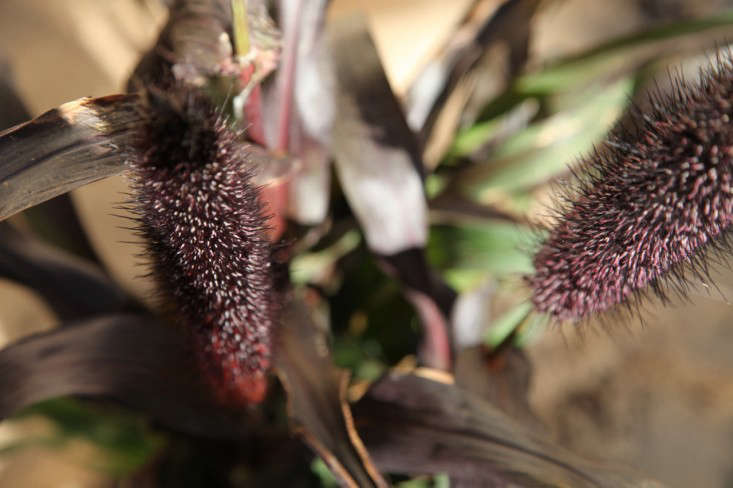 Above: Ornamental millet is one of my favorite plants…and it was surprisingly hard to find this time. I had to hit all my local nurseries, as well as some that are farther afield, before I spotted Purple Baron (Pennisetum glaucum) and Vertigo (Pennisetum purpureum.) If they're not available near you, good substitutes include the more widely available purple fountain grass or any kind of plum-colored phormium. (And in spring you can start it from seeds; a packet of Millet Purple Majesty seeds is $3 from Amazon.
Above: I love this newer sweet potato vine–it's called Sweet Caroline Bewitched ($5.99 from Home Depot), and has a fuller and less trailing habit than the more common types with deeply lobed leaves. It echoes the color of the purple millet and adds a nice textural contrast to the upright, wispy grasses.
Above: If roots are matted, I gently loosen them before planting.
Above: Millet's seed heads make gorgeous cut flowers, but you can also leave them intact to attract birds who will feast on the seeds.
As a side note, a few friends asked if this millet is the same kind that many of us eat. As far as I can tell, Pennisetum glaucum, also known as pearl millet, is edible, though the harvest from just a few seed heads may not amount to much. If you're interested in growing millet as an edible crop, you can find several types from the Sustainable Seed Company.
Above: This fall display will look good well into the season, though the sweet potato vine is an annual and will die back in climates where it freezes. The millet turns brown after cold weather arrives, but you can leave the grasses as they are through the winter months–they look beautiful after a dusting of snow.
Finally, are you planning a Decks & Patios project? Learn everything you need to know on to get started with our Hardscaping 101: Decks & Patios 101 guide.
(Visited 316 times, 1 visits today)