Google the phrase "Wisteria Dye" and you will get a lot of images of things like tee shirts and yarn  and ribbon in gorgeous pinky-lavender colors…like the colors of wisteria flowers.  However, when you use the wisteria plant as a dyeing agent, you don't get that hue at all.
What you get, surprisingly enough, is a bright yellowish green.
I learned that and a lot of other interesting things after I called Sasha Duerr, who is the founder and co-director of the Permacouture Institute in San Francisco.  As you would expect from someone who spends her days promoting natural, sustainable practices in textile manufacturing, she is an expert when it comes to dyeing fabric with materials furnished by Mother Nature.
Wisteria is our Plant of the Week. For more about its history and ravenous tendencies, see Wisteria: A Dangerous Beauty (Are You Tempted?).
Photographs by Sasha Duerr.
If you have a wisteria vine and you've been taking good care of it, the chances are very good that you have piles and piles of wisteria stems and leaves.  As we pointed out in a post earlier this week, wisteria has to be pruned aggressively or it can do a lot of damage in your garden.  After the compost bin is full, what can you do with all those extra wisteria clippings?  Well, we thought, what about using them as a natural dye?
And according to Sasha, dyeing with wisteria is as simple as making tea.  You can do it in your kitchen and the only tools you will need are a stainless steel pot and a stainless steel utensil such as tongs.  A number of household products can be used in the dye bath to help the color set. Sasha recommends soda ash, which is sodium carbonate and can be found with the laundry products at your grocery store.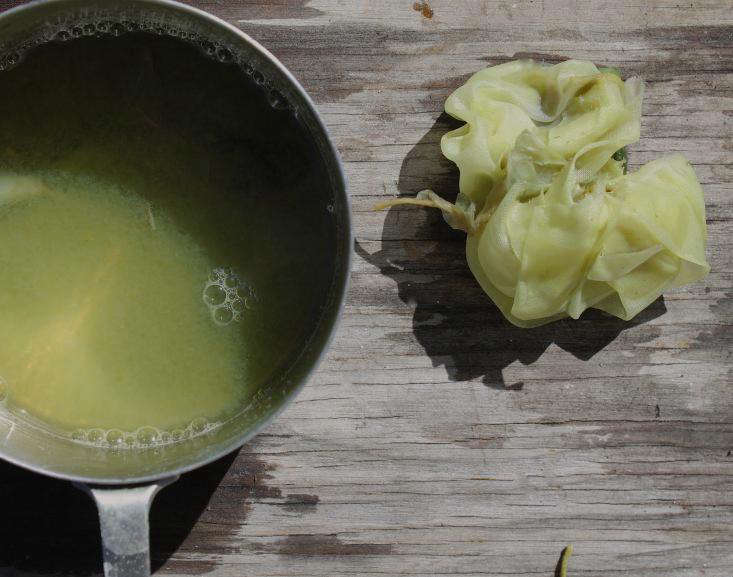 Sasha recommends always using natural fabrics such as silk or wool for your projects. She dyed some silk swatches with wisteria as a test for us. First she gathered some leaves and stems.  A general rule of thumb is that the amount of material used to make the dye should weigh twice as much as the fabric you are dyeing.
If you are using light weight silk, as Sasha did, you do not need a lot of plant cuttings.  Chop the stems, petals, and leaves into small pieces with pruners or cooking shears.
Fill your stainless steel pot with water, throw in a handful of soda ash, add the stems and leaves and bring to a boil.  Simmer (be careful not to over-boil) until all the color has come out of the plant material and then add your fabric which you have pre-rinsed in water.
Let the fabric sit in the bath anywhere from 15 minutes to overnight, depending on the shade of color you hope to achieve.  Remove the fabric and wash it in a PH neutral soap such as Ecover Natural Laundry Liquid; a 51-ounce bottle $8.49 from Drugstore.com.  Line dry it and then, this is the exciting part, see what you've got.
After Sasha had tested the wisteria dye using soda ash, she experimented with other mordants, or fixatives, such as alum and iron.  The resulting colors were quite different and beautiful.  If you want more information on dyeing techniques, see Back to Nature: Plant Dyes from Permacouture.
Finally, get more ideas on how to successfully plant, grow, and care for wisteria with our Wisteria: A Field Guide.
Finally, get more ideas on how to plant, grow, and care for various vines and climbers with our Vines & Climbers: A Field Guide.
(Visited 50 times, 3 visits today)