If Remodelista and Gardenista HQ had a shop where we sold all of our favorite home ware and gardening goods (a recurring fantasy in these parts), it would look just like this.
Designer Phillipe Malouin of Post-Office transformed what was once a doctor's office into online design magazine Dezeen's North London headquarters, including a new watch store to complement an online store. With details including reclaimed Victorian windows, floor-to-ceiling gray curtains (hiding doors to the kitchen, bathroom and storage), and an abundance of green plants, it would not take much to persuade us Remodelista and Gardenista editors to move in.
Since this post was written, Dezeen has moved to Colville Estate on 8 Orsman Road, London. Regardless, we can still dream.
Photography by Luke Hayes courtesy of Dezeen.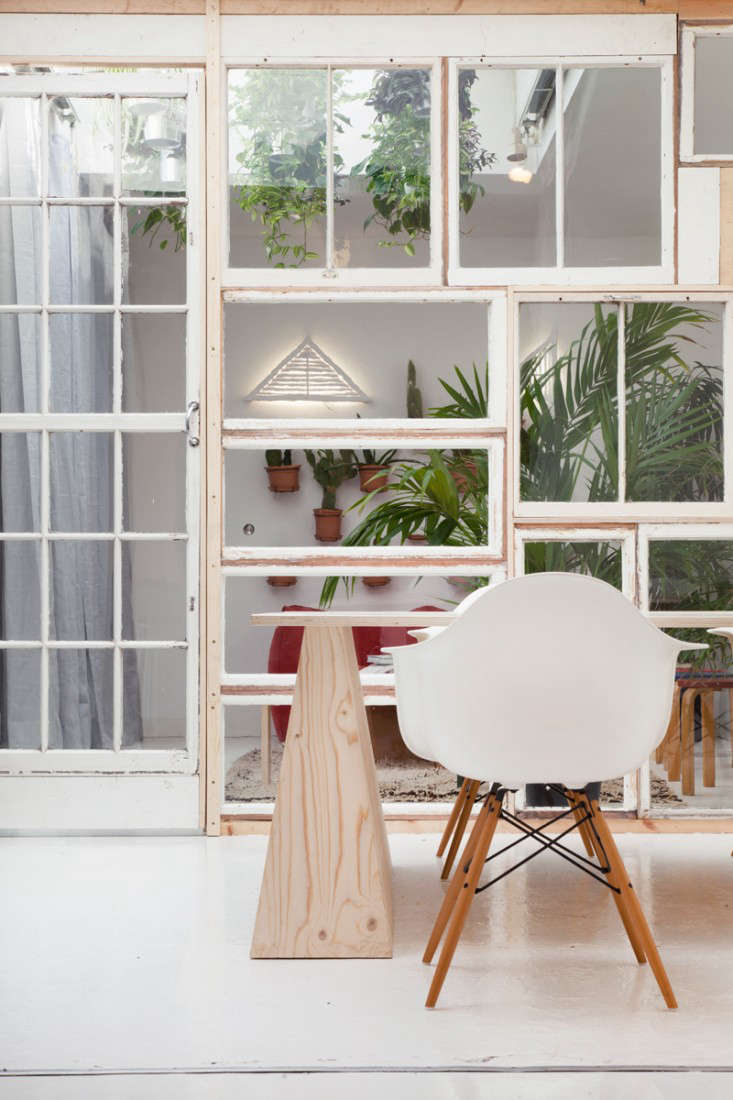 Above: A glass divider made of reclaimed windows provides separation to the meeting and work space in what was previously the waiting room of the doctor's office.
Above: Plants in galvanized buckets hang below the skylight in the meeting room while cacti adorn the wall. The windows in the roof reminded Malouin of a greenhouse.  Filling the room with plants creates an outdoor feeling.
Above: For his window collage, Malouin bought most of the Victorian windows on eBay; a great deal of research was required to find windows the right size.
Above: Dezeen uses Malouin's Market Table in a meeting room.
Above: Gardenista editor Michelle would happily take credit for these potted cacti, which animate the wall.
Above: Customers can come and purchase watches in the watch store while Dezeen staff members work in rooms nearby.
Above: The new Dezeen Watch Store is located in what used to be the reception of the former doctor's office.
Above: Tools for packing and distributing products hang on pegboards for easy reach.
Above: The offices of Dezeen from the North London streets of Stoke Newington.
(Visited 170 times, 1 visits today)