Some people shop impulsively for shoes. I shop impulsively for vegetables. I wander through the Union Square Greenmarket at lunchtime and find myself stuffing jewel-toned beets and carrots into my tote bag with the frenzied fervor of a crazy woman. Before I realize it, I've purchased enough fresh veg for a family of five.
But my vegetable crisper is where my good intentions go to die. Over the course of the summer, I've guiltily transferred at least one wilted bundle of lacinato kale, the withered remains of perfectly delightful carrots, and a bag or two of slimy arugula directly from crisper to compost bucket. I'll blame my vegetable crimes on a busy summer and make a public resolution to change my ways. In the meantime, I'll try my best to avoid the mental calculation of misspent farmers' market dollars–not to mention wasted food–and turn yesterday's mistakes into tomorrow's dinner.
Happily, Ecology Center in Berkeley has put together a cheat sheet for vegetable criminals like me. In this season of plenty at the farmers' market, it's helpful to know how one might stretch the longevity of vegetable purchases. Because unlike shoes, vegetables don't last forever.
Photography by Erin Boyle.
Above: A fresh haul of vegetables from the Union Square Greenmarket. Below are guidelines for a few basic vegetables; here's the full list.
Carrots: Cut off the tops, store in the refrigerator in a closed container with plenty of moisture.
Celery: Place in a shallow cup or bowl of water on the counter or in the refrigerator.
Summer squash and zucchini: Leave on the counter; wrap in a cloth and refrigerate for longer storage.
Eggplant: Leave on the counter; don't wash until ready to use.
Beets: Cut off the tops, then store in an open container covered with a damp cloth.
Onions, garlic, shallots: Store in a cool dark, place.
Tomatoes: Store on the counter.
Peppers: Keep free of moisture until ready to use; store on the counter or in the crisper for longer storage.
Above: Root vegetables like carrots and beets send energy into their leaves even after they've been harvested. Keep all the nutrition in the root itself by storing them without leaves. Save the beet greens and use them as you would chard. Some vegetable nuts eat carrot tops, but most folks agree that they're toxic. I toss mine in the compost.
Wondering what to do with fresh vegetables? See 127 of our favorite Garden-to-Table Recipes.
Above: Carrots like to be kept moist and cool. I've been storing mine in a ceramic crock from Canvas Home. Designed to hold coffee; I think the Handmade White Covered Coffee Jar, $20 from Canvas, makes the perfect sealable container for a refrigerator. 
Above: Wash and store beets in an open container, covered with a moist dish towel.
Above: Greens like chard, beet tops, and kale can be kept in a glass of water on the counter or in the refrigerator.
Above: Alliums such as garlic, onions, and shallots should be kept out of the refrigerator in a cool, dark place. For me, that's my kitchen counter. I use a Small Bisque Handmade Bowl; $5.53 from Canvas.
Above: Tomatoes belong on your counter, not in your refrigerator. I keep my Sungold and other cherry tomatoes in a Tourne Berry Bowl; $32 from Brook Farm General Store. For larger tomatoes, store them in a single layer, upside down on a plate to keep them from rotting too quickly. Eggplant and summer squash are happiest on the counter, too.
Above: Celery does well in a small cup of water in the refrigerator.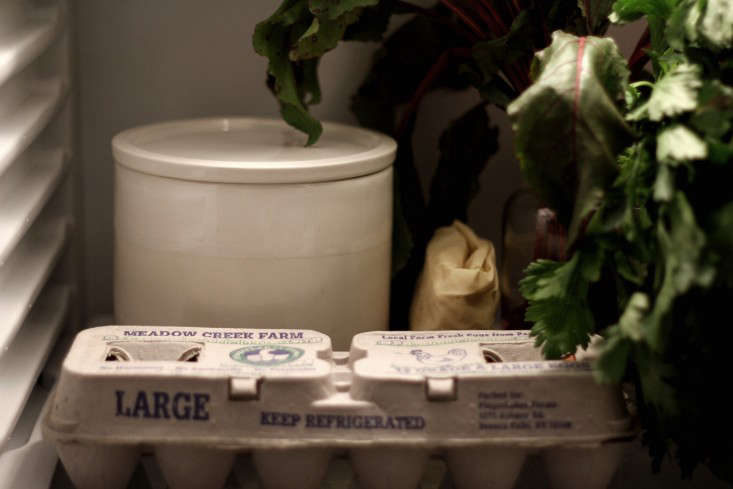 Above: The inside of my refrigerator. Ends of cheese and half used lemons get wrapped up in Bees' Wrap.
Find yourself with too many zucchini? You're not alone. This is an update of a post originally published September 6, 2013 when we were begging people to Take My Zucchini Please.


(Visited 221 times, 1 visits today)