Secretly I believe all furniture should be on wheels–especially worktables under which you're forever sweeping or vacuuming or hosing. So it was inevitable that I would fall in love at sight with San Francisco floral designer Baylor Chapman's metal-topped rolling worktable when I visited her Lila B. Design studio the other day. Kindly, Chapman shared her sources:
Photographs by Liesa Johannssen for Gardenista.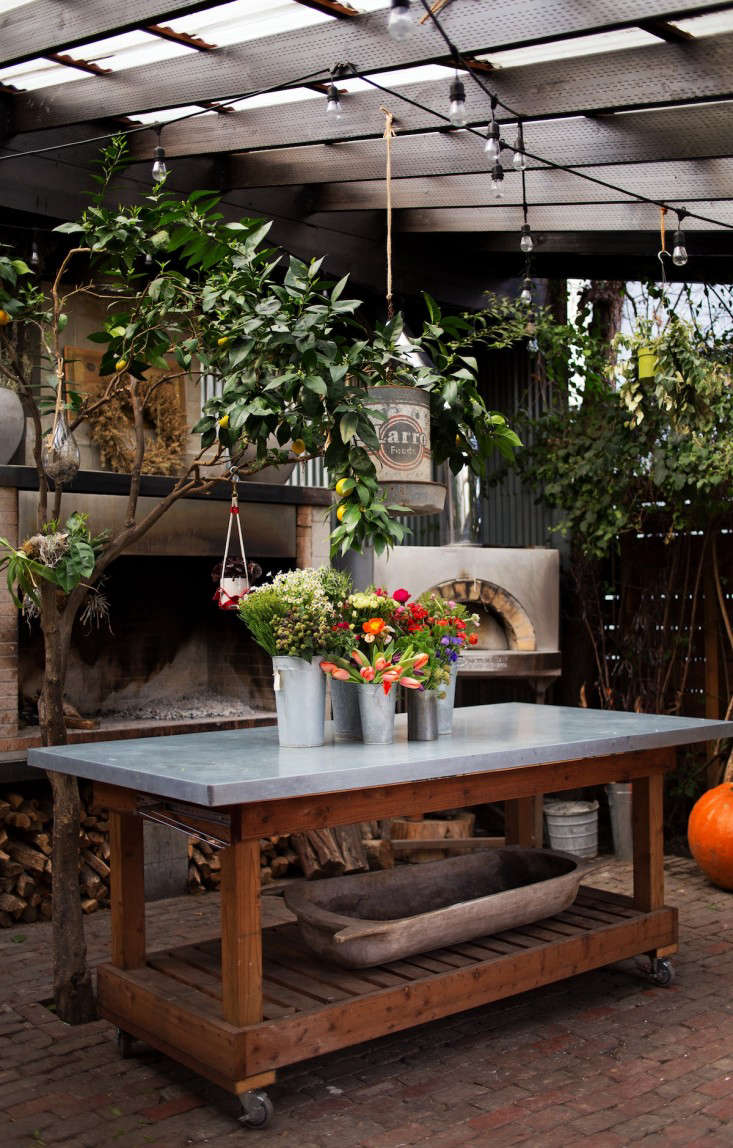 Above: Chapman's custom made florist's worktable, based on the design of an Italian butcher table, has wheels to make it portable and a waterproof stainless steel work surface.
A comfortable waist-high height for most worktables is 36 inches. Chapman's table, made of redwood boards and planks cut to size before being screwed and glued together, has a slatted wooden base (which allows water to run off instead of pooling after she hoses off the table).
A selection of redwood, including 2x2x8 Rough Redwood Boards to make legs ($2.77 apiece) and 1x12x8 Rough Redwood Planks ($19.54 apiece) is available from Home Depot.
Above: A stainless steel tabletop was fabricated by SF-based NuStar Heating & Metal Supply, by folding a sheet of metal plywood shoebox-style around a wooden tabletop.
Above: Heavy duty tread lock casters swivel to make it easy to move the worktable. Chapman purchased a set of four zinc casters from SF-based California Caster Co. A pair of Heavy Duty 5 Inch Swivel Casters With Double Lock Brakes is $17.95 from Amazon.
Above: A telescopic double arm towel rail is also a place for Baylor to hang bags. Similar towel rails are available in a range of prices. A solid brass chrome plated Samuel Heath Two Arm Towel Rail that swivels is $320.46 from Perfect Home. A budget option is a Hafele Two Rail Towel Holder made of chrome plated aluminum; $30 from Hafele.
Above: Chapman's worktable sits in a covered outdoor space. For more, see Shopper's Diary: Lila B. Studio in San Francisco.
N.B.: Looking for more options for a shed or garage? See 10 Easy Pieces: Potting Benches.
You need to login or register to view and manage your bookmarks.