From Julie and Francesca:
A report of our first visit to the International Contemporary Furniture Fair, the annual design fest featuring exhibitors from all over the world, held in the not especially compelling Jacob Javits Center (despite the fact that it's an I.M Pei project):
Alight from taxi in the drizzle, wander around a bit, getting our bearings. Transparent acrylic furniture from Kartell, some nice new pieces from Blu Dot, an encounter with a retro-styled Smeg refrigerator (we love Smeg). Gorgeous bath fixtures from Lefroy Brooks (inspect the Kafka series, currently only available for commercial applications, but soon to be available to all). Suddenly, we spot a rather amateurish table setup, with tiles strewn about (presided over by one Orlando Boyne) and recognize a Neisha Crosland beaded stripe pattern acid-etched on a square of limestone. Turns out British outfit De Ferranti is working with Crosland to produce a new line of subtly patterned tiles for floors and walls; another way to get more Crosland in your life, always a goal.
Below: Neisha Crosland tile by De Ferranti.
Below: Another Brit whose work we admire, Jocelyn Warner, showed a gorgeous array of Flora wallpaper: magnolias rendered in moody shades of dark gray and silver.
Below: Next, amid all the tiresomely arch and ironic damask wallpaper that seems to be the main UK export these days, we spot Kevin Dean's unselfconscious watercolors, silkscreened on heavy paper, utterly artless and artful at the same time, depicting roses and bucolic country scenes.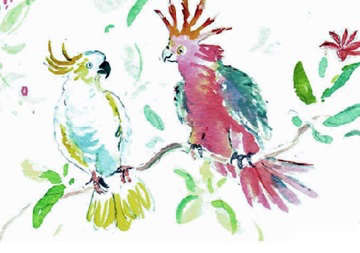 As we approached the Lladro booth, we spotted a larger-than-life Marcel Wanders inspecting the Niagra chandelier and other objets (Lladro recently released a new line by Spanish wunderkind Jaime Hayon). Wanders is the famed Dutch designer behind Moooi; he designs for Capellini, Bisazza, B&B Italia, and more. We were transfixed by the spectacle of the 6-foot-4-inches Wanders, who was clad in a slim black suit, pink neon Pumas (see [email protected]), and a chunky pearl choker with a single diamante bead.
Below L: Marcel Wanders. Below R: Knot Chair by Marcel Wanders at Unica Home.
Below: Wanders' Alice wallpaper for British firm Graham & Brown.
Tomorrow: Parker Posey sighting, Nosi Music, and more design visits.
(Visited 1 times, 1 visits today)