For a new cabin in Denmark, a young family had somewhat conflicting desires: a large house that would look small, modern architecture that would blend into the forest, and open spaces for dinner parties but privacy for the family.
Copenhagen-based Primus Arkitekter solved the puzzle with a long, narrow house providing ample square footage while appearing modest in size from each end. Inside, a mix of shared spaces with high ceilings and intimate nooks lends an alternating sense of open space and coziness. And the house's bold exterior in a weathered, rough-hewn finish recedes into the forest.
Photography by Stamers Kontor courtesy of Primus Arkitekter.
Above: The cabin's dimensions look modest from the front, meeting the clients' desire to avoid ostentatiousness. But inside is plenty of room.
The house sits on the edge of a forest in Asserbo, Denmark, a small town inhabited since the 12th century. On one side are tall plantation trees, with grassland on the other.
Above: Inside, the openness of full-height ceilings contrasts with the density of the surrounding forest.
Above: The interiors are by Danish designer Louise de Fønss, who kept bulky furniture off the floor to maximize usable space in the main entertaining room. The double-height steel windows are Millennium series by Danish manufacturer HS Hansen, and the polished concrete floors are by Londero Mosaik.
Above: Interior walls are clad in boards of slightly different thicknesses, lending a light checkerboard look in a nod to the exterior cladding. Note the opening in the concrete wall at the back of the kitchen, allowing a glimpse of the living room. Cabinets and interior woodwork are by Danish furniture manufacturer KBH Københavns Møbelsnedkerii.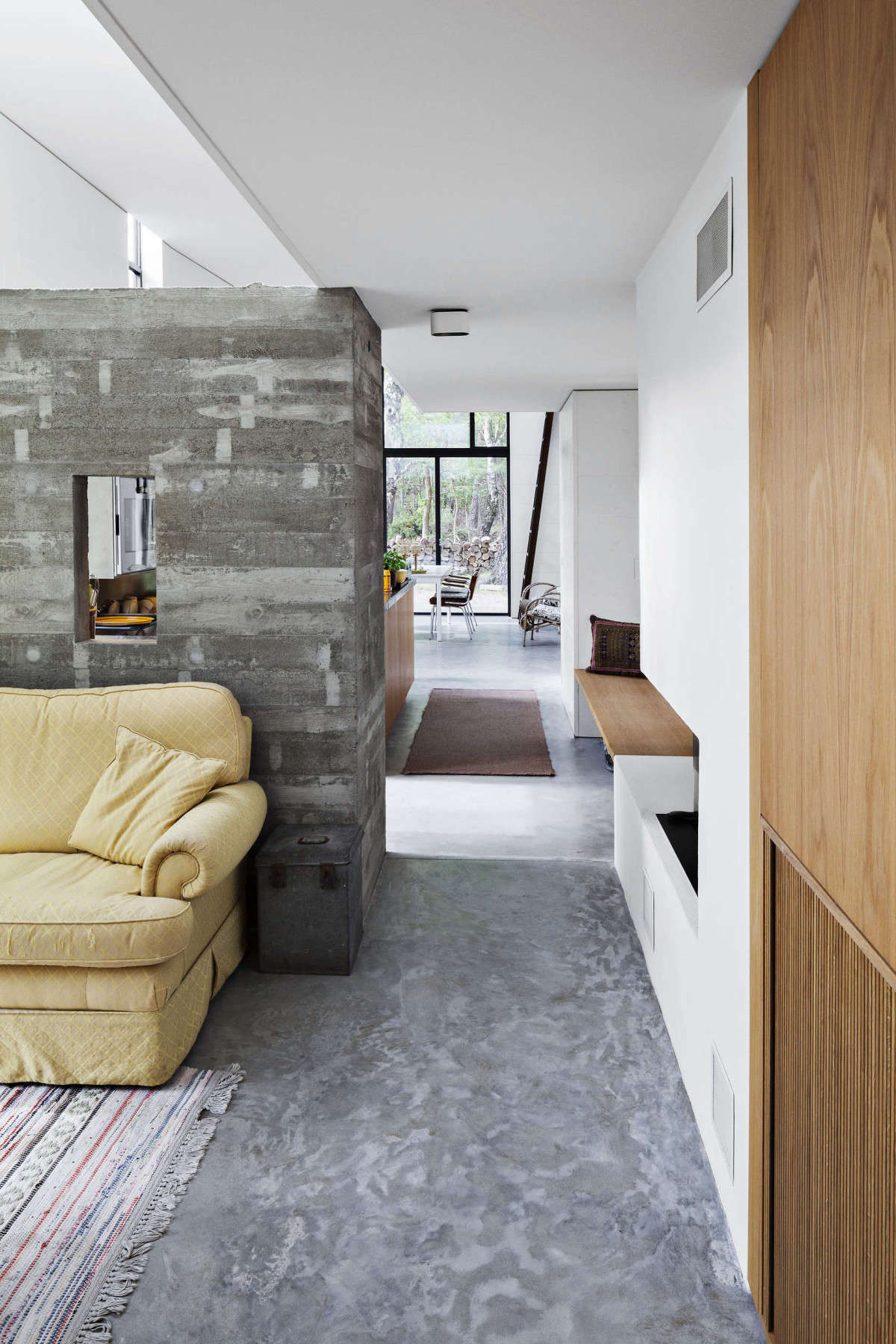 Above: The interior is modern and cool, softened by textiles. Built-in storage spaces are hidden throughout the long, open-floor plan.
Above: The cabin's exterior is clad in solid oak boards treated with iron sulfate–both to protect the wood and to achieve a weathered look. Note the outdoor shower off one of the bedrooms, and the drainage spouts that collect water from the roof in wooden barrels below.
Above: The vertically oriented boards are mostly accompanied by vertical windows framing views of the woods–but occasionally a horizontal window breaks up the monotony.
Above: Light plays off the oak cladding, lending different geometries and patterns at different times of day.
More Danish outdoor spaces:
(Visited 443 times, 1 visits today)