History tells us that the first person in the US known to decorate an evergreen tree to celebrate Christmas was a Harvard professor. In 1832 Charles Follen (who had brought the idea with him when he immigrated from Germany) attached candles to branches and lit them to celebrate the holiday. Live flames on the tips of tree branches? You would think a college professor would know better.
The audacious idea caught on, but thankfully the invention of electricity eliminated the use of open flames to light Christmas trees. And as more decades passed…well, you may think know the rest of the story of Christmas trees.
But there's a lot about yuletide decor that nobody tells you. Here are 10 things to talk about while you are hanging tinsel on a Christmas tree this holiday season:
1. Christmas tree farms are actually good for the environment (and the economy).
Christmas tree farms grow trees for a specific purpose and cutting one down does not harm real forests or wild landscapes. Acreage devoted to growing the trees is land protected (at least for now) from development.
After cutting down Christmas trees, farmers will plant plenty more next spring (often on rocky or steep land where other crops won't thrive). Like all trees, as they grow Christmas trees will clean the air by absorbing pollutants such as ozone. Plus, their leaves and bark capture particulates, filtering the air.
After typing all those benefits Christmas trees bring to the world, I'm tempted to get two this year.
2. Cutting your own Christmas tree reduces your carbon footprint.
Americans purchased 27.4 million real Christmas trees last year. The closer your Christmas tree was grown to your home, the less fuel was necessary to transport it to your living room.
3. Fake trees can be environmentally friendly.
Americans are purchasing more fake Christmas trees every year (last year the total was 21.1 million, up from 18.6 million in 2016) and if one of them is yours, the way to make it a sustainable purchase is to keep using it year after year. "Depending on how a real tree is disposed of, an artificial tree would only have to be used for 3.6 to 4 years before there was a net benefit with regard to contribution to global warming," notes the American Christmas Tree Association, a trade group for manufacturers.
4. Some Christmas trees drop needles faster than others.
The pointy, short needs of Norway spruce trees (Picea abies) are notorious for dropping quickly. Slower to shed are Fraser firs (Abies fraseri) and blue spruce trees (Picea pungens).
5. You can buy a 7-foot live Christmas tree on Amazon (with Prime shipping).
The live Christmas trees are "freshly cut, double baled with twine, and boxed from a U.S. family owned farm direct to your doorstep," notes Hallmark Flowers.
Buyers, take note: Amazon customer reviews for live Christmas trees range widely, from five stars ("Smells amazing, is alive and soft and green, very full branches") to one star ("The entire tip of the tree was broken off!!").
6. You can rent a fully decorated Christmas tree (skirt included).
Want to rent a live Christmas tree? New York City-based Rent-a-Christmas offers "all-inclusive live Christmas tree packages with lights, ornaments, skirt, star, and tinsel. All packages include free delivery, set up, take-down and removal by the Rent-A-Christmas elves." Price range from $599 for a 4-foot tree to $1,099 for a 9-foot tree.
7. The first year a Christmas tree was decorated with electric lights was 1882.
Soon after Thomas Edison invented the incandescent light bulb, his business partner Edward Hibberd Johnson decorated a Christmas tree in his Manhattan townhouse with 80 hand-wired, blinking red, white, and blue lights. The tree, which was mounted on a motorized base, revolved slowly to the delight of holiday party guests, according to a newspaper report.
8. Before electricity caught on, Christmas trees were dangerous enough to kill people.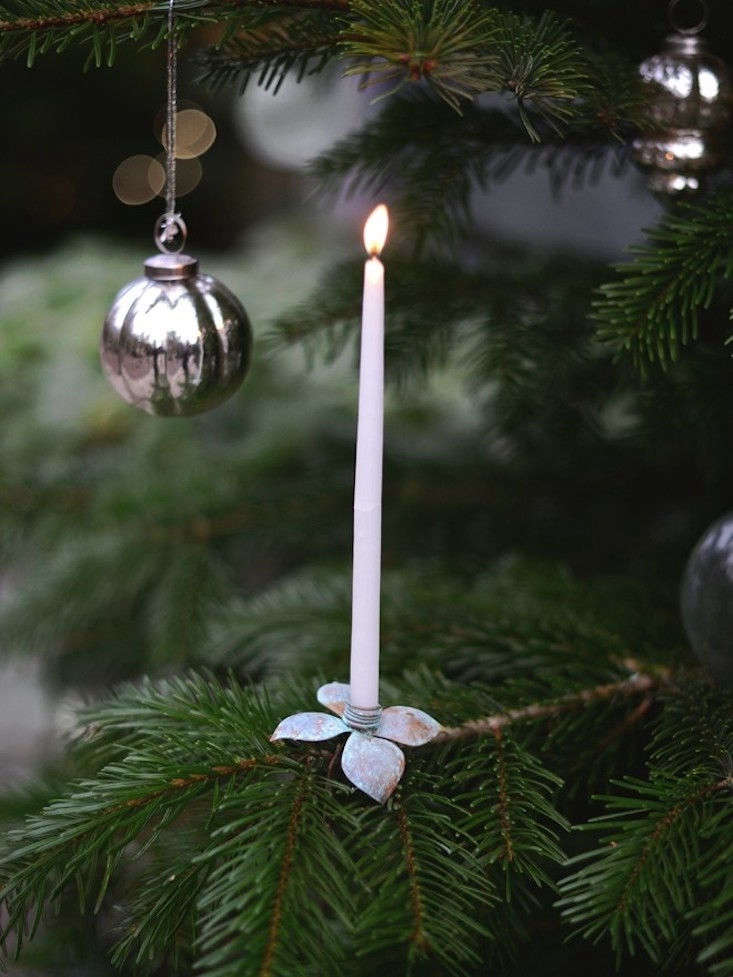 Although the invention by Frederick Artz of the clip-on candle holder in 1878 made Christmas tree candles less likely to topple over and set the room ablaze, safety problems remained.
In 1894, for example, a Pennsylvania schoolteacher dressed up as Santa was severely burned after his fake beard caught on fire while he was lighting candles on a Christmas tree. He was "quickly enveloped in flames," the New York Times reported. "His face, neck, forehead, and arms were severely burned before the fire could be smothered with rugs….He will be permanently scarred."
9. The inventor of the Christmas tree lot was a 19th-century woodsman.
New York City's first Christmas tree lot opened in 1851, operated by woodsman Mark Carr, in downtown Washington Market (a wholesale produce market demolished in the 1960s), according to History Matters. (Thanks also to History Matters for the story of America's first decorated Christmas tree.)
10. The average price of a live Christmas tree is $75.
Maybe you'll pay more than $75, maybe you'll pay less. But now you know, courtesy of the National Christmas Tree Association.
Did this story put you in a holiday mood? Maintain the buzz with: