As a child, I would walk down the street awarding points to each house and garden I passed. I had completely forgotten about this habit until I realized that when I moved to the Napa Valley, I had unconsciously chosen the people I wanted to befriend based purely on the way their house and garden looked. Carolyn Duryea was one of those people (full points awarded). Hers is a small house with a garden that is perfectly unkempt, with a mix of potted flowers, plastic beach balls strategically displayed, colorful hoops, a hanging chair, all signs that something good was going on inside.
When Carolyn, a stylist and interior designer, and her husband, Jeff, rented the charming cottage 14 years ago the garden was in serious disarray. There was a bedraggled vegetable patch, a few tired trees at the side of a creek (including a couple of palms and a grapefruit), and a concrete patio that consumed much of the back garden. Their plan of attack included wheelbarrow loads of gravel to cover the ground, 10 tons worth to be precise. As Carolyn tells us, "I love gravel and it made the single biggest difference in the yard." They added roses, hydrangeas, and gardenias, the flowers they love. "I don't like modern gardens," Carolyn says. "I like gardens that look as if they have gone to seed. Landscape designer Miranda Brooks does this best–she makes it look as if she hasn't done a thing." After 14 years of tending, Carolyn could say the same of her own garden.
Photography by Mimi Giboin for Remodelista.
Above: Carolyn painted two black sunbed loungers white and layered them with blankets (she confesses to "a textile problem"). Indian print sheets are covered in kantha quilts, part of Carolyn's ever-growing collection of the African fabric, most recently sourced at West Elm and at Karma Living on One King's Lane. "The plaids are my favorite," she says. Carolyn leaves the furniture out all year as she likes to see it from her bedroom window. The glazed ceramic colored side tables are another Carolyn obsession.
Above: French doors from the living room lead into the garden.
Above: The path from the house into the garden. Carolyn's inspiration was an image of an interior patio in Paris that had an overgrown feel. She purposely keeps the greenery untrimmed so you have to push through leaves to get to the garden.
Above: Carolyn had a frame built out of pipes which she covered with bamboo fencing to replace the original green plastic siding that was in its place. "The shade really took down the temperature, and I've only had to replace the bamboo three times in 12 years. We just let it weather naturally until it is time to replace."
Above: "We planted Boston ivy on the walls and it took off," Carolyn says. The Montauk Nest Chair is from West Elm.
Above: The couple decided to use terra cotta pots as they knew they would eventually move and wanted to be able to take their plants with them. The Malm outdoor fireplace is from DWR.
Above: The table is Jeff's old conference table, which Carolyn painted white.  She let if get messed up and "let the rain and dirt do its work until it got the right aged patina." All the chairs, including the Tolix, were flea market finds.
Above: A mix of candles and hurricanes. "Erica Tanov's original ET candles are my favorite. The Hurricane Lamps are a West Elm find as were the pots, which are rough and funky. I am really into turquoise blue. I'm missing the ocean." Three sea shell hangings are suspended over the table, "I'm going to have 10 of them in my next house," says Carolyn.
Above: The table sits under a Bay tree, which they discovered is a natural mosquito repellent.
Above: The hammock is from the local hardware store spiffed up with a down mattress topper for sinking into.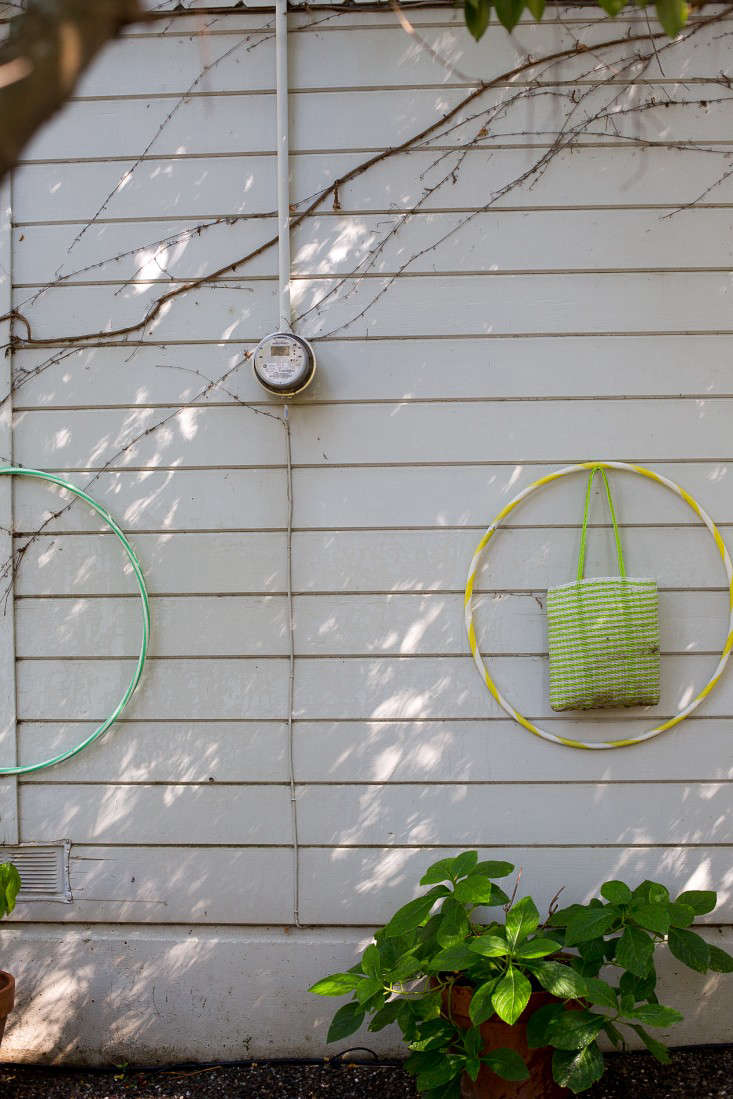 Above: A wall of hula hoops add a graphic note to the side of the house.
Above: The entry to the garden from the living room.
Above: The front porch with an Attic Birdhouse by  Chad Wright Bird House that Carolyn bought at the Remodelista Market last December.
Above: A vignette with colored plastic balls from Target.
N.B. After 12 years, Carolyn and Jeff are building a house. Stay tuned for the outcome.
If you are interested in seeing more of Carolyn's work, check out our post on their Hourglass Winery Guest House.
(Visited 69 times, 1 visits today)