In a clearing within Greystoke Forest in England's Lake District lies Blencathra at Scales Plantation, a tranquil, secluded spot where you can rediscover your wild.
The 13-acre woodland on the edge of a working farm is a spot where you can immerse yourself in nature and stay in a former shepherd's hut (with a few luxuries to make you feel at home). On a recent trip with my family, it was bliss getting up every morning, lighting the first fire of the day, and then hopping back into bed to read a little more.
Photography by Jen Chillingsworth.
Above: In addition to the shepherd's hut, there is a composting toilet and a separate wooden cabin housing a kitchen and bathroom.
Above: Located in the North Lakes on a working farm and run by owners Rob and Tab, it is a little off the beaten track yet only a 15-minute drive to the busy market town of Keswick. Situated in 13 acres of woodland, Scales Plantation offers guests the chance to enjoy a relaxing stay and adopt the pace of nature. There are other campers staying on the site, but each within their own private, secluded area, so it always feels like you are on your own.
Above: Blencathra camp is surrounded by trees and has a large decking area with a garden table, a fire pit for outdoor cooking, huge pots of herbs to cut and add to dishes and even a little pond for some wildlife watching. Greystoke Forest is a haven for red squirrels, but sadly we didn't spot any during our stay. Poor weather also hampered our attempts at cooking on the fire pit, but we'll be trying again next time.
Above: At 1,000 feet above sea level there are stunning views of the North Lake Fells. Hikers, climbers, and cyclists are spoilt for choice of places to go adventuring in the North Lakes. We opted to take leisurely walks around Ullswater, Borrowdale, and Derwentwater, enjoying the scenery and the spectacular changes in the light over the hills.
Above: The kitchen and bathroom are housed in a rustic cabin. In good weather, the canvas doors and windows can be unzipped and opened to offer the experience of cooking or bathing in the woodland. As it was windy and rainy during our stay, we never got a chance to try it out and the doors remained fully closed to keep the heat in. The bathroom has hot water and a full-sized bath, shower and a wood burning stove. It was bliss after a long day walking in the Lakes to soak in the tub, surrounded by candlelight, the stove keeping the room snug and only the wind outside blowing through the trees as a vocal accompaniment.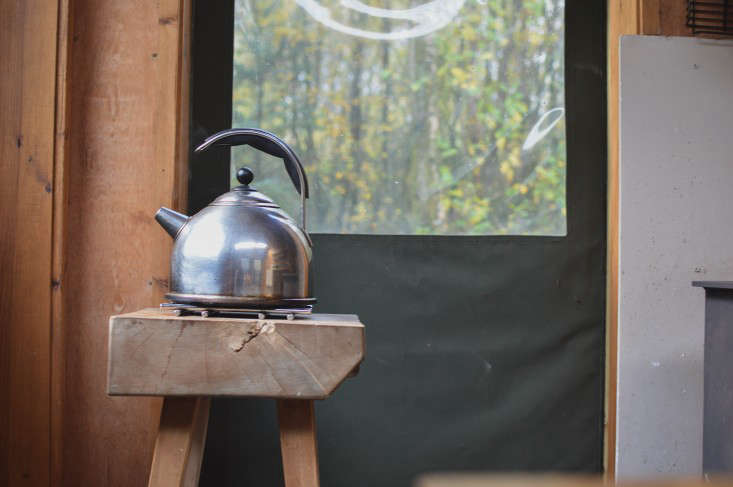 Above: In the shepherd's hut, the kitchen has a gas hob, pots, pans, crockery, and a refrigerator. Each morning we lit the stove and allowed the room to warm up for a while before we made breakfast. We prepared freshly ground coffee whilst listening to the bird song as we savored the first cup of the day.
Above:  Decorated in an easy-going rustic style with a huge table and built-in benches, there is plenty of space for a family to get comfortable. Lighting is provided via solar power and we whiled away the hours reading books and playing board games. The wood-burning range oven kept us warm all evening too. There is no outside lighting, so lanterns and torches are necessary to make the trip back and forth to the toilet. With dark skies and no light pollution, there is joy to be found in simply gazing up at the stars.
Above: After doing a little food shopping at the market in Keswick, we returned to camp to make dinner. Using the wood-burning range oven takes a little time to get used to, but allowing it to warm up for a while before attempting to cook anything is the key to success. I relished the opportunity to read more of my book and drink a glass of wine as dinner slowly cooked in the oven.
Above: Perfect for couples or small families, three shepherd's huts each sleep two adults in a double bed and up to two children in separate bunks. Feather down duvets, sheepskins, and blankets keep you warm at night. The bunks convert to a sofa during the day and a  small wood-burning stove provides extra heat.
N.B.: For  more of the outdoor life, see:
(Visited 52 times, 1 visits today)