Many of us love the idea of camping but are daunted by the logistics. All that gear! Happily Shelter Co., the San Francisco-based company that provides luxury pop-up campsites for overnight guests, started selling its luxurious tents this summer.
Husband and wife team Kelsey and Mike Sheofsky, the company's founders, arrange overnight tent stays in such venues as Big Sur, Joshua Tree, and Napa for families, weddings, and other events. This isn't roughing it: Inside the roomy tents are real beds with down pillows and 400-thread-count linens. Smitten by the look of one of their luxurious campsites, we decided to share its design elements so you can replicate the set-up.  
N.B.: For more about Shelter Co., see Camping Gets Glamorous: Shelter Co. in California on Remodelista.
Above: Photograph via Shelter Co.
Imagine a hassle-free camping weekend with a fully furnished canvas tent and whatever amenities you desire–say, a fully stocked bar, wine tastings, or an outdoor movie.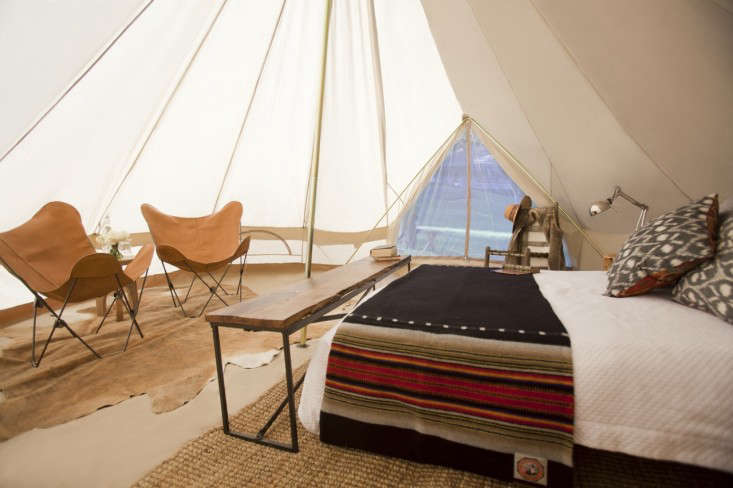 Above: The furnishings in Shelter Co.'s elegant tents compare to those you'd find in a luxury hotel room–but in a natural setting. Photograph via Shelter Co.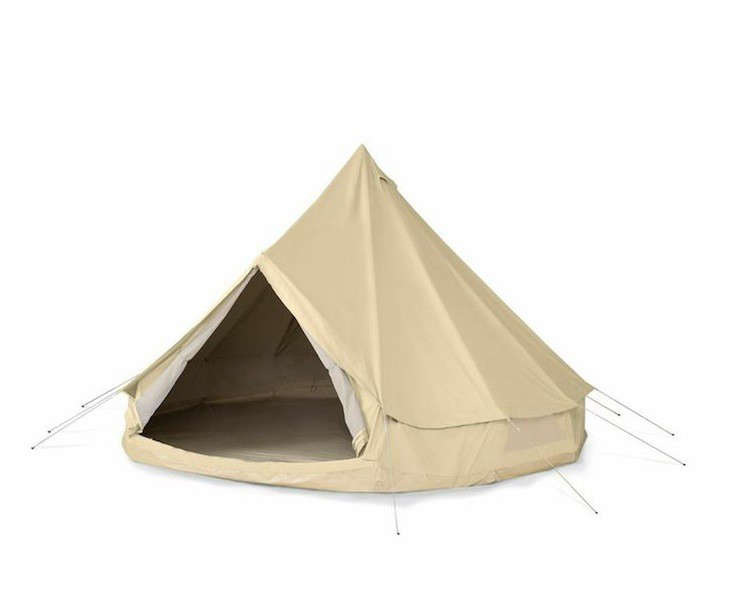 Above: Shelter Co. recently began selling its Meriwether Tent. Made of water-resistant canvas with a sewn-in vinyl ground sheet, it measures 16 feet in diameter and 9½ feet tall at the center, large enough to sleep up to six adults. For ventilation, there's a front screen door and four closable screen windows. Available in classic khaki (shown), burnt orange, and slate gray; $1,250 including shipping.
Above: A Classic Wooden Adirondack chair is built in New York's Adirondack region of sustainably harvested wood, and folds flat for easy transport and storage. Available in six colors, including natural; $199 from L.L. Bean.
Above: The hand-woven Fog Ikat Decorative Pillow is hand-dyed with natural pigments and measures 20 inches square; $135 (cover only) from John Robshaw Textiles.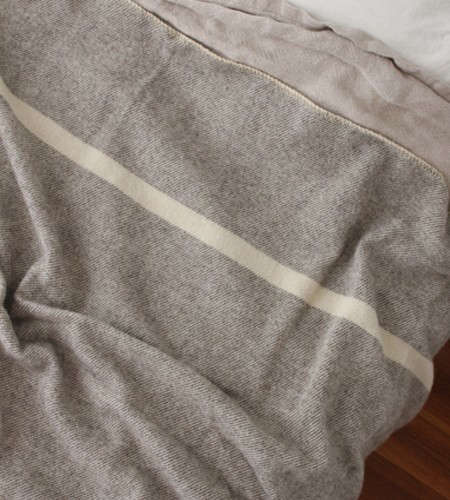 Above: A gray Wool Blanket With Natural Stripe is made in Canada and measures 76 inches by 104 inches; $245 from Brook Farm General Store. 
Above: A Vintage Rustic Wood Crate is good for storing blankets and gear; $32 from Haven Vintage via Etsy.
Above: Poufs are versatile and make for extra seating. This Key Dhurrie Pouf comes in regal blue (shown) and platinum; currently on sale for $199 from West Elm. 
Above: The oil lantern–a camping must. The Feuerhand Lantern has been made in Germany since 1902, with a heat-resistant globe and special sealing to prevent leaks. A full tank provides 20 hours of light; $39.95 from W.T. Kirkman Lanterns. For more lanterns, check out 5 Favorites: Classic Oil Lanterns. 
Above: The 100-percent-wool Acadia National Park Blanket is part of a series honoring North America's national parks. It's available in full and queen bed sizes, and starts at $199 from Pendleton. 
Above: The Natural Bench by Ohio Design provides end-of-bed seating. It's made from radiata pine with a steel base that can be powder-coated in eight colors for an extra charge. Available in three lengths, starting at $949 for the 48-foot version. 
Above: The authentic AA Airborne Butterfly Chair is made in France and is available for 783€ in leather. In the US, CB2 offers its own version of the Butterfly Chair; on sale for $339, it's available in black or brown leather.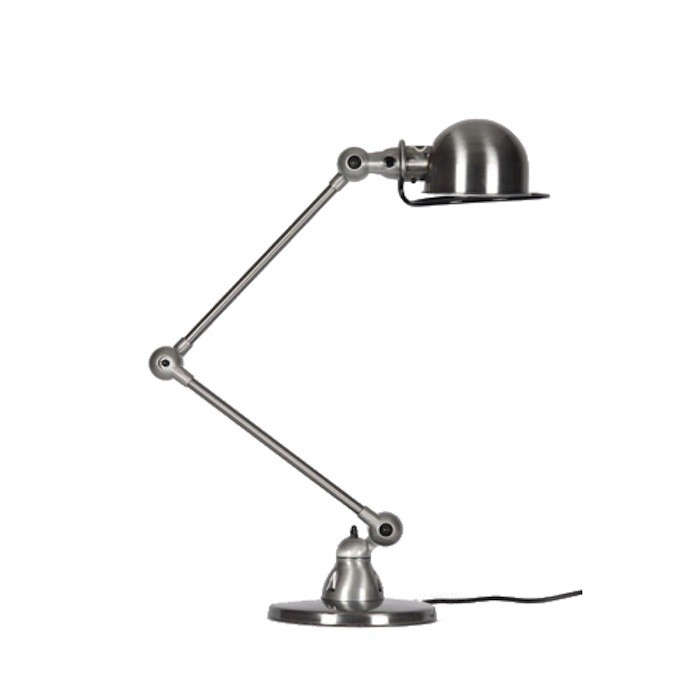 Above: The iconic Jielde Signal Desk Lamp is made in France and comes in 24 colors; starting at $399 from Horne.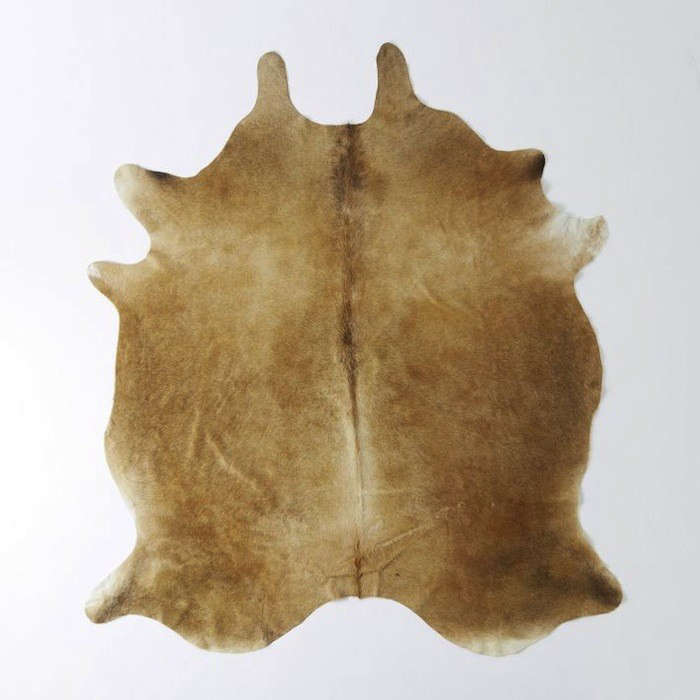 Above: Cowhides make durable, low-maintenance throw rugs. A natural Cowhide Rug from Argentina, measuring about 5 feet by 8 feet, is available at West Elm for $549. For a lower-priced alternative, the Koldby Cowhide from Ikea is $199. 
Above: Ikea's classic and versatile Tí¥rnby Rug is made of flat-woven natural fibers; $99 for the 6-by-8-foot size.
Check out our Steal This Look archives for more gardening and campsite inspiration. If you need to get your own camping provisions, check out 10 Easy Pieces: Picnic Blankets and, on Remodelista, Charcoal Outdoor Grills.
(Visited 75 times, 1 visits today)