For foragers, gardeners, and cooks, travel is doubly rewarding. A holiday brings with it a bonus that many other travelers miss: plants. This makes our experiences on the road so much more richly textured. And then there is dinner. Often for free.
Wherever I travel, excursions automatically turn into impromptu foraging expeditions, the only common theme being the element of surprise. I never know what I will find.
I've rounded up some travel tips for would-be foragers headed on springtime visits to South Africa, where I was born. From casual walks in Cape Town to organized expeditions with local foragers, here are some likely spots to forage for food—including some on the land surrounding travel lodging (ranging from the most luxurious the country has to offer, to not much more than what a week's worth of lattes would cost, Stateside).
Photography by Marie Viljoen and Vincent Mounier.
The Alphen Trail, Constantia
Above: Like all good things (allegedly), foraging begins at home, in the suburb of Constantia. At the damp tail end of winters when there has been rain, invasive three-cornered leeks (Allium triquetrum) dominate damp and shady places, like these on an upper section of The Alphen Trail. Introduced via gardens, these wild onions have proliferated. Fortunately, they combine the pungency of garlic with the sweetness of leeks, and are very useful in the kitchen.
Above: Spring forage baskets yield a trove of edible plants that are 100-percent green-lighted, in terms of sustainability: three-cornered leeks (edible from bulb to flower), sow thistles (Sonchus oleraceus), and Oxalis pes-caprae, or suuring, an indigenous and prolific, sour stemmed oxalis (which has now invaded the West Coast of the United States—on behalf of South Africans, sorry!).
Above: And what do you do when you walk over a sand dune at the beach and find yourself unexpectedly ankle deep in a luscious colony of veldkool (Trachyandra divaricata, in this case— there is more than one edible species)? No special equipment necessary. The tender flowering buds snap off easily and a sweater is quickly removed to become a foraging bag. Foragers know no cold. We ate the veldkool that night, steamed, with nothing more than melted butter and a squeeze of a lemon.
First Light Foods
Above: Then there are organized outings. Justin Williams of The Mushroom Forager leads popular seasonal walks in the woods and wilds of Cape Town (and beyond). He and his fiancée, Beverley Klein, are the co-owners of wild food startup First Light Foods. Their porcini powder, dried mushrooms, fresh samphire, and other wildcrafted or gathered treats can be found at the Oranjezicht City Farm Market Day at Cape Town's Granger Bay every Saturday, as well as at other local food emporiums.
Above: On a mushroom walk with Justin (ticket price $25, for more information see The Mushroom Forager) in a pine plantation above Hout Bay, collaborator and Veld and Sea founder Roushanna Gray provided a whimsical and mushroom-themed picnic. Mushroom pâté and a hot mushroom and rooibos toddy were followed by intense mushroom dust and pine nut brownies.
Follow The Mushroom Forager on Instagram: @the_mushroom_forager
Weltevrede Fig & Guest Farm
Above: And then we hit the road, driving northeast from Cape Town into the Karoo for 250 miles. Our first stop is the Weltevrede Fig & Guest Farm, a working fig farm (without fruit in early spring) just beyond the hamlet of Prince Albert, at the foot of the imposing Swartberg Mountains. In the semi-arid Karoo, rain showers provoke flowers. Plants here have adapted to respond in a flash to moisture, blooming and setting seed as fast as possible to ensure their survival. Alongside roads, where runoff is absorbed by the hard-packed earth, daisies and succulents erupt. The little indigenous blue felicias in the foreground are a staple darling of the international nursery trade, and it is enlightening and charming to see domesticated plants on their home turf.
Above: Diverted by flowers, we made many stops along the way. Arctotis leiocarpa grew in drifts. It is the species relative of the ubiquitous African daisy hybrids of the gardening world. Not good for foragers or cows, actually (if eaten, they make cows' milk turn bitter).
Above: Photograph by Vincent Mounier.
Above: At last we reached our home for two nights. Fonteinskop is a roomy mansion on a hill, built on a grand and loving scale (with gas and hot water but no electricity—so all light is candlelight). It overlooks a spectacular valley populated by a family of giraffes and a troop of hollering baboons. Seemingly in the middle of nowhere, it is one of several impressive accommodations offered by Weltevrede, the working fig farm where we first stopped to pick up our keys and directions. Access to this house requires a 4-by-4 to negotiate a vertiginous stone track.
For the plant lover in me, the real interest lay at my feet, in the wildflowers springing up on the stone strewn and still brown slopes.
Above: Karoo violets (Aptosimum indivisum) are embroidered floral cushions in miniature, growing in tussocks no higher than four inches.
Above: Mesembryanthemum crystallinum is commonly called soutslaai —meaning salt salad, and known as ice plant in English. It has deliciously crunchy and juice-filled leaves. (Indigenous to South Africa, it has naturalized in coastal California. Eat it.)
Above: Photograph by Vincent Mounier.
Sweet prickly pears, ice plant, species of Tetragonia, and escaped arugula joined our nightly supper salads.
Hantam, Northern Cape Province
Above: Turning west in an arc of just under 300 miles brings you to the Hantam region of the Northern Cape Province. After good winter rains this is unapologetic Flower Central in springtime and an international botanical hotspot.  In spring everything is lush profusion before turning dry. Now near the village of Nieuwoudtville, the so-called bulb capital of the world (due to the intense concentration of geophytic plants), I was thrilled to discover fields of another species of veldkool in bud. Trachyandra falcata grew in such abundance that it was easy to snap a tender bud stalk from each plant and to carry home a fat handful for several dinners.
Above: Like so many plants in shoot form (at the meristematic stage, when they are actively growing), veldkool does resemble asparagus. Its flavor is unique and is hard to compare with any other vegetable I know. Kept in a glass of water, the shoots stay fresh for days.
For where to stay near Nieuwoudtville, read our Papkuilsfontein story. Cost per couple per night (including meals) is about $120.
Brandkop Guest Farm
Above: After several luxurious nights at Papkuilsfontein we dialed down considerably, and made a tiny, spartan cottage called Brandkop our home for a couple of nights. (Fresh linen and towels were provided, but we trekked to town for soap). We cooked over a fire, ate dinner by candlelight, under a vast sky of stars, and spent our days listening to birdcalls and exploring the surrounding countryside.
Above: One night I made a veldkool bredie—a slow-cooked mutton stew with excellent meat provided by our hosts, who farm free-range sheep a few miles up the road. Rough-skinned Cape lemons provided acidity and an intensely scented branch of Diosma acmaeophylla, a member of the highly aromatic Rutaceae family, brought the traditional dish to delicious, regional perfection.
To book the cottage for a night costs around $45 (it sleeps four). More information about Brandkop Guest Farm.
Babylonstoren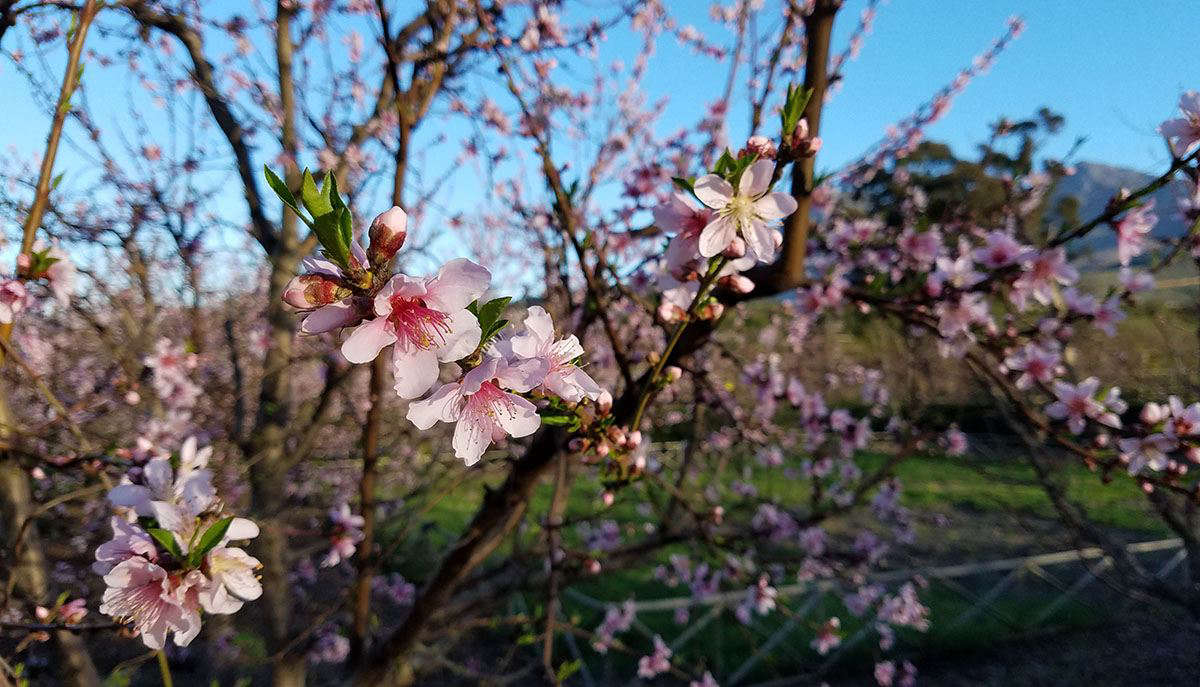 Above: And then we were homebound, again, but not before being spoiled at Babylonstoren, the wine farm and famed kitchen garden near Cape Town.
Above: Photograph by Vincent Mounier
One of the major perks of being an overnight guest on the farm is that you are allowed to browse at will in the enchanted gardens. It is like being a child again, let loose in a vast, edible playground.
Above: Although Babel, the gleaming restaurant on site,  produces gorgeous meals, we stayed home one night in our cottage, to prepare in the glass-walled kitchen what we had foraged for ourselves – both legitimate crops and edible weeds (lush lamb's quarters, top row beside the scallions). The fridge was full of complimentary wine, and the kitchen is stocked with the farm's own olive oil.
Above: A walk in the hills above the vineyards yielded wild rosemary (Eriocephalus africanus), one of my favorite South African herbs.
Above: A quick trip to the deeply tempting farm shop provided us with eggs.
Above: And a familiar canapé (I bring a version on all the forage walks I lead in New York) took shape: wild rosemary dipping salt, with just-cooked quails' eggs.
Babylonstoren accommodation rates vary from $400 to $500 a night, for two people, sharing.
For botanical travelers who appreciate an expertly guiding hand, South African-born and New York-based floral designer Sylvia Lukach and her studio Cape Lily are offering a floral getaway to South Africa in March 2018.  The 10 day trip will include fynbos foraging near Cape Point with Roushanna Gray of Veld & Sea (see our story), identifying indigenous plants walking up Table Mountain and visiting Kirstenbosch National Botanical Garden with a botanical guide, sipping fynbos gin cocktails with local industry friends, and a fabled garden tour and farm to table lunch at Babylonstoren. There will also be floral design workshops led by Susan McLeary of Passionflower, using locally grown South African flora. Susan is renowned for her boundary-pushing floral art.
The eye tuned to botanical detail is one that is perennially amused and fascinated. Tune in, and enrich your next vacation experience. For a forager and plant lover there is reward, everywhere. You just have to pay attention.