Since I was a child, my Nana would make a 1-2-3-4 bundt cake (1 cup butter, 2 cups sugar, 3 cups flour, 4 eggs). She added lemon zest, toasted nuts, and fruit according to the season–strawberries in the spring, cranberries in the winter.  
It was simple and delicious, whether she fancied it up with sugary icing or chocolate ganache, or served it plain-Jane with a puff of powdered sugar. And you never know what kind of goodies Nana hid inside. Nuts? Chocolate chips? Cinnamon swirls? Here's a holiday version that's irresistible:
Read on for an ingredients list and step-by-step instructions for Holiday Bundt Cake with Cranberries:
Photography by Lindsey Love for Gardenista.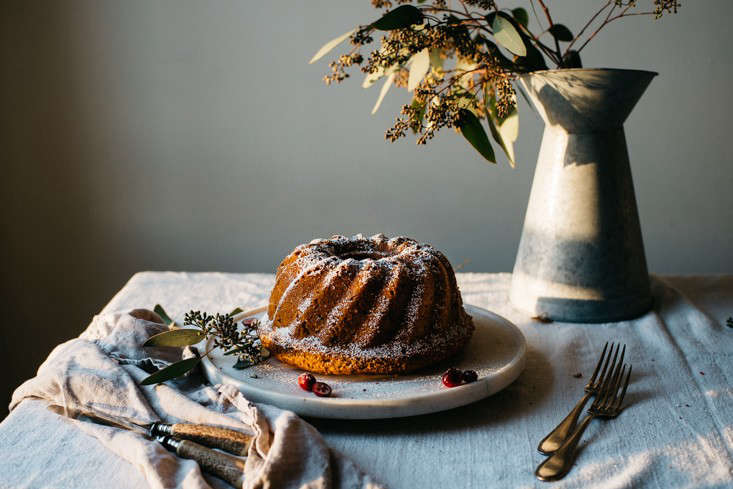 Above: The bundt cake I highlight here has the cheerfulness of holiday fruitcake, but replaces overly sweet fruits with fresh fruit. Warm spices are still honored here, as well as some toasty chopped almonds.  
Above: This is a moist and giving cake (the secret is squash purée), and because it's not overly sweet, it's refreshing to serve after a long meal. 
Holiday Bundt Cake with Crushed Cranberries and Apple
Inspired by Baking With Dorie 
(N.B. The recipe utilizes gluten-free flours; however, if baking gluten-free is not a requirement, simply replace all three flours with unbleached all-purpose flour, and omit the arrowroot starch.)
Ingredients
1 cup brown rice flour
1/2 cup oat flour
1/2 cup almond flour
2 tablespoons arrowroot powder
1/4 teaspoon fine sea salt
2 teaspoons baking powder
1 teaspoon ground cinnamon
1 teaspoon ground ginger 
1/2 teaspoon grated nutmeg
1 cup natural cane sugar
1/2 cup vegetable oil 
3 free-range eggs
2 teaspoons pure vanilla extract
1 cup butternut squash purée
1 cup cranberries, crushed in a food processor
1 apple, peeled, cored and cut into chunks
3/4 cup chopped almonds, toasted (optional)  
Powdered sugar, to top (optional)
Above: No raisins or dried fruits here. This recipe calls for apples and cranberries.
Above: Two generously sized bowls, prepared for mixing.
Instructions:
Preheat oven to 350 degrees and oil an 8- or 9-inch bundt pan. Set aside.
In a large bowl, whisk together flours, arrowroot powder, salt, baking powder, and spices.  
In another large bowl, beat the oil with sugar for one minute; beat the eggs in one at a time and add the vanilla.
Fold in squash purée, crushed cranberries, apple chunks, and nuts. A little at a time, mix the dry ingredients into the wet until no lumps remain; evenly distribute batter into bundt pan.
Bake in the center of your oven for from 50 to 60 minutes, until a cake tester comes out clean. (If you notice the top is getting brown, cover with aluminum foil until the center is cooked through.)  
Allow cake to cool for 20 minutes, then invert onto serving platter and allow to cool completely.  After it's cool, top with powdered sugar; slice and serve.
Above: Decorate with a few sifts of powdered sugar and loose cranberries.
Above: A simple end to a meal.
For more of Lindsey's recipes, visit her blog Dolly and Oatmeal and see the Weeknight Holiday Party Menu she created for us last week.
Planning a holiday meal?  Browse all our festive dishes in Garden-to-Table Recipes. 
(Visited 79 times, 1 visits today)