The winner of the 2017 Gardenista Considered Design Awards Best UK Professional Landscape is Studio 29 Architects for An African-Inspired Garden in Holland Park in London.
The project was chosen as the winner by guest judge Rita Konig, who said: "I think this is a really good use of a small space and I love the wall painted in that pretty color. This is really an extension of the room that leads onto it and I think that is a great way to approach a small city garden. I love the planting, too."
N.B. This is the third of eight posts spotlighting the winners of the 2017 Gardenista Considered Design Awards. Go to this year's Considered Design Awards page to see all the entries, finalists, and winners, and to have a look at the Remodelista Considered Design Awards.
Photography by Andrew Beasley, except where noted.
Studio 29 Architects' Design Statement: "We convinced the clients to demolish an ugly '80s conservatory at the rear of their townhouse to reclaim space for a small sheltered garden. Inspired by the client's childhood spent in Kenya and South Africa, we designed a bold planting scheme and sculptural landscape."
Q: What is your firm's specialty?
A: Unusually for the UK, we provide a fully integrated all-in-one service comprising architecture, interior design. and styling, and landscaping.
Q: Who worked on the winning project?
A: Margherita Thumiger, the founder of Studio 29. We got help from Sylvie Gabbey of Inger Landscape in London for the planting scheme.
Q: What were your practical goals for the project?
A: Providing a buffer between our clients' house and the communal garden; giving the basement a view as we fitted full-width full-height glass doors; and providing a visual relationship between inside and outside (the planting color scheme was inspired by a porcelain art piece that artist Natasha Daintry made bespoke for the house).
Q: What solutions did you find to your design problems?
A: To provide depth to the very small garden we used a few visual tricks: stepped planters, a bronzed acrylic mirror placed on the end wall and well hidden behind the planting, and a layered planting scheme. To add plants in order to achieve a lush feeling, we introduced a green wall system and a trellis covered with evergreen false jasmine.
Q: What are your favorite features of the project?
A: The double staircase: half of it is made of solid thick slate slabs and rises from the paving, and half of it is slender and light and is fashioned out of galvanized perforated metal sheet and provides a "punto luce" (light point).
Also, the African-inspired seats in colorful telephone wire, as they complement perfectly the exotic planting scheme that was designed to bring the client's mind back to her happy childhood spent in South Africa and Kenya.
Q: What were the hardest lessons you learned along the way?
A: Everybody (clients, estate agent, clients' friends) was initially against the idea of demolishing valuable built square meters of house to reinstate the garden. We overcame their resistance, preparing a really stunning and convincing set of sketches, drawings, and visuals.
In addition, that green wall need constant maintenance. The company that was supposed to take care of the green wall did something wrong with the feeding system and half of the plants died. (Luckily, they are insured and replaced the whole lot.)
Q: What advice do you have for someone else undertaking a similar project?
A: Brainstorm freely first, but then select only one strong concept to follow through. Choose only a couple of feature plants (we chose a banana tree and a tree fern) and get the most mature specimen you can afford. You do not want to wait for ages to see the garden in prefect shape.
Q: What was your biggest splurge?
A: Insisting for solid thick slate slabs for the steps (the builders wanted to clad concrete steps with slate tiles).
Q: Where did you cut corners?
A: I would not recommend cutting corners in the design of a small garden as everything needs to work very hard (compared with a big garden). We saved a bit painting the terra cotta wall instead of rendering it with a terra cotta finish, but that's it.
Q: If your project was a celebrity, who would it be?
A: Miriam Makeba, definitely. The queen of South African music, with the most inspiring, soothing, and exciting voice ever.
Q: What is your best secret design source?
A: Using very good, very well-designed furniture in gardens—as we do in interiors—is our thing. We love Moroso and their M'Afrique line was perfect for this project.
Q: What is your favorite local shop or garden nursery?
A: Columbia Road market is our favorite place for interior plants and Nicola Fasano in Puglia is the best to source big great natural terra cotta and glazed terra cotta planters in the most beautiful colors. I know Puglia is not really "local," but is where my family comes from so it is very close to my heart.
Q: Where do you get your design inspiration?
A: From long chats with our clients about their life, passions, and travels. From botanical gardens all around the world (when we travel we always visit the local botanical garden!).
Q: Which garden designers, gardeners, or landscape architects do you admire?
A: Burle Marx: a genius who was as amazing with plants as he was with graphic and hard landscaping. Piet Oudolf. In London, we love Dan Pearson: I collected all the articles he used to write for the Observer!
Q: What is your next project?
A: We are working on a big garden in Norfolk. It surrounds a small cottage and a big barn facing the marshes on the North Sea. The landscape is amazing so the challenge is big! We want to use lots of grasses as there is a constant breeze there and we love the noise grasses make in the wind.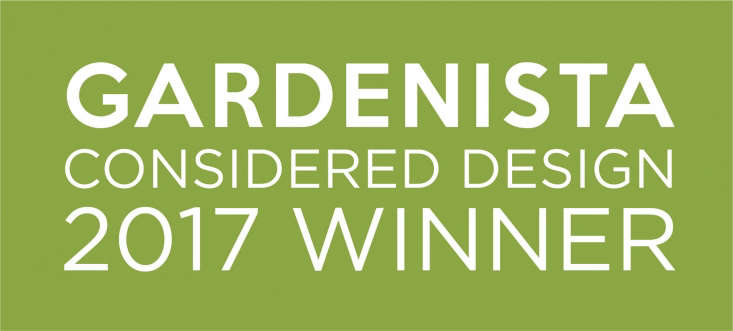 (Visited 64 times, 1 visits today)