Along with sunshine and warmth, summer offers spare time (or at least the illusion of it). Beach days mean toes in the sand and a good book in hand. 
If you love plants and gardening as much as we do, your dream volume is probably a beautiful book of tantalizing photos of the garden you wish you had, the flowers you'd like to grow, the places you'd like to visit, and the dinners you'd like to make from the vegetables you're hoping to grow.
We spent the past few months reviewing spring's new books, and here are our favorites:
Above: British cook book writer Elizabeth David was known for her brilliant writing of extremely complicated and difficult-to-duplicate recipes. Fortunately for those of us who love deliciously prepared vegetables, Jill Norman has interpreted Elizabeth David for the modern reader and cook. Get the full details in Required Reading: Elizabeth David on Vegetables. Photo by Kristin Perers.
Above: Landscape designer Judy Kameon's specialty is the indoor/outdoor room. This one–a perfect example of her colorful, casual style–happens to be located at the headquarters of her company Elysian Landscapes in Los Angeles. Learn more about Kameon's techniques for creating comfortable, user-friendly outside rooms in her book Gardens Are For Living: Design Inspiration for Outdoor Spaces. Head to Required Reading: Gardens Are for Living for more details. Photo courtesy of Rizzoli.
Above: In his book, Close: Landscape Design and Land Art in Scotland, photographer Allan Pollock-Morris invites readers to explore the beauty of the Scottish Isles–everything from castles to labyrinths to sculpture gardens to cairns in fields–from the comfort of home. For more Scottish eye candy, see Required Reading: Close: Landscape Design and Land Art in Scotland. Photo by Allan Pollock-Morris.
Above: If you've ever thought you'd like to have your own flower garden, get your hands on a copy of The Cut Flower Patch by Louise Curley. Curley, aka Wellywoman, is a gardener, blogger, freelance writer, and stylist. Her book is filled with useful tips on how to have a productive, constant-bloom cutting garden and which flowers to select for it. Learn more in Required Reading: The Cut Flower Patch.  Photo by Jason Ingram.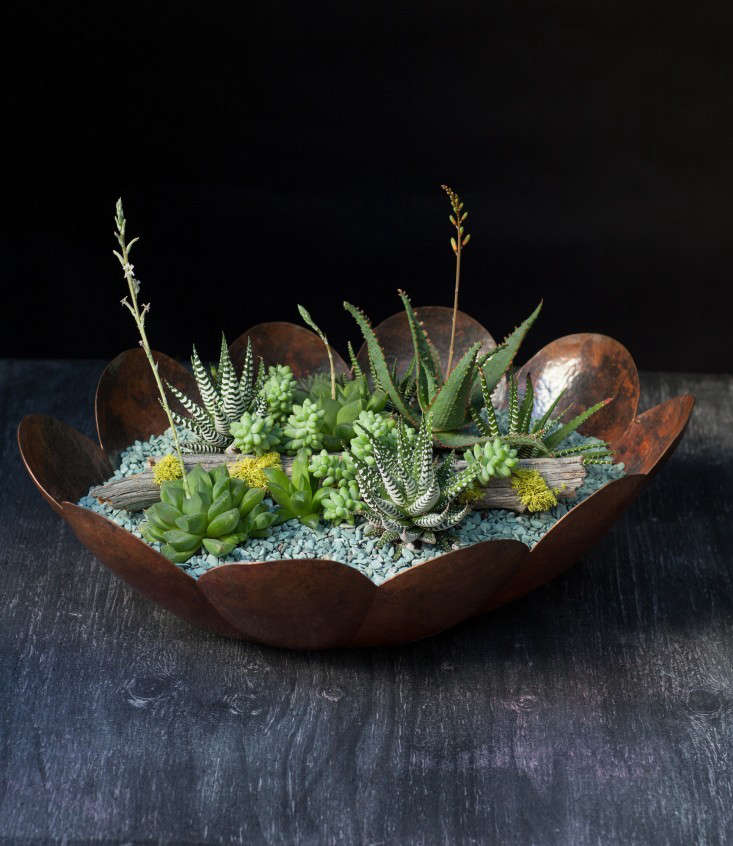 Above: The traditional flower bouquet is lovely, but if you crave something a little longer lasting you'll want to pick up The Plant Recipe Book by Baylor Chapman. It is a collection of living plant arrangements with instructions on how to make your own. Chapman advocates found containers and offers lists of plants and other materials you will need to create a beautiful miniature landscape. Get inspired with Required Reading: The Plant Recipe Book. Photo by Paige Green.
Above: A book that is both an excellent guide for the novice gardener and a delightful read for the more experienced plant lover is Nancy J. Ondra's Five Plant Gardens: 52 Ways to Grow a Perennial Garden with Just Five Plants. Ondra says she settled on five as the perfect number of plants for a small garden because it is enough to provide variety while still being manageable and affordable. Get the full scoop in Required Reading: Five Plant Gardens. Photo by Rob Cardillo.
Above: Just the thing for inspiring decorative touches in the beach house, Decorate With Flowers by Holly Becker and Leslie Shewring is a full of fresh, no-fuss ideas for displaying flowers. See more in Required Reading: Decorate With Flowers. Photo courtesy Chronicle Books.
Here's hoping your summer reading brings enough flowery inspiration to last you until Labor Day. For more summertime ideas, read The Screened Porch Roundup from Remodelista and learn how to make a great spot for a nap in Steal This Look: Greek Bamboo Canopy.

(Visited 56 times, 1 visits today)