Labor Day is behind us. Summer, the official version, is over. Just don't tell the basil. It's still going strong, at farmers' markets and in the pots on my terrace. If I could choose just one flavor to extend the longest, brightest days of the year, this would be it. The evocative, familiar fragrance of the soft herb is the embodiment of summer, but shorter days do not spell its end. Now, if there is one constant to my menus, it is an ever-evolving riff on a famous salad that basil defines: the caprese. These last salads of the season may feature the traditional mozzarella, but I often use creamier burrata, and sometimes heretical feta. But there is always basil. Sweet green, purple, tiny, or Thai.
There is time. Eat basil while you can. (And you'll need a watermelon for the basil and burrata recipe at the end.)
Photography by Marie Viljoen.
What makes an insalata di caprese (mozzarella, tomato, basil) a classic is its sumptuous austerity. It's a combination of ingredients whose contrasting and complementary qualities are genius in their simplicity. Juicy, sweetly acid tomatoes, the soft cheese, the bitterly fragrant leaves of basil. A slick of olive oil, a shower of salt, and black pepper, for the reckless. The basic version can be exquisite, or awful. It's as good as your ingredients. And if they are truly of the season, this salad's supple framework allows you to improvise. Wonderfully.
In my farmers' market and forage-inspired versions of the caprese salad, seasonally shifting fruits and vegetables (and vegetable-fruits) provide contrast for the soft cheese, whether it is fall-apart creamy burrata, sliceable mozzarella, or assertive feta. I am looking for softness, for crispness, for a touch of sweet, and sour, and salt—and for fragrance. Preferably all in one mouthful.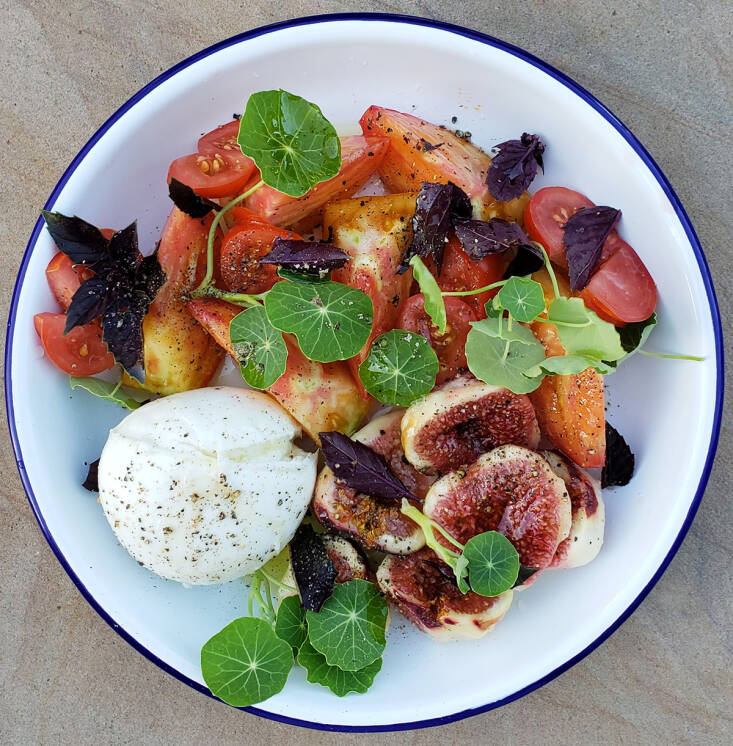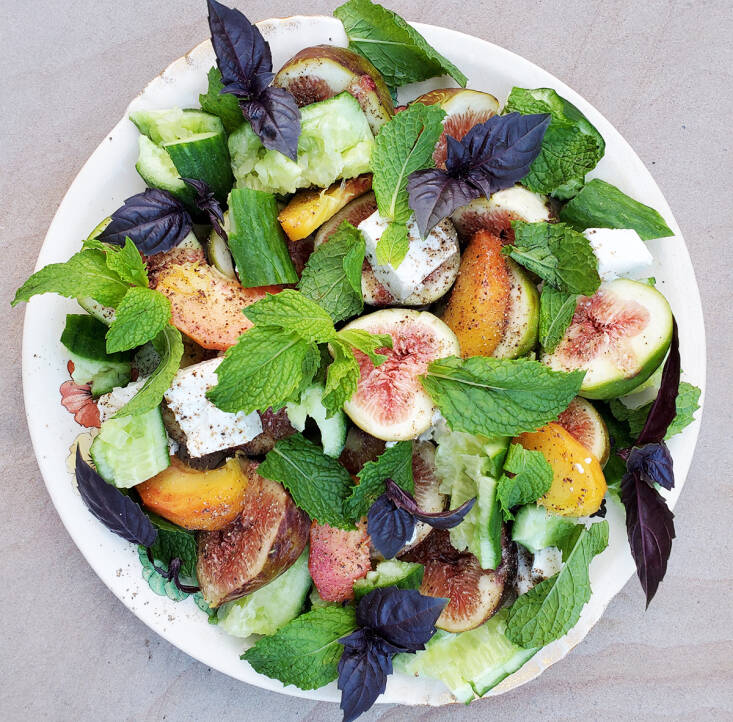 Tomato is a fruit. So why not deploy fruit-fruit, like cherries, peaches, and figs (yes, we know they are actually modified flowers), in a caprese? Pinches of good salt and freshly cracked black pepper offer an essential savory counterweight to the fruits' sweetness.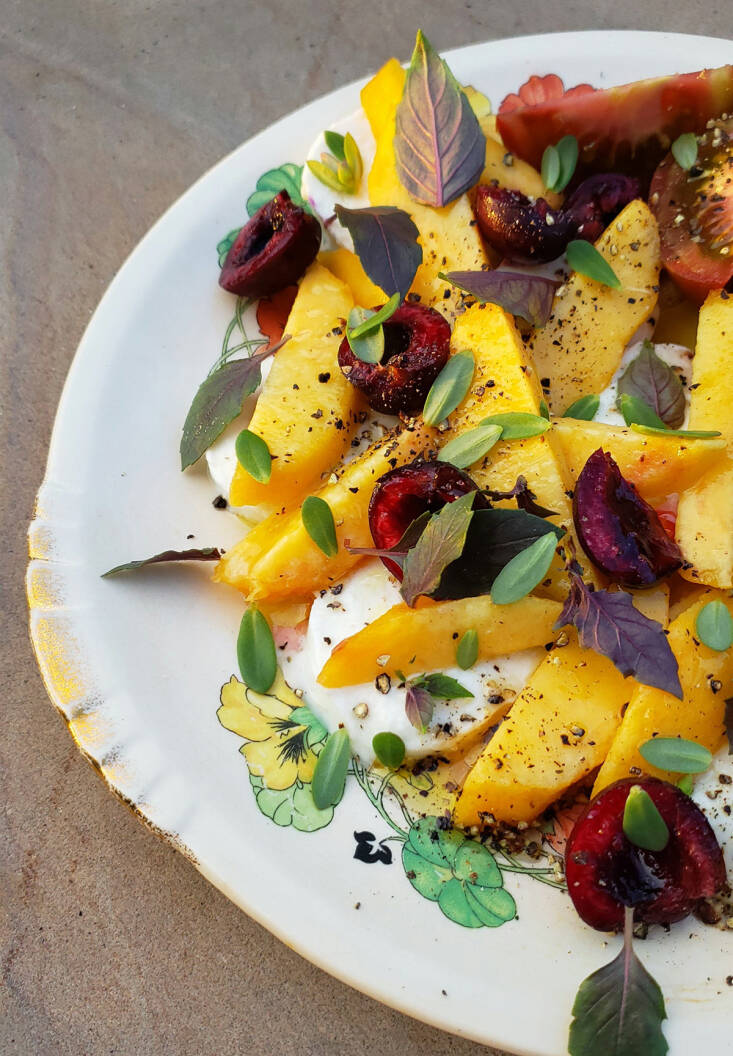 When I add seasonal fruit to these salads, I often add a layer of flavor by pickling the slices (or whole berries) for 30 minutes or less in a 100% vinegar brine seasoned heavily with salt and sugar, or honey. This gives serious dimension to the salad, the edges of acidity softened by the fruit's inherent sweetness and softness. The left-over pickling liquid can be used later for salad dressings, drinks, marinades, and braising.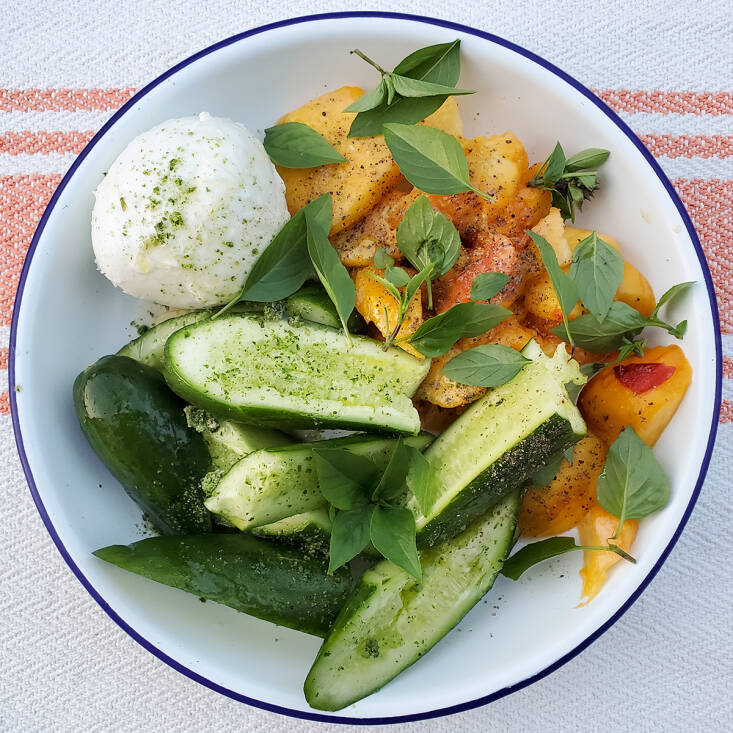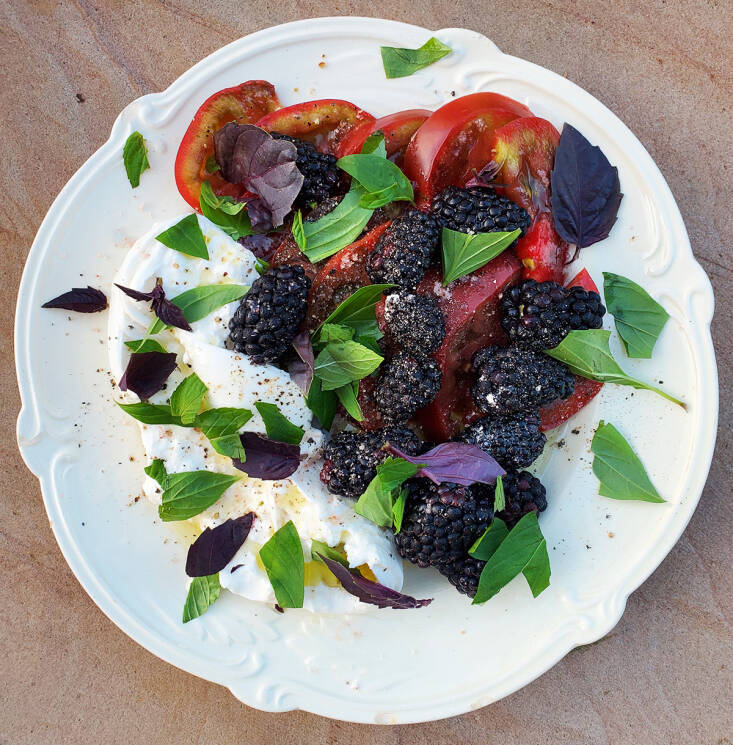 Even the smallest of gardens is able to provide fresh-picked soft herbs for salads that speak not just to the season, but to the moment.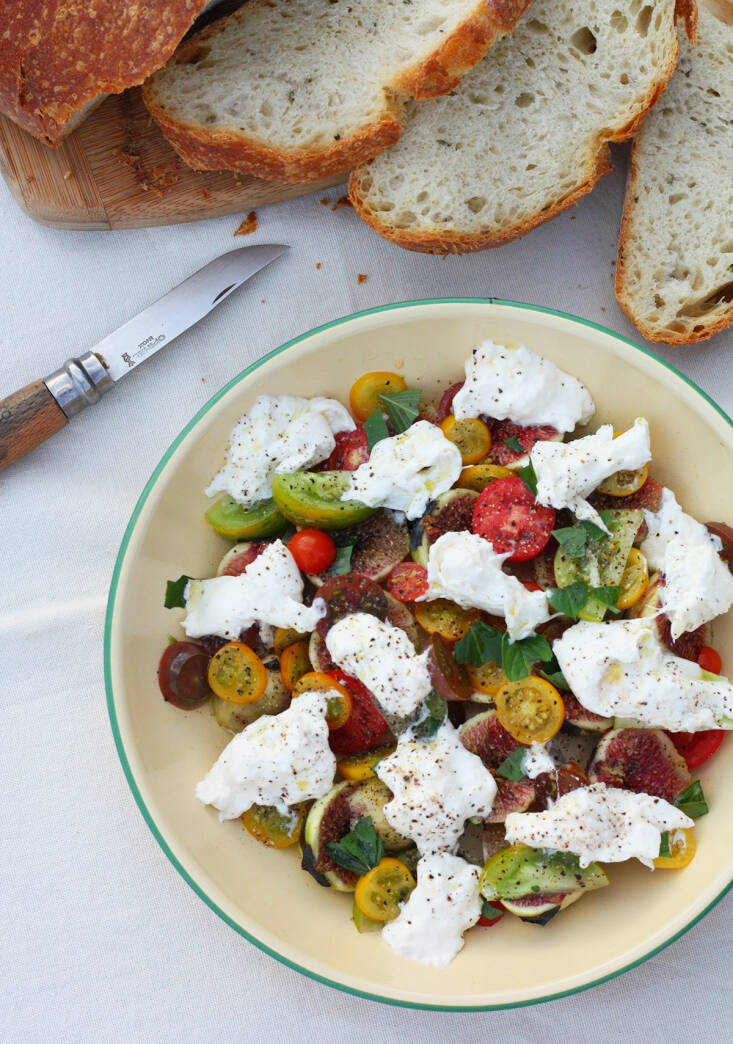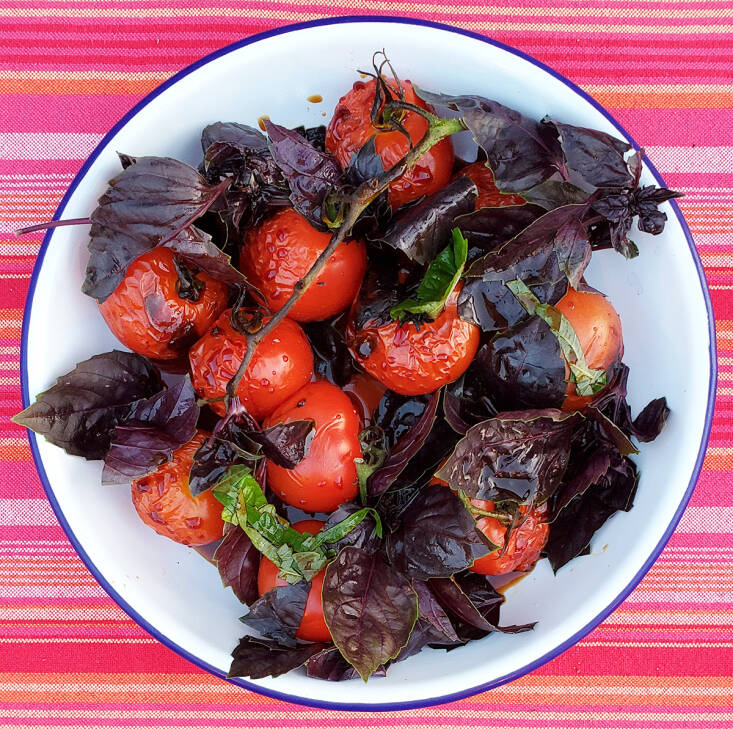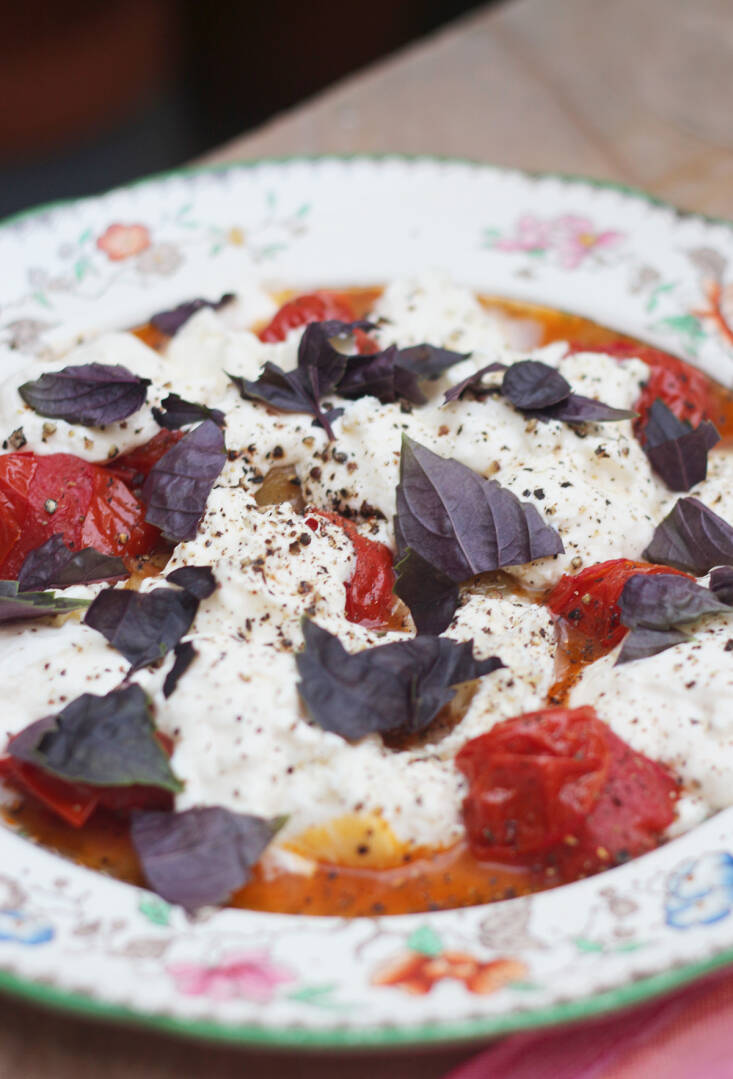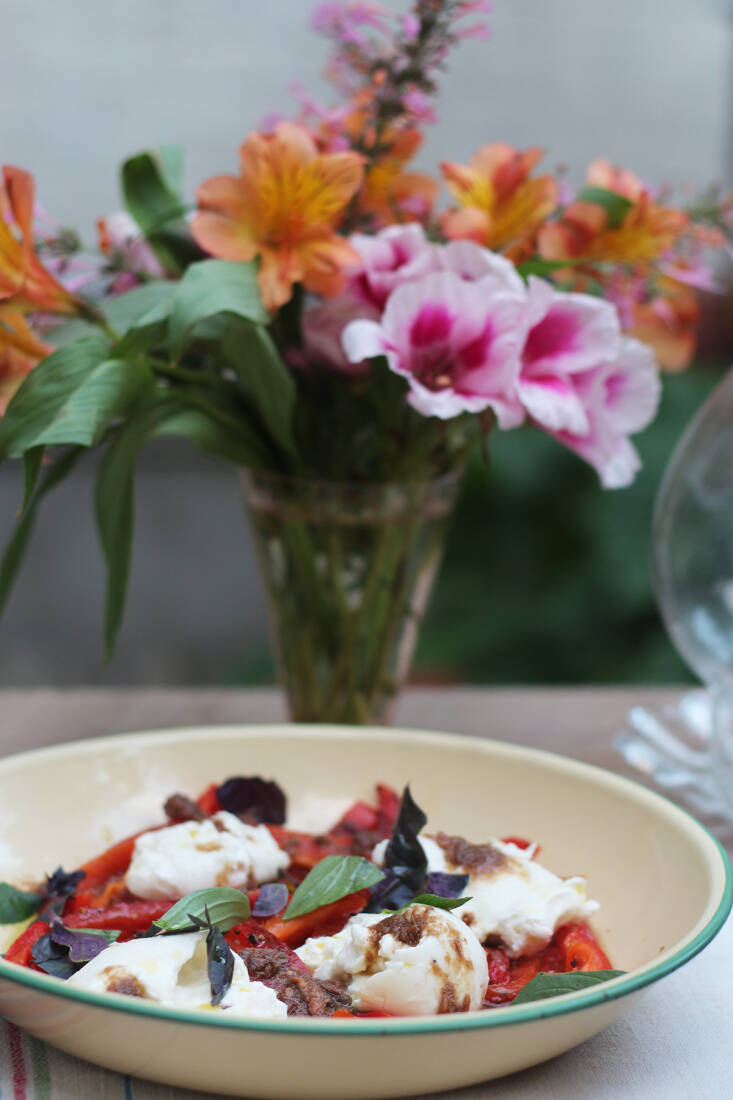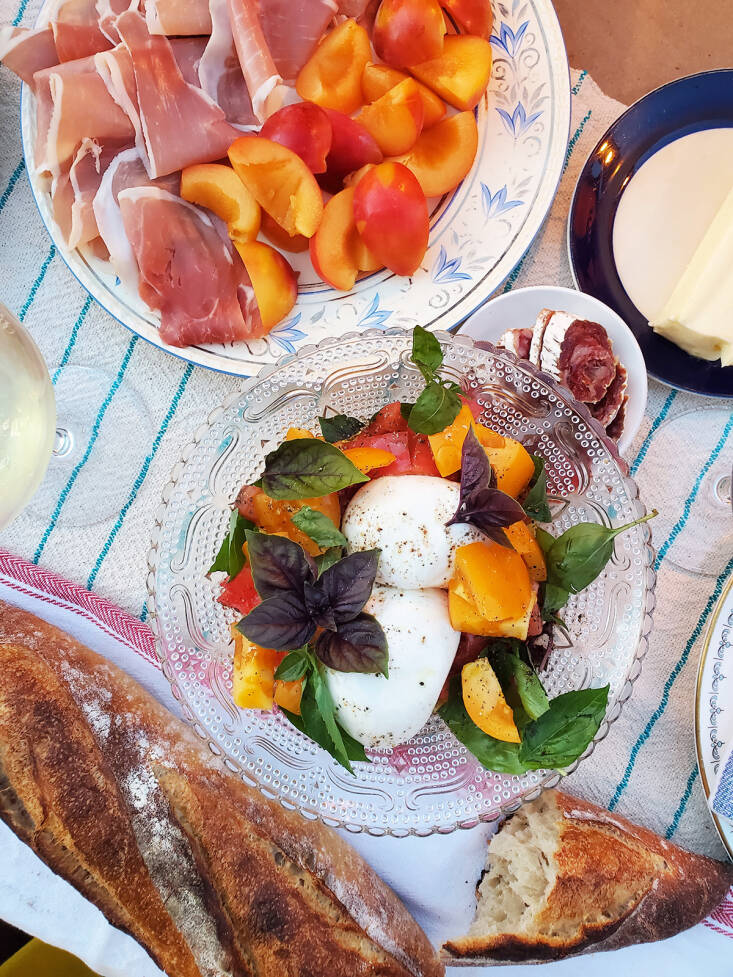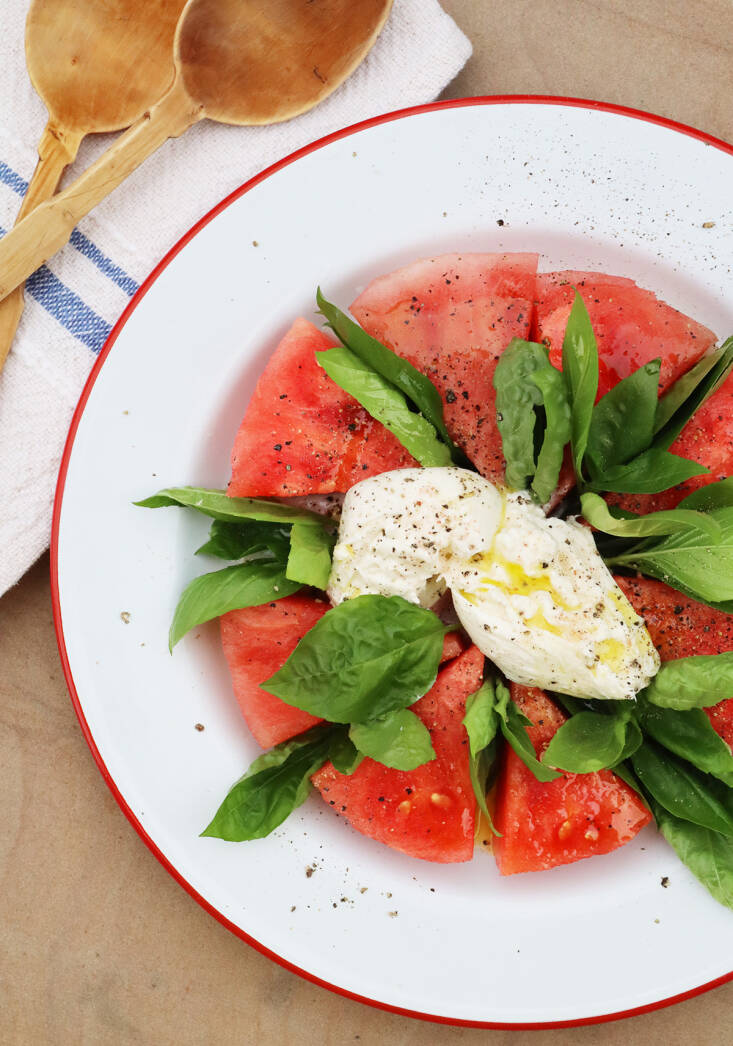 Watermelon and Basil Salad with Burrata
For peak watermelon season and ready in under 5 minutes (or as quickly as you can slice your watermelon and tear open your burrata), this exceptionally refreshing, simple salad is deeply rewarding to eat: Pillowy and crisp, creamy and sweet, and the pungent, sweet basil moderating every mouthful.
1 thick slice watermelon cut into cubes or wedges (substitute cantaloupe if you like)
1 ball burrata
2 teaspoons sherry vinegar
A handful of fresh basil leaves
A large pinch of sea salt or rock salt
A generous shower of freshly cracked black pepper
2 Tablespoons extra virgin olive oil
If your watermelon has hard seeds, prick them out with the tip of a knife. Arrange the chunks or wedges on a serving plate. Sprinkle the sherry vinegar across the fruit. Season with salt. Gently break apart the burrata and place the cheese atop the watermelon. Tuck tufts of basil into any available cranny. Pour the olive oil across the salad and season everything generously with pepper.
See also:
(Visited 190 times, 190 visits today)
Frequently asked questions
What is basil burrata salad?
Basil burrata salad is a refreshing salad that combines the flavors of fresh basil leaves, creamy burrata cheese, sweet tomatoes, and a tangy balsamic vinaigrette.
How do you make basil burrata salad?
To make basil burrata salad, start by layering fresh basil leaves on a platter. Top it with slices of creamy burrata cheese and halved sweet tomatoes. Drizzle the salad with balsamic vinaigrette and sprinkle some freshly ground black pepper and sea salt on top.
Can I use any other cheese instead of burrata?
While burrata is the traditional cheese used in basil burrata salad, you can substitute it with fresh mozzarella or even goat cheese if you prefer. However, burrata's creamy texture and mild flavor complement the salad ingredients perfectly.
Is basil necessary for this salad?
Yes, basil is an essential ingredient in basil burrata salad as it adds a fresh, aromatic flavor that pairs well with the creaminess of the burrata cheese and sweetness of the tomatoes. You can also experiment with other herbs like mint or parsley if you like.
Can I use any type of tomatoes?
You can use any type of tomatoes for basil burrata salad, but cherry tomatoes or vine-ripened tomatoes work best. They have a sweeter flavor and juicier texture, enhancing the overall taste of the salad.
What can I serve with basil burrata salad?
Basil burrata salad makes a delicious side dish to accompany a variety of main courses. It pairs well with grilled chicken, roasted salmon, or even a simple pasta dish. You can also serve it as an appetizer or part of a larger salad spread.
Can I make basil burrata salad in advance?
While it's best to assemble basil burrata salad just before serving to keep the flavors and textures fresh, you can prep the ingredients in advance and assemble them right before serving. Keep the burrata cheese stored separately from the other ingredients until ready to serve.
How long does basil burrata salad last?
Basil burrata salad is best enjoyed immediately after assembling. However, if you have leftovers, you can store them covered in the refrigerator and consume within 1-2 days. Keep in mind that the basil leaves may wilt and the cheese may lose its freshness.
Can I modify the balsamic vinaigrette?
Yes, you can modify the balsamic vinaigrette according to your taste preferences. You can add ingredients like honey or dijon mustard to enhance the sweetness or tanginess, respectively. You can also experiment with different types of vinegar or herbs to create your own unique flavor.
Are there any variations of basil burrata salad?
Yes, there are several variations of basil burrata salad. You can add additional ingredients like fresh arugula, sliced peaches, or toasted pine nuts to elevate the flavors. You can also drizzle the salad with a pesto sauce or sprinkle some crushed red pepper for a spicy kick.