Atalaya Castle fits one stereotype of antebellum mansions in the American South–the bigger and grander, the better. But in its Moorish Revival style and rather severe architecture, it bucks tradition.
Atalaya was a recommended stop on a recent trip I took to the South Carolina coast. Approaching the castle, I expected to find a gracious and proper mansion–and was surprised to find a stark, gray cement building hidden behind heavy trees. If not for the fact that the iron window grates were fancifully designed and painted bright turquoise, I might have thought I had stumbled upon the ruins of an ancient prison.
Above: Atalaya was built by millionaire Archer Huntington for his wife, Anna Hyatt Huntington. The pair came to South Caroline from the Northeast, seeking a warm winter to ease Anna's tuberculosis. They purchased three adjoining rice plantations on which to make their home, and planned a winter mansion and a botanic garden. Photograph by Mattmangum via Flickr.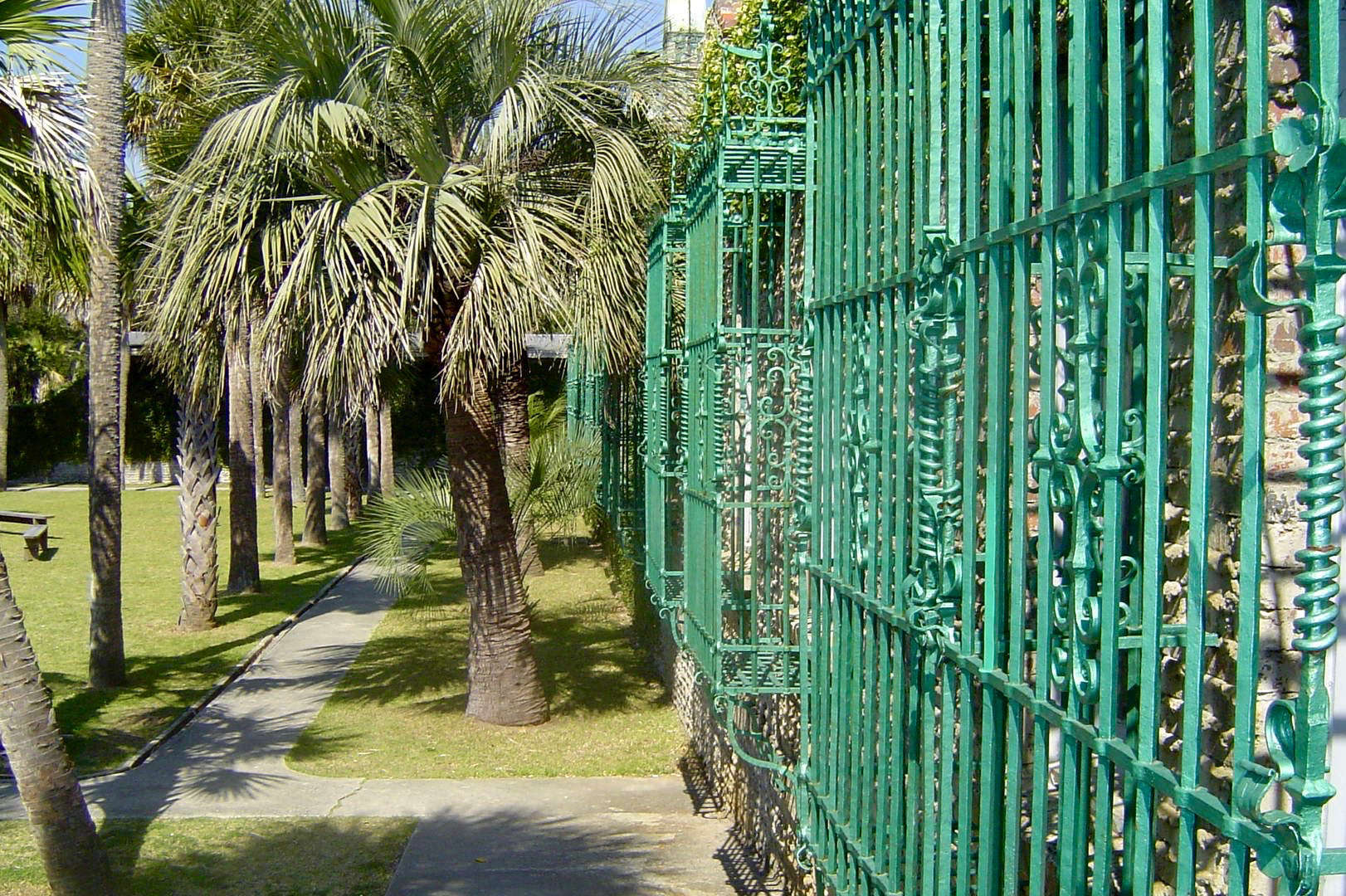 Above: Though Archer Huntington lacked a formal education, he traveled the world as a child and developed a passion for Spanish culture during his many trips there. He learned Spanish and studied the art, literature, and history of Spain. Photograph by Doug Coldwell via Wikimedia.
Above: Arthur designed his home in the Moorish Revival style, common on the Spanish Mediterranean coast. The style is typified by ornate interiors concealed behind plain facades, which explains Atalaya's forboding exterior. Photograph by Doug Coldwell via Wikimedia.
Above: The home's 30 rooms open onto a courtyard, a common feature of the Moorish style. The home was built during the Great Depression, and Arthur Huntington insisted on hiring local craftsmen to provide them with work. Though the workers had little experience with brick, and Arthur never drew plans for the house, he managed to dictate the design to his workers. Photograph by Doug Coldwell via Wikimedia.
Above: Anna Huntington was a sculptor, but was too ill to practice her art while the house was under construction. Instead, she occupied herself creating Spanish-style decor for the home. Among her designs are ornate green grills on the windows, meant as protection from southern storms. Photograph by Jeanne Rostaing.
As Anna Huntington recovered from her illness, she began to use two large studios that Archer had built for her, one in an outside courtyard and one inside with a 25-foot skylight.
Above: The Huntingtons left Atalaya in 1947, and from 1960 to 2003 the house was neglected. For the past decade it has been under the protection of the South Carolina Parks Service, which has worked to preserve the structure. Photograph by Jeanne Rostaing.
Archer Huntington died in 1955, but Anna continued working as an artist until her death in 1973. The botanic garden the Huntingtons established on the property–Brookgreen Gardens–is still thriving today. It serves as a setting for Anna's larger-than-life sculptures, several of which reveal her own adopted love of Spanish culture.
(Visited 8 times, 1 visits today)