"Don't we have anything more important to do than thinning out plums?" asks Daan. Pause. "Like what?" asks Jan. This refreshing attitude, beautifully played out in Portrait of a Garden from the Netherlands, is a perfect tonic to too much news.
Above: Daan (left) is a gardener, who may also be the owner—we're not told—of a 3.5-acre walled garden dating to the 1630s. Jan (right) is the master pruner, keen to pass on as much knowledge as he can, since he's convinced that he'll be dead within five years.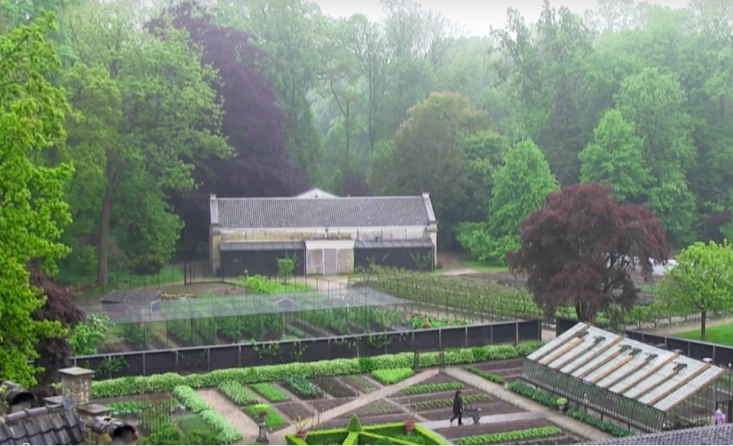 Above: The documentary film takes place over a year at a commercial organic estate, where produce is bottled and preserved. There is a ritual to every stage of production, in which many varieties of soft fruit each require a slightly different technique of training and pruning. Daan seems to relish giving the death sentence to trees which are not excelling, while Jan expresses his agreement on important matters with a "Jah, jah."
Above: Though the stars of this 98-minute show are the master and master pruner, a head gardener and team of helpers come and go. In one of the many truly escapist moments, the whole company is shown intently thinning out grapes in the vinery, so that there are 65 grapes on each bunch, perfectly spaced. This is the couturier's atelier of gardening.
Above: Jan and Daan have been working on the arbor for 15 years, with the aim of creating a tunnel of pears. The branches at the top are very close to "shaking hands." If they do, Daan will celebrate with a banquet underneath. Jan does not look excited.
As pear blossom appears, the 86-year-old approaches Daan suggesting that he might not attend, as the fruit is the main thing, "not chit-chat, as it were." Will Daan get to have his dinner party, and will Jan change his mind?
Above: The garden is laid out along strictly utilitarian lines, with decoration a by-product. Because of the extreme neatness of the beds and the incredible friability of the soil, bare mounds of earth are truly beautiful. Unknown tools also look enticing, unusual, essential.
Above: May we suggest buying instead of renting the film? It is a master class in technique, with the kind of grace and style which is entirely lacking on YouTube tutorials.
Above: While Jan gives every plum his full attention, Daan is occasionally seen fiddling with his iPad or walking with intent toward a wall of fruit cordons, only to walk away again with a phone pressed to his head.
Above: "Just as 'we are what we eat'," muses Daan, "a tree is as good as the soil it grows in."
With wonderfully spare captions ("the dandelion," "the sour cherry") and a stirring score, for which a lutenist among others is credited, this subtle movie is a gem. Plus—one of the gardeners wears Dutch clogs.
Portrait of a Garden, directed by Rosie Stapel, is showing on the festival circuit and is available via iTunes.
(Visited 42 times, 1 visits today)