Woven of natural materials such as bamboo, rattan, jute, seagrass, and recycled paper, airy pendant lights are as at home indoors as they are beneath a pergola or covered porch.
Here are 10 of our favorite woven pendant lights:
Above: A Santa Barbara Pendant available in two colors including black and natural (as shown) is $195 from Serena & Lily.
Above: A bamboo Sinnerlig Pendant Lamp is $59.99 from Ikea.
Above: Measuring 16 inches in diameter, a rattan Firefly Pendant Light is €229 from Colonel Shop.
Above: A natural-colored rattan Cap pendant is available in two sizes for prices ranging from 5,099 SEK to 6,550 SEK (approximately $595-$764 US) depending on size from Artilleriet.
Above: Made in Korea using recycled paper cord, a small handmade Neutral Nasse Pendant with a diameter of 5.85 inches is $75 from ABC Home.
Above: A handmade rattan Leran Pendant Lamp comes in two sizes, with diameters of 29 or 60 centimeters (as Shown) and is available at from $69 to $149 depending on size from Ikea.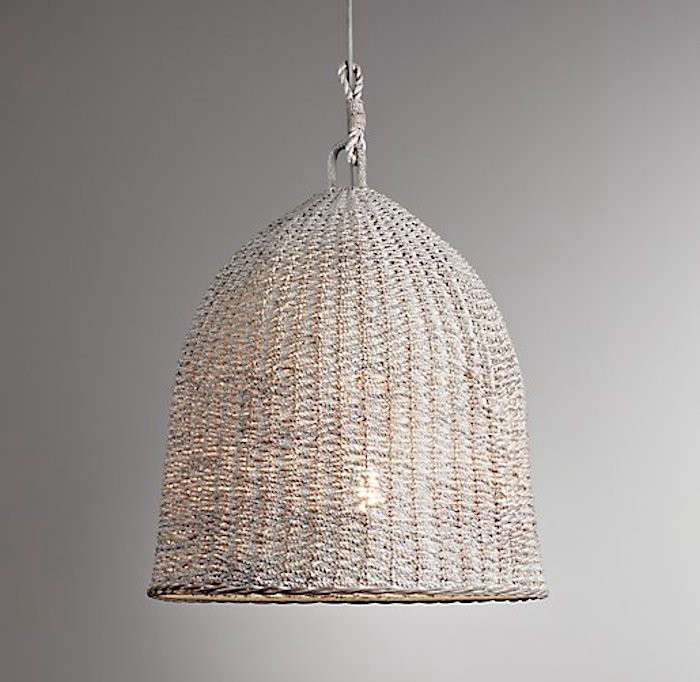 Above: A handwoven natural wicker Seagrass Market Pendant with a whitewashed finish $199 from Restoration Hardware Baby & Child.
Above: From Curry and Company, a tiered woven rattan Antibes Pendant is made in the Philippines and is $2,310 from Lumens.
Above: A jute Bungalow Pendant measures 16.5 inches in diameter and comes with a ceiling plant. It is $198 from Anthropologie.
Above: A woven bamboo Bird's Nest Lamp has a shade woven tightly around a single blade of natural-colored bamboo; $5,099 SEK (approximately $595 US) from Artilleriet.
For more woven lights, see Design Sleuth: 6 Summery Natural Wicker Pendant Lights and Wicker Made Modern in Chile, both on Remodelista.
(Visited 157 times, 1 visits today)