New Zealanders call them "baches"; small, simple wood vacation houses for no-frills holidays by the sea.
One definition of a bach is "something you built yourself, on land you don't own, out of materials you borrowed or stole." Auckland architects Crosson Architects take the bach concept a step further, adding portability to the equation by anchoring the structure on two heavy wooden sleds. Located in a coastal erosion zone on the Coromandel Peninsula, where houses must be mobile, "the house is a response to the ever-changing landscape that lines the beachfront," the architects say. To see more of the firm's work, go to Crosson Architects. Photographs by Jackie Miering.
Above: The cabin is clad in macrocarpa wood and blends into the landscape. According to the architects, "The hut comes to life when the enormous shutter on the northeast side winches open to form an awning."

Above: When the owners are away, the cabin can be closed off completely to protect against the elements.
Above: The shutters on the side windows are opened to let in light and air.
Above: The industrial-strength winch used to crank open the shutter on the facade.
Above: Glass doors swing open to reveal the interior, which is simple and compact.
Above: The family's three children sleep in a triple-tiered bunk room.
Above: A ladder leads to a mezzanine bedroom.
Above: Throughout the cabin, the architects used industrial fittings and fixtures.
Above: The tiny sink is tucked into a corner bath.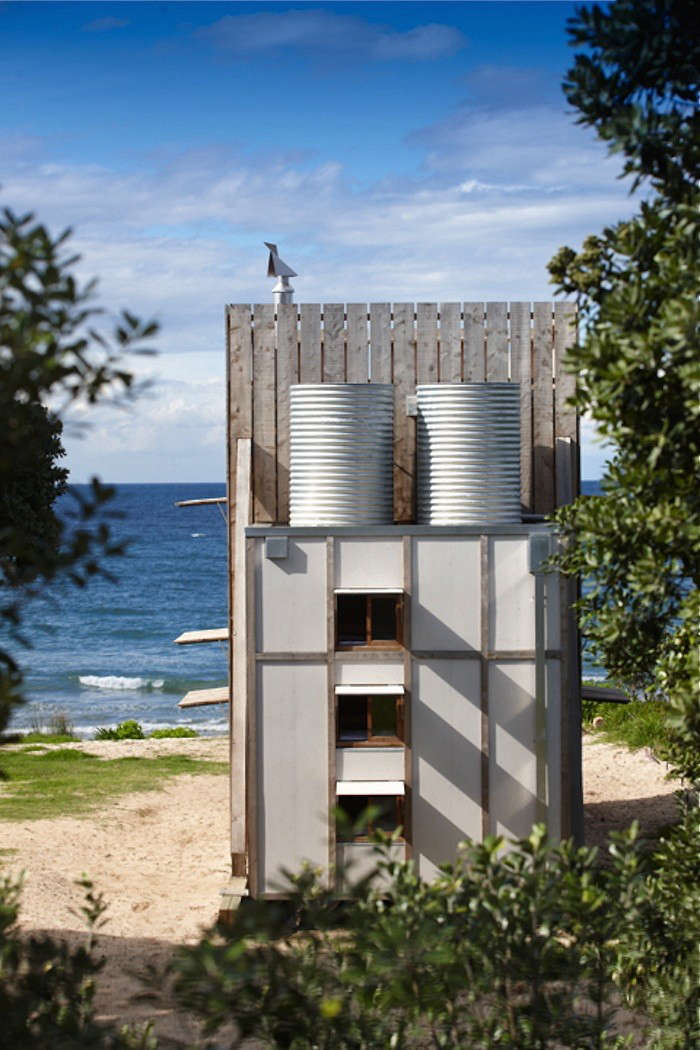 Above: The roof terrace catches rainwater to fill the storage tanks.
For another favorite New Zealand bach, see Outbuilding of the Week: A Shipping Container Transformed into the Ultimate Holiday House.
Updated from a Remodelista post originally published August 27, 2012.
(Visited 304 times, 1 visits today)