Sometimes when I'm awake in the middle of the night, I obsess about the zillions of shipping containers in the world. (That is, when I am not obsessing over bills, tomorrow's commute, or why I am not asleep.) What happens to all those corrugated metal boxes in the end? Is there some graveyard where obsolete cargo containers go to be piled into a sad, rusty mountain of metal?
Maybe I should take a sleeping pill (I think, at 3 a.m.). Or get up and wander around Pinterest until I feel sleepy, or–
Well, will you look at this pin? A New Zealand architecture firm called Atelierworkshop has transformed a shipping container into a holiday house–or a "bach." (That's what they call a vacation cabin in New Zealand, by the way; it's short for "bachelor pad.") It has clever bunk beds, a tiny kitchenette, even a foldout terrace.
Photographs via Atelierworkshop.
Above: This particular holiday house–a prototype for a design I'd very much like to see in mass production–is a "port-a-bach," because it doesn't have a permanent foundation. Move it to a nice sunny spot with a view.
Above: For open-air sleeping, the bunks fold out like Murphy beds.
Above: In fact, the whole port-a-bach folds open, Barbie-Dream-House style, to reveal a patio.
Above: Indoors, the shipping container has a built-in wood-paneled kitchenette and a shower heated by solar power.
Above: Louvered doors and a retractable awning aid ventilation.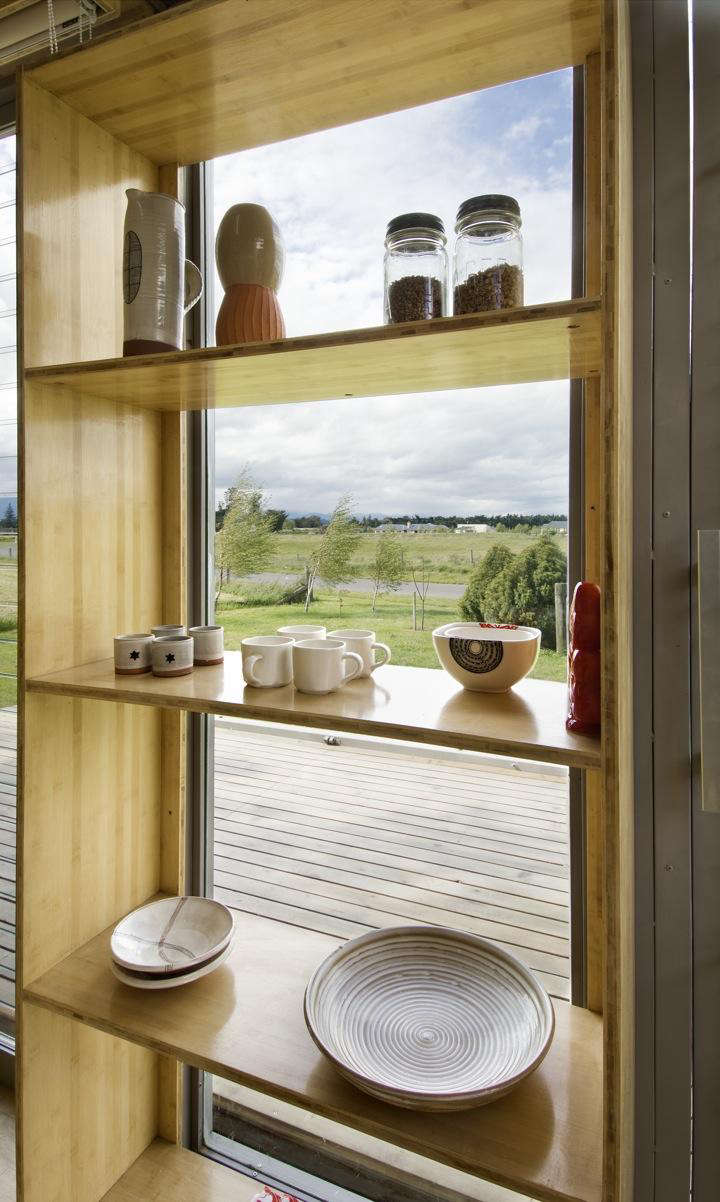 Above: Clever storage shelves don't obstruct the view.
Above: Want, want, want.
I used to think shipping-container cabins sounded like a crazy idea. But now I'm a convert. For another of my favorite shipping-container campsites, see Little Cargo Container in the Big Woods.  And see an ingenious Shipping Container Greenhouse here.
This is an update of a post originally published April 29, 2013.
(Visited 449 times, 1 visits today)