The back-to-school season should be about freshly sharpened pencils, uncreased notebooks, and squeaky clean new sneakers–not worrying about coming down with a cold. Fortify your germ-fighting abilities during this year's cold season with a natural remedy.
Not for the faint of heart, Rosemary Gladstar's fire cider recipe is an herbalist favorite for staving off the germs that are unfortunately synonymous with the back-to-school season. For a list of ingredients and step-by-step instructions, see below.
Taking a tablespoon of the sweet and spicy elixir every day will ward off cold-causing germs and let you focus on more important autumn activities, like choosing the best place to pick apples.
Photographs by Erin Boyle.
Above: No need to be too precise about the measurements. Chop equal parts of the main ingredients and add a few hot peppers for an extra kick. Don't worry too much about the spice; adding honey in the final step will take the edge off.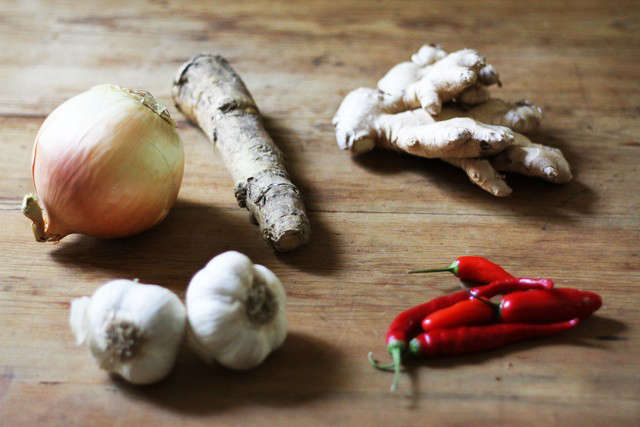 Above: We weren't kidding about the "fire" part of fire cider. Onion, horseradish, ginger, cayenne peppers, and garlic.
Above: I filled a quart-sized mason jar half full of chopped herbs. If you want to make a smaller portion, adjust the amount of ingredients that you chop to fit into a smaller vessel.
Above: Bragg Apple Cider Vinegar is my favorite unfiltered organic cider vinegar to use in herbal remedies. A 32-ounce bottle is $6.99 from The Vitamin Shoppe.
Above: After adding the apple cider, seal your jar and stick it in the back of the refrigerator for a month to let the vinegar steep. Then strain the liquid and sweeten the mixture with a tablespoon or three of honey. The resulting liquid is powerful, but not as overwhelming as the ingredients might lead you to believe. If you can't stomach drinking a tablespoon a day to ward off back-to-school germs, consider drizzling it over salad greens with olive oil. The medicinal value will be just as strong, and you might find it tastier.
Fire Cider
1 part onion, chopped
1 part grated horseradish root
1 part ginger, peeled and diced
1 part garlic, chopped
2-3 cayenne peppers
Enough apple cider to cover the herbs
Honey to taste
Combine equal parts of finely chopped ingredients in a mason jar or other vessel with a tight lid. You can adjust the amounts to personal taste, but filling a quart jar half full of chopped ingredients is a good rule of thumb. Cover the herbs with vinegar and allow to steep for up to a month. At the end of the month, strain the vinegar and discard the herbsl. Mix several tablespoons of honey to the strained fire cider and store in the refrigerator. Fire cider should taste sweet and spicy.
Are your allergies acting up this time of year? Try the Miracle Cure for Spring Allergies we made in the springtime. It will be just as effective now.
(Visited 106 times, 1 visits today)