Hydrangeas grow taller than your head. Are you picturing the huge, floppy blooms? To that image, add a road that leads to the water, friends with a canoe–and a plan for foraging dinner from the garden.
I want this life. You want this life. Our friend Laura Silverman has it. But rather than lapse into envy at the thought of Laura walking barefoot in the sand on Cape Cod, let us join her, via her site Glutton for Life (and let's get her recipe for cold cucumber soup while we're at it):
Photographs via Glutton for Life.
Above: Visiting friends, on a pond in Wellfleet. "It's rustic living at its finest, with little more required than a bathing suit and a sweatshirt," says Laura.
Above: On the beach, about a mile down the road from Laura's friends' house, she discovered treasures: rose hips and seaweed and bayberry bushes on the dunes.
Above: Of bayberries, Laura says, "The berries have a waxy coating that was traditionally used to make candles, and the fragrant leaves are an effective insect repellent."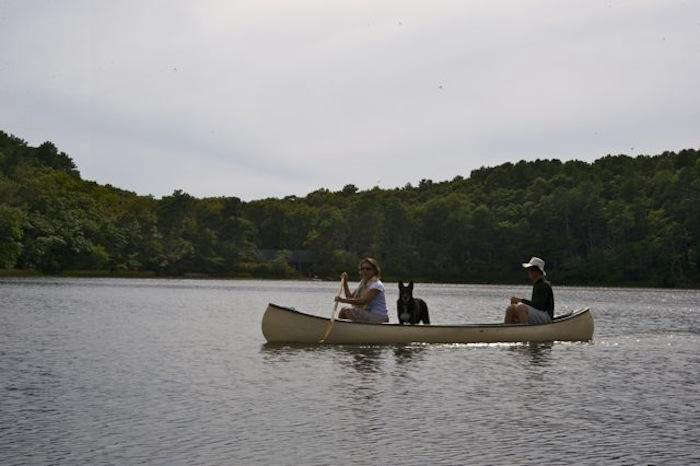 Above: On the pond.
Above: A garden filled with hydrangeas, mint, wild roses, and …
Above: Cucumbers from the vegetable garden. And more cucumbers. And more.
Above: A prime specimen.
Above: "Surely your garden is as overrun with cucumbers as mine is," says Laura. "We're duty-bound to eat cornichons every day just to keep ahead of the steady influx. You'll be glad to see that this recipe for cold soup uses up more than two pounds. If you don't have buttermilk (and only the real stuff, not that watery lowfat crap, is any good), substitute yogurt. Or add a chopped avocado instead. You could even use a handful of soft bread and a couple of tablespoons of oil, as you do for gazpacho. The point is to enhance the soup's watery texture with something creamy."
Cold Cucumber Soup
Makes about 4 cups
2 1/2 pounds cucumbers
1 shallot
1 serrano chile
1 large handful shiso (or basil or mint, or a combination)
1 cup buttermilk
1 tablespoon sunflower oil
4 tablespoons fresh lime juice
1 teaspoon sea salt
toasted sunflower seeds, for garnish
tiny diced cucumber, for garnish
Peel cucumbers and remove any large, horsey seeds. Peel and slice shallot. Stem and chop chile, removing seeds if you like less heat. Add these vegetables plus herbs, buttermilk, and oil to blender or Vitamix and process until very smooth. Add lime juice, one tablespoon at a time, tasting after each addition, until you achieve the tartness you like. Salt to taste. Chill until very, very cold. Garnish with a sprinkling of sunflower seeds and diced cucumber, a drizzle of olive oil, and some crunchy sea salt.
(N.B.: For more of Laura's trip to Cape Cod, see Glutton for Life.)
(Visited 41 times, 1 visits today)