To everyone in town, an old Greek Revival was known mainly for being inhabited by the Eldridge sisters, a pair of spinsters who had moved back home in 1918. Not nice spinsters either—kind of mean. When Matt Larkin was a boy, their big German shepherd liked to bite him as he biked by. Then he grew up, married, bought the place, and re-imagined the garden from scratch:
It has been 18 years since Larkin and his wife Lainie Grant, who are interior designers, moved into the rundown house that sits square in the middle of four overgrown acres in Richmond, Massachusetts. "It was April when we bought it, and there was a 1909 Glenwood cast iron stove, one bathroom—which didn't work—a single light bulb hanging in the hall upstairs to light four bedrooms, and a wrecked greenhouse," says Larkin. "So, basically, it was a blank canvas."
(N.B.: This is one in an occasional series of stories about our readers' Secret Gardens. Want us to feature yours? Tell us about it in the comment section below.)
Photographs by Paul Rocheleau.
Above: A giant Victorian Lady yew topiary—call it Mad Hatter meets Ballet Russe —is walking her pet Bubbles in the garden.
"When we started putting the garden together, I got really into topiary and found there was no place in America to buy really large scale topiary," says Matt Larkin. He enrolled in an adult education class at a local high school to learn to weld. Soon after, he became making his own metal forms, planting them, and training the plants. A business was born. His company, Black Barn Farm Topiary, specializes in "big, really big" forms.
Above: The first part of the garden that Larkin and Grant designed was an allée of 'Donald Wyman' crabapple trees. In the distance, behind their boxer Portia, is the back door of the house. "The house has a center hall, front door to back, and the entire garden originates from that doorway," says Larkin.
Above: "I experiment with shapes," says Larkin. "We make a huge effort to get everything clipped in the fall, because we spend so much time in the snow. When snow falls, the topiary gets silhouetted beautifully." Photograph via Black Barn Farm.
Above: A view looking into the parterre garden. The polished orbs ornamenting the clipped Chamaecyparis (common name: false cypress) are safety mirrors (like the kind people put at the end of driveways). In the background are clipped hydrangea standards.
Above: Larkin and Grant found the old barn in Falls Village, Connecticut and had it moved and re-assembled. "It has the exact footprint of our house—30-by-40 feet—and was built in the same year, 1835," says Larkin.
Above: The garden of experimental topiary. This is where Larkin tries out new shapes on about 220 pieces of clipped boxwood. "It takes two oro three of us a day and a half to clip all the small boxwoods," he says. "The big yews take a couple of weeks."
Above: A little bird perches on top of a boxwood.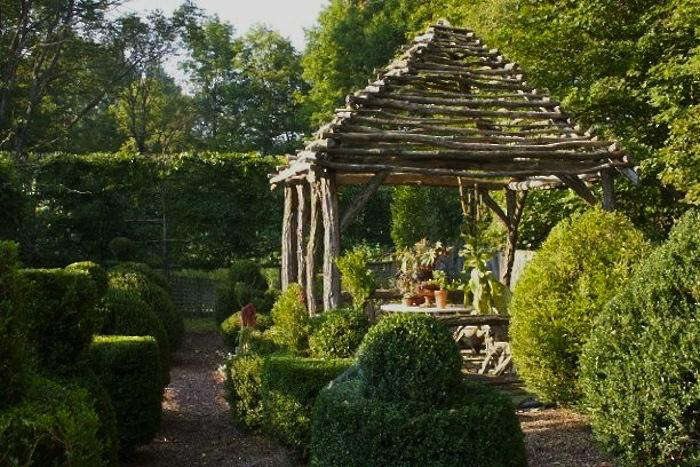 Above:The rustic pergola is built of black locust posts set 4 feet deep in the ground. "The Shaker expression about black locust is it lasts about a hundred years longer than stone," says Larkin.
Above: "Those black locust poles are not going anywher for at least 500 years," says Larkin.
Above: The West Terrace has raised beds made of bluestone stair treads. "We stuck the treads 6 inches into the ground, set in crushed stone," says Larkin. Rolled steel bands (4 inches wide by 1/2 inch thick) hold the bluestone in place. "You drill a hole through the steel and through the stone and then peg it to hold it together," says Larkin.
Above: A closeup view of a bluestone bed, taken in early spring, after it has been planted with different lettuces and mescluns. Bamboo poles stand ready for beans.
Above: Morning glory on the East Terrace on a trellis that also supports an espaliered Fuji apple tree.
Above: The Stumpery is a work in progress. The idea is to take materials you normally would throw away and use them architecturally. "This is based on a Victorian folly," says Larkin. "Prince Charles did one at his place in High Grove."
The Stumpery is held together by its individual pieces. Larkin and Grant shoved the stumps together and used an excavator to compress the structure. "A person could stand underneath that arch," says Larkin. "You could jump on it and nothing would happen."
Next on Larkin and Grant's agenda: a Garden of Discomfort, planted with poisonous plants. "It will be a ombination of 'Where the Wild Things Are' and something sort of sinister," says Larkin. And, no doubt, utterly charming.
Wondering what other readers' secret gardens look like? For a tour of one of our favorites, see A Secret Garden: Beauty in the Berkshires.
(Visited 333 times, 1 visits today)