According to the Santa Monica-based landscape designer Art Luna, "Great gardens mean great structure. And great structure is longevity."
Luna first started creating gardens 15 years ago as a way to relax. It wasn't until his friend British gardening author Anna Pavord imparted her wisdom to him that he began to home in on this idea. "She said, 'Remember, it's structure first and flowers second. If you can apply that rule to your design, then it will always work for you,' he said. "I knew immediately what she meant. I could see ceilings in trees, I could see the hedges as the walls, I could see it all working."
For a home in Pacific Palisades, he designed a space for the owners to entertain and live outdoors in the Southern California air. Starting from a design with a flat lawn with only a few trees, Art "created all of these little rooms and areas to walk through" with large drifts of rosemary, wild grasses, parterres of lavender, and an olive tree allée. Here's how:
Photographs courtesy of Art Luna Garden.
Above: To provide contrast, Art planted grasses along the edge of the bluff. "You want something that buffers, otherwise it looks like you're falling into the ocean," he says. An ideal choice because of their hardiness against the wind and salt, grasses are also the perfect height and cause no obstruction to the ocean view.
For a list of must-have hardy grasses, see "5 Favorites: Shimmery Grasses to Plant Now to Perk Up a Fall Garden."
Above: Overlooking the Pacific Coast Highway and the ocean, the property was originally one large estate where Mary Virginia McCormick, daughter of inventor Cyrus Hall, called home. Years after her death in 1941, it was divided into three sections and sold. Today, Luna's clients own the middle lot. While this initially presented a need for boundaries, he said his clients did not want to hinder the view or the sense of spaciousness. "The trick was to marry the properties together without making them feel so separate," he says. "We wanted to create some sort of privacy without creating a wall." A layered topiary walk incorporates various plants, including westringia (coastal rosemary) and ligustrum, in different shapes and sizes. The result? Structure, depth, and texture.
Above: A view seen while strolling on the topiary walk. "A garden is supposed to bring you through, to sit and enjoy it," says Luna.
Above: The grounds afforded enough space for an open lawn. Seen here from the terrace, this bit of "negative space" falls between the topiaries on the left and an olive tree allée on the right.
Above: To create the olive allée, Luna planted trees. "This is an outdoor living room, which doubles as a dining room," he says.
Above: Another view, seen through the allée. The living walls provide structure, as well as shade against the hot California sun.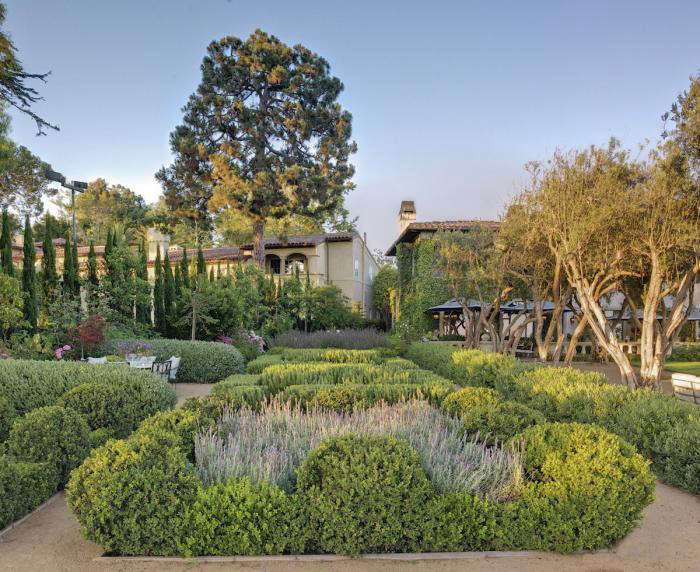 Above: Luna planted large platforms of coastal rosemary to create structure and add a layer of texture against the parterres of French lavender.
For more information, visit Art Luna Garden.
(Visited 9 times, 1 visits today)