The hardest thing about being a judge in the Brooklyn Botanic Garden's annual Brooklyn's Greenest Block contest is having to pick a single winner.
This year, 173 applicants are competing for modest cash prizes and bragging rights. People often assume the contest is an elitist face off among Brooklyn's pricey brownstone blocks, but actually entrants come from all over the borough and include many neighborhoods in transition, such as Bedford Stuyvesant and Bushwick.
Having walked all the blocks as a first round judge, I have been especially impressed by the efforts of people with limited budgets and time who pour energy and amazing creativity into their gardening. Community participation is one of the main judging points, so it's not enough for a few gardeners to beautify their own properties. They have to persuade a lot of their neighbors to do the same:
Photographs courtesy of Brooklyn Botanic Garden, except where noted.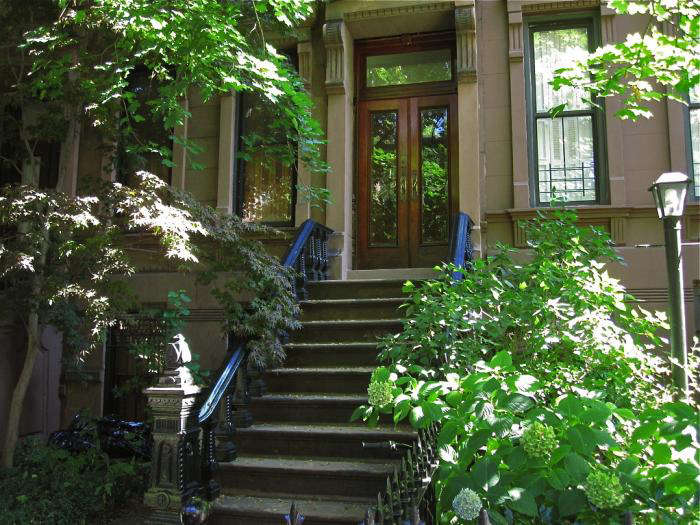 Above: A finalist from last year, on Tenth Street between Sixth and Seventh avenues in Park Slope.
Blocks are judged on several criteria including horticultural expertise, color and overall effect. Photos here of some of last year's finalists show just how diverse the styles can be.
Above: A Greenest Block in Brooklyn finalist from last year, at 430 Eighth Street.
For 18 years Brooklyn Botanic Garden's GreenBridge community outreach program has fostered grass roots neighborhood beautification. this year, the Best of the Best will be announced the first week in August.
Above: Photograph by Jeanne Rostaing.
Brooklyn, known more for the savvy toughness of its residents than the promotion of nature, is becoming a hipster hot bed of environmental concern, urban farming, and aggressive greening. An early leader in the transformation was the Brooklyn Botanic Garden and its Brooklyn's Greenest Block contest.
Above: Photo by Jeanne Rostaing.
Last year's winning block, East 25 Street between Clarendon Road and Avenue D in East Flatbush, has 56 homes…. a lot of households. Part of the winning strategy was to disguise a vacant house by planting a vegetable garden in front of it. They also organized a neighborhood girls' club into a sidewalk container watering squad.
Above: A finalist from last year, on Glenwood Road between East 16th and East 17th streets.
As for creativity, stoops on one block this year displayed pairs of shoes planted with flowers… all done by neighborhood children. I've seen garbage cans, bathtubs, purses, soup pots, and toilet bowls converted quite convincingly into planters. And they're not just filled with what's on the shelves at Home Depot… Brooklyn gardeners are embracing native plants, exotic tropical plants and edible crops.
Above: On Van Brunt Street between Coffey and Van Dyke streets in Red Hook, a finalist last year.
As any gardener will tell you, the hard part comes after the planting. You have to stay with it. In the crowded and sometimes steamy streets of Brooklyn, you not only have to water, weed, and prune, you also have to fend off excreting dogs, plant thieves. and rodent infestations… not to mention heedless, littering humans.
Above:A finalist from last year, at 757 Fulton Street.
So…a big nod of appreciation to all the entrants. Their work is not easy but they are Brooklynites, and they are savvy and tough.
(Visited 158 times, 1 visits today)