Admired lately: leafy wallpaper patterns, which add a verdant feel to an interior (especially welcome in spaces without a lot of natural light). Here are five favorites:
Above: Marthe Armitage's papers are hand-printed to order in fanciful patterns featuring flora and fauna and bucolic country scenes (including Oakleaf, shown above). Available from Hamilton Weston.
Above: UK artist Neisha Crosland's Cactus Paisley Wallpaper depicts a "prickly pear climber with leaves like sea horses." It's available in a range of colorways; the one shown is Marrakech Blue.
Above: Swedish company Sandberg's Raphael wallpaper pattern was inspired by 17th-century French tapestries. In the US, Sandberg wallpapers and fabrics are available through the Scandinavian Design Center.
Above: The LA stylist and designer Estee Stanley papered a wall in Willow Boughs, a classic William Morris pattern available at Wallpaper Direct, in her Hancock Park home.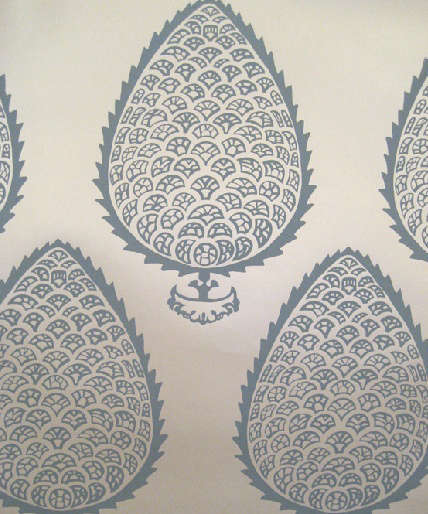 Above: Leaf Wallpaper by NYC-based designer Katie Ridder.
Updated from a post originally published February 14, 2013.
For more beautiful botanical wallpapers (plus some sage advice from Michelle), go to How to Pick the Perfect Wallpaper and The World's Best Rose Wallpaper. And if you're considering hanging it yourself, check out this handy tutorial.
NOTE: It's the last week to vote for your favorite finalists in the Considered Design Awards. You can vote once a day on Remodelista and Gardenista through August 8. Stay tuned: We're announcing the winners August 9.
(Visited 179 times, 1 visits today)