Gardenista's editor in chief Michelle has been obsessing over botanical wallpaper and trying to Pick the Perfect Wallpaper for a guest bathroom since March. (She even asked readers to weigh in on some flowery patterns she was considering.) With the holidays–and holiday house guests–just around the corner, we persuaded her now is the perfect time to bring the garden indoors.
With help from our partner The Home Depot, we took her shopping for all the equipment and supplies she needed for a DIY wallpaper project.
Photographs by John Merkl.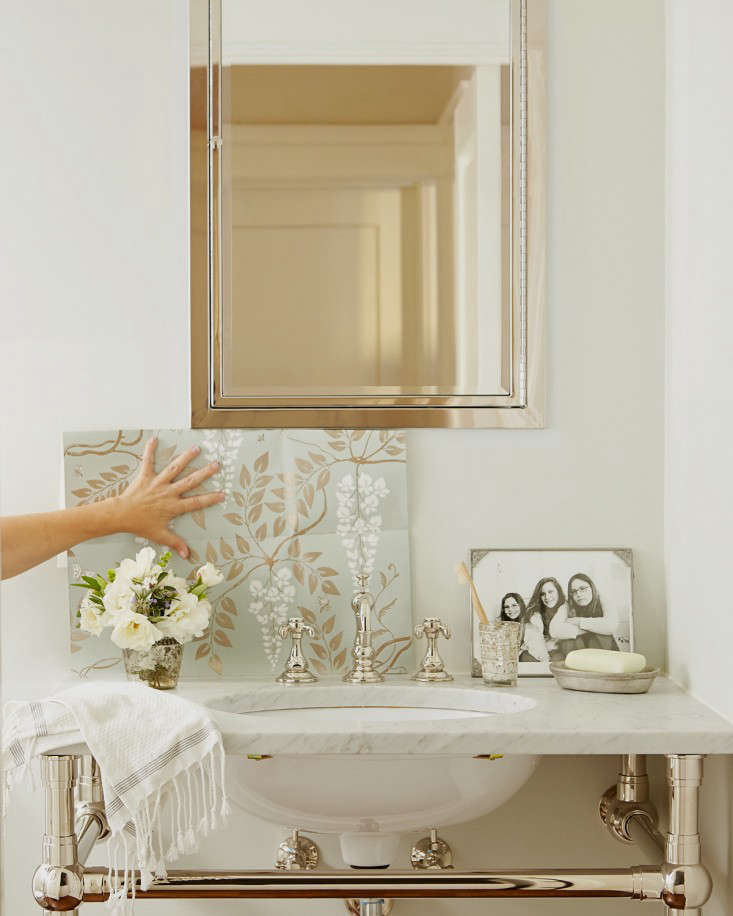 Above: After we encouraged Michelle gently ("Just pick a wallpaper already!"), she chose a particularly lovely wisteria pattern: Cole & Son's Egerton.
Above: Here's a collection of some of the DIY wallpaper supplies she bought at The Home Depot, including a canvas drop cloth; a wood level; a paint roller and tray; a sponge, and a paintbrush.
Above: A Linzer 9-Inch Metal Roller Tray is $3.64; a Purdy 9-Inch Wood Handle Frame for a paint roller is $10.47 and a Purdy Woven Roller Cover is $5.97.
Step 1: Prepare for some messiness. Back home and ready to start wallpapering, Michelle unfurled a Canvas Drop Cloth ($11.98) to protect the floor and fixtures in the bathroom.
Step 2: Prepare the walls. The day before she wallpapered, she rolled on a coat of Zinsser Gardz Clear Water-Based Sealer ($109.85 for five gallons at The Home Depot) to provide a water-resistant foundation to the wallpaper adhesive. The sealer dries to a film in two hours; she let it cure overnight before proceeding.
Above: To apply sealer around the edges of electrical outlets, towel bars, and the bases of wall hooks, Michelle used a 1-Inch Economy Chip Brush with a natural wood handle; it's 97 cents.
Above: A Crick 36-Inch Wood Level is $84.99
Step 3: Michelle measured the height of the walls and then cut all the strips of wallpaper. After cutting a strip, she unfurled the roll and lined up the pattern before cutting the next strip. On each strip, she left an excess of 4 inches (so she could trim the top and bottom after hanging).
Step 4: She picked an unobtrusive corner of the room to hang the first strip in case she was not able to match the pattern perfectly on the last piece of paper she hung.
Above: A Martha Stewart Living Natural Sea Sponge is $8.97.
Step 5: Michelle used a sponge to wipe off excess wallpaper paste that seeped through the seams between strips of paper.
Above: Using a razor blade, she trimmed around electrical outlets, towel bar bases, and other wall fixtures. A five-pack of Stanley Heavy-Duty Blades is $1.34.
Above: A wood-handled Finishing Trowel is $7.97.
She held a straight-edged trowel along the top and bottom edges of the paper so she could trim off the excess paper with a razor blade.
Above: Finished–in time for holiday house guests.
Considering a botanical wallpaper to bring the outdoors in? See How to Pick the Perfect Wallpaper.
(Visited 45 times, 1 visits today)