Those of us who bemoan the lack of direct sun in our gardens should take heart. You can have color in your garden right now, in the middle of winter—even if your garden is shady. Here's how:
Photography by Jeanne Rostaing for Gardenista except where noted.
Above: Take a stroll down gritty Washington Avenue in Prospect Heights, Brooklyn. Look through the iron fence into the Brooklyn Botanic Garden and you will see winter color like you can't believe. Most dramatic are the mahonias (Mahonia X media "Underway"). These spiky dark evergreen shrubs are wearing head dresses of bright yellow flowers. For a similar look, consider Soft Cress Mahonia ($17.95 from Spring Hill).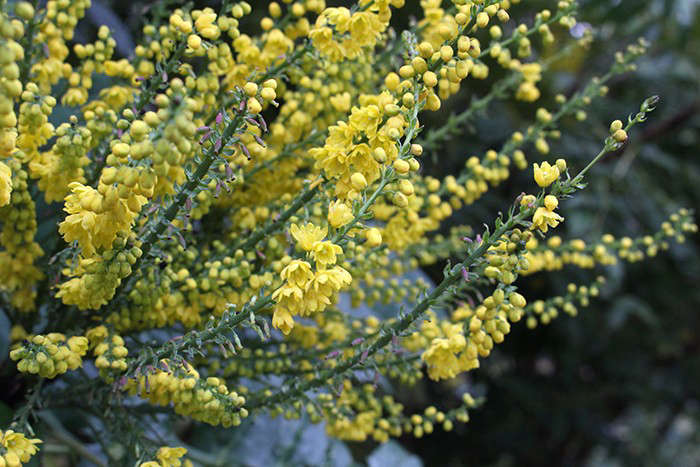 Above: Jennifer Williams planted them when she was the gardener in this often overlooked strip of quiet beauty. She recently moved on to take charge of both the Shakespeare and Fragrance Gardens as well as the Conifer Collection. She says one reason these mahonias are thriving is because they are in a sheltered area. Their broad leathery leaves will burn if they get too much wind exposure. A 2-gallon Mahonia x Media "Underway" is $40 at Rare Find Nursery.
A little farther down, nestled under some sheltering trees, is another pop of color. A clump of Hellebores praecox, an unusually early bloomer, is covered with shy, ground-facing flowers. Take the time to bend down and peer up and you will see not only brilliant white sepals but golden stamens with the tiniest dab of red on a background of bright green—a truly bold color scheme. Helleborus niger praecox costs $12.00 at Pine Knot Farms.
Above: Photograph by Jacobo Werther via Wikimedia.
Another early hellebore with a less conventional flower is Hellebores foetidus or stinking hellebore. Its leaves give off an unpleasant odor when crushed, but its blooms are a bright chartreuse that will lighten the shadiest spot. It is self-sowing so pick a spot where there is room to spread out. For a selection of hellebore varieties, see 5 Favorites: Hardworking Hellebores.
Another plant that brightens the winter shade garden is not a flower at all. It is a type of dogwood and in winter its stems turn a bright red or yellow that catches the eye. The varieties in the BBG shade garden are Tartarian (red) and Golden Twig (yellow).
Above: In the south nandinas are sometimes scorned as too common or invasive, but in the Northeast they mind their manners and stay where they are planted. They are evergreen, with colorful foliage, and will grow in either sunny or shady locations. Nandina "Heavenly Bamboo" will add interest to the winter landscape with bountiful clusters of shiny red berries; available seasonally for $5.50 apiece from Evergreen Plant Nursery.
Above: Photograph by Marie Viljoen.
But perhaps the most miraculous winter flowering shrub is the camellia. It likes sun or part shade, so give it the lightest spot that you have in your shade garden. Your reward will come on a freezing winter day when, swathed in hat, parka, and woolly gloves, you take a bone-chilling stroll into your yard and are stopped in your tracks by an evergreen shrub that has exploded with flowers. It won't seem possible but there it is: another lovely surprise from Mother Nature. A 1-quart pot of Camellia "Winter's Interlude" is on sale for $10 at Camellia Shop.
For more shade-loving plants, see Design Sleuth: The Ultimate Shade Garden.



(Visited 108 times, 1 visits today)