When an artful Sussex trug made of ash wood strips is not big enough for the job, bring in the wheelbarrow. To transport potted plants, debris, gravel, and more, the trusted wheelbarrow is a utilitarian basic. On the spectrum of form and function, the wheelbarrow should fall somewhere closer to function, but that doesn't mean aesthetics need to step aside. Here are 10 favorites to satisfy both requirements.
Above: The Bibox Wheelbarrow has a putty-colored basin, like a faded Army surplus tent, and durable metal frame; €86.54 at Bricozor in France.
Above: The Jackson Professional Tools Contractor's Wheelbarrowis the color of a French work jacket, and has wood handles and a blue steel basin; $227.61 from Amazon.
Above: The Ames Poly Wheelbarrow holds 6 cubic feet; it has ash handles and a gray poly bucket; $89.95 at The Tool Workshop.
Above: The bright yellow Big Mucker Wheelbarrow has a plastic basin that can be used for equestrian use and compost alike; £59.99 at Wheelbarrows.
Above: The Brentwood Single Wheel Moss Wheelbarrow has a pistachio-colored polyethylene bucket, a wooden frame, and holds 6 cubic feet of material; $281.99 at Hay Needle.
Above: The Endurance Galvanized Wheelbarrow is made in the UK and can be used for heavy duty commercial work; £74.95 at Wheelbarrows.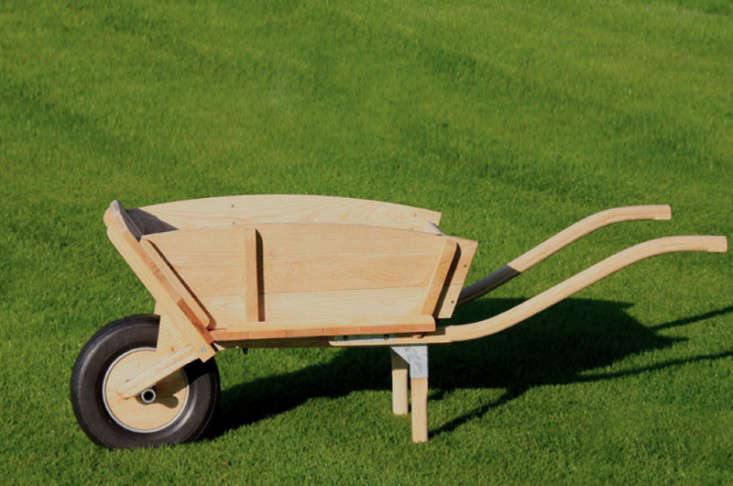 Above: The Brouette from La Mule in France is made entirely of wood and has removable side partitions for carrying a wider load; €830 at La Mule.
Above: The Ace Steel Wheelbarrow has a capacity of 6 cubic feet and is made from cloudy-gray steel; $99.99 at Ace Hardware.
Above: The True Temper Homeowner Wheelbarrow in classic red is $49.99 at Jax Mercantile.
Above: The Bristol DIY Garden Wheelbarrow is an ultra-light galvanized metal and bright orange combination; £34.74 from Wheelbarrows.
Above: The durable Aerocart 8-in-1 All-Purpose Wheelbarrow is a wheelbarrow, yard cart, bag holder, dolly, extended dolly, cylinder carrier, rock/plant mover, and trailer tote; $139.96 at Worx.
Stock up on more garden essentials with our posts:
(Visited 327 times, 1 visits today)